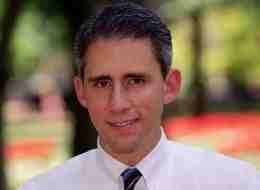 The Republican Party of Virginia finds itself on the hunt, of late, for America's Next Top Chairman of the Republican Party of Virginia. Why is this? Well, the previous Chairman was a guy named Jeff Frederick, and he was ousted from the post, owing to what I'd generously term gross incompetence. Let's take a peek at some career highlights:
--Frederick threw himself some sort of epic temper tantrum when he was asked to remove his hat at Richbrau in Richmond, Virginia, to the embarrassment of his wife. The "Do you know who I am" card was played, always the hallmark of a scoundrel.

--At a time when the balance of electoral power between the Democrats and Republicans was teetering, and after Virginians had famously repudiated George Allen for his use of the racial slur "macaca," Frederick was caught encouraging Get Out The Vote volunteers to make character-based attacks on Barack Obama.

--A secret plan to wrest control of the Virginia State Senate for the GOP fell apart after Frederick heard about it, and, like an idiot, spilled the beans on Twitter before the plan was put in motion. The Democrats, tipped off to what was going on, put the kibosh on the move.

--His major contribution to public discourse appears to be this video, in which he yammers at the corpse of Charles Darwin, for some reason.
So, yeah, the guy is useless. Not that he knows it -- according to yesterday's Washington Post, he is reportedly still considering making a move to retake his position.
Ousted Virginia Republican leader Jeffrey M. Frederick said Monday he will probably run for party chairman again in May, setting up another clash with the GOP's gubernatorial nominee, Robert F. McDonnell, as Republicans struggle to unite for the November election.
Of course, between now and the Republican state convention, the Virginia Republican Party has some interesting ideas as to who should lead in the interim:
The State Central Committee is expected to select Pat Mullins, Louisa County's Republican chairman, or Alexandra Liddy Bourne of Fairfax, an unsuccessful House candidate, as the party leader May 2. But party rules require the election of a chairman four weeks later at the Republican state convention May 30. There, 8,000 to 10,000 activists are expected to gather in Richmond to unite behind McDonnell.
In case you were wondering, Alexandra Liddy Bourne is the daughter of G. Gordon Liddy. Considering the decline of the Virginia GOP began with a wiretapping scandal in 2002, there is a certain glorious serendipity to her being chosen that just cannot be denied.
RELATED:
Via Not Larry Sabato, here's a video of Rachel Maddow, bidding young master Frederick adieu:
Popular in the Community