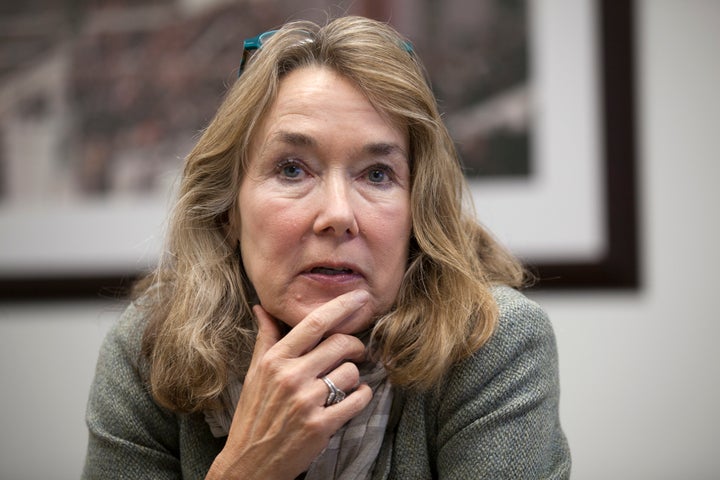 The Republican Party of Virginia is linking a Democratic congressional candidate to the 2017 white supremacist demonstration in Charlottesville, accusing her of anti-Semitism for a book she published that is critical of the U.S.-Israel relationship.
In a series of broadsides, including a press release and a mailer obtained by The Washington Post's Dave Weigel, the Virginia Republican Party accuses Democratic candidate Leslie Cockburn and her 1991 book, Dangerous Liaison: The Inside Story of the U.S.-Israel Covert Relationship, of fueling anti-Semitism. She co-wrote the book with her husband, Andrew Cockburn.
"Racists in Charlottesville chanted, 'Jews will not replace us,'" the mailer reads. "Leslie Cockburn's book adds fuel to the fire." Charlottesville is in Virginia's 5th Congressional District, which she is squaring off against local businessman Denver Riggleman to represent.
Virginia Republicans have been criticizing Cockburn for her book for a number of months, but this is the first time they have directly linked her and the Unite the Right rally, which saw one person, Heather Heyer, killed and 19 others injured when James Alex Fields Jr. allegedly rammed his car into a crowd of counterprotesters.
The Cockburn campaign directed a request for comment to a response on its web page, which included a series of supportive statements from local religious leaders and cited Cockburn's endorsement from J Street, a pro-Israel organization that advocates for progressive policy solutions.
The Virginia GOP did not respond to a request for comment.
The state Republican Party previously compiled a list of citations of Cockburn's book on Stormfront, a racist and anti-Semitic message board, but a number of Jewish leaders in Charlottesville have publicly rejected claims that the book is anti-Semitic.
"I just think most folks … didn't take the charge seriously to begin with, even folks who read her book, which is highly critical of Israel and the United States and the U.S.-Israel relationship at the time," Daniel Alexander, a retired rabbi of Charlottesville's only synagogue, told The New York Times in May.
That the criticism of Cockburn came from the Virginia GOP is notable, as the party has dealt with a series of controversies involving white nationalism, including the ongoing debate over the propriety of having Confederate monuments on public grounds.
Most recently, Corey Stewart, the party's nominee for the Senate seat held by Tim Kaine (D), has a history of associating with neo-Confederates and other white nationalists, and Stewart's candidacy has been cited favorably on the same Stormfront message board that the GOP has used to attack Cockburn.
In addition, Virginia Republicans had to contend with the equivocating response to the Unite the Right violence from President Donald Trump, who said that he condemned the "hatred, bigotry and violence on many sides" and that there are "very fine people on both sides."
Popular in the Community