WASHINGTON ― The Republican Party of Virginia is attacking the state's Democratic attorney general, Mark Herring, for visiting one of the U.S.'s largest mosques to talk about President Donald Trump's Muslim ban.
"On March 17, Mark Herring joined with a Hamas-linked group, the Council on American-Islamic Relations, to host a town hall to oppose the Trump Administration's efforts to keep Americans safe from terrorism," reads a petition on the state Republican Party's website that appears designed to collect emails. "Sign our petition to demand that Mark Herring apologize to the victims of Islamic terrorism."
The message's characterization of the Council on American-Islamic Relations, a major Muslim civil society organization, as an affiliate of the Palestinian terror group Hamas echoes a theory that is popular in the right-wing media and Islamophobic circles but has never been proven.
And the party's description of the mosque where the event was held ― the Dar al-Hijrah Islamic Center in Falls Church, Virginia ― mentions former attendees who have been linked to terror, but makes no reference to the center's outreach to the FBI, including hosting a top FBI official at the mosque in January. It also doesn't mention the harassment, including a fake bomb threat and offensive messages, the community there has experienced in recent months.
From the White House on down, Islamophobic rhetoric and actions are on the rise nationally. An FBI report released in November 2016 noted a 67 percent increase in anti-Muslim hate crimes between 2014 and 2015.
In Virginia, an increasingly purple state that twice voted for President Barack Obama and chose Democratic nominee Hillary Clinton over Trump, Republicans have tried to differentiate themselves from an increasingly anti-Muslim national GOP.
Former Rep. Tom Davis (R-Va.) has visited the mosque at the center of the controversy, and in December, the current chair of the state GOP, John Whitbeck, visited a different mosque in Sterling, Virginia.
"The Virginia Republican Party is the party of religious liberty. We don't support banning Muslims in the United States of America," Whitbeck said at the time.
Rep. Barbara Comstock (R-Va.), a lawmaker from a swing district Democrats are hoping to pick up in 2018, also attended the Sterling mosque event. She called Trump's 2015 proposal to ban Muslim entry to the U.S. "not constitutional" and said she believed the president had changed his mind.
Yet the party's message about Herring suggests that it sees any engagement with Muslims as unacceptable and insulting to those who have experienced Islam-linked terror. "Stop pandering to terrorist sympathizers," the appeal reads, conveniently ignoring the fact that Muslims in the U.S. and abroad are frequently victims of terror themselves.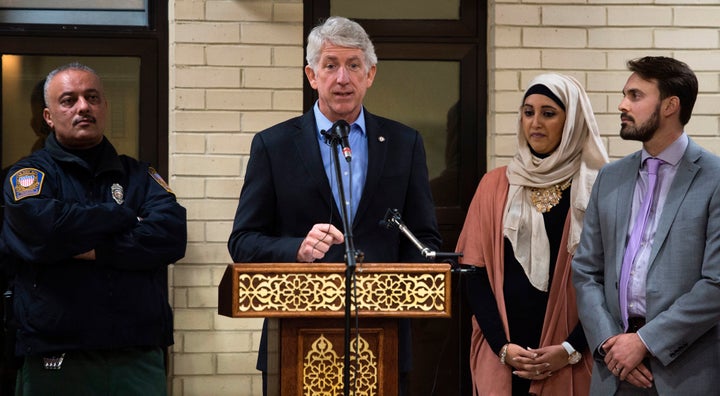 The GOP message reflects the increasingly extreme discourse and political polarization of the Trump era. Muslims' place in American society is now a major issue of national debate, rather than something that's largely accepted.
A similar trend has emerged in Europe, with the rise of hyper-nationalist and often anti-Muslim parties. Once-extreme ideas like a Muslim ban or closing all mosques are now part of the political conversation, and politicians trying not to look weak are beginning to adopt more nativist and authoritarian talking points.
"Under the cover of fighting off the 'populists,' the political establishment is slowly but steadily hollowing out the liberal democratic system," Cas Mudde, a University of Georgia professor who studies European politics, argued in a March 20 op-ed.
Robert McCaw, the government affairs director for CAIR and a speaker at the March 17 event, slammed the Virginia GOP's petition. He said the mosque event offered more than 200 attendees a message of reassurance about their place in the U.S.
"It's not Herring [who] needs to apologize. It's the state Republican party for engaging in this smear," McCaw said. "It endangers Muslims when you have a state party smear an entire faith community in their house of worship. What type of signal is this sending, and on whose ears will it fall?"
Colin Christopher, the deputy director of government affairs for Dar al-Hijrah, contacted HuffPost Tuesday night to say the congregation saw the GOP message as a sign of the party's shift toward what he called "extremism."
"Instead of talking about the economic challenges our country faces, the party instead chose to try and criminalize an entire community that was hosting a citizenship application clinic and know-your-rights event with the highest law enforcement official in the State of Virginia," Christopher said.
The center is used to fear-mongering, he added. "If anyone wants to understand who Dar al-Hijrah is, what we do, they have to go no further than to talk to members of Congress, to local elected officials, to every single rabbi, priest and other religious leader in Fairfax County and Arlington County and they'll get the story," Christopher said. "We're not threatened by this kind of language. It just shows the character of the Republican Party."
Herring's team responded Tuesday night as well.
"While Attorney General Herring is actively working to reassure Virginia Muslims and other minority communities that they are safe and welcome, the [Republican Party of Virginia] is sending dangerous messages that only embolden those who want to harm or harass Muslims here in our communities," communications director Michael Kelly said in an email. "I'll go ahead and extend an open, standing invitation to anyone from the RPV or any Republican elected official or candidate to join us the next time Attorney General Herring visits a Virginia mosque and they can tell their fellow Virginians to their face how they're 'terrorist sympathizers.'"
Herring is one of several state attorneys general challenging Trump's ban.
"I'm here to defend and protect the rights and civil liberties of all Virginians, including minority communities, no matter what you look like, what your background is," Herring told attendees at the March 17 event.
John Findlay, the executive director of the Virginia GOP, told HuffPost his party was troubled by the specific mosque Herring spoke at, not by the general idea of political appearances at mosques.
He also condemned CAIR, saying he was certain the civil society organization had links to Hamas. As proof, he emailed a link to a National Review story that cited a decision by the United Arab Emirates to designate CAIR a terror group. (Experts say the UAE action had more to do with suppressing civil society than a true terror threat, but anti-Muslim figures in the U.S. have cheered that government's repression.) Findlay said he could not imagine the GOP engaging with CAIR.
"We didn't smear an entire faith community in any way, shape or form," Findlay said. "We were commenting on Mark Herring's appearance at this mosque that has been linked to multiple terrorists."
The visit by Davis, the former Republican lawmaker, was different because he had already left office, Findlay said.
Asked whether he thought it was appropriate for the FBI to attend an event there this past January, he replied, "Oh, man ... when did they?"
Findlay then said the bureau's decision was different because FBI employees were not politicians. Asked again, he said he did not want to comment on the matter.
This story has been updated to include comment from John Findlay, Herring's office and Dar al-Hijrah.
Popular in the Community