FAIRFAX, Va. ― In the first Virginia Democratic gubernatorial primary debate on Saturday evening, Virginia Lt. Gov. Ralph Northam declined to attack former Rep. Tom Perriello for a controversial anti-abortion vote Perriello made in Congress.
Instead, both candidates emphasized their staunch support for abortion rights, promising to push back against restrictions proposed by the Republican-controlled Virginia legislature.
"I strongly support a woman's right to choose. I have long supported Roe v. Wade and believe that it's not enough just to ensure that that right exists on paper, but that there is meaningful and affordable access to that right," Perriello said.
As a member of Congress in 2009, Perriello voted for the Stupak amendment, which would have barred federal funding from the Affordable Care Act from going toward insurance plans that cover abortions. He has since expressed "regret" for the vote, claiming he was trying to keep a promise to his constituents in a conservative district.
Northam didn't bring up Perriello's vote on Saturday, despite making it an issue on the campaign trail. Instead, he used the debate to tout his advocacy for abortion rights, including fighting a trans-vaginal ultrasound bill as a state senator in 2012.
"There is no excuse that a group of legislators ― by the way, most of them are men ― should be telling women what they should and shouldn't be doing with their bodies. That needs to stop in Virginia," Northam said.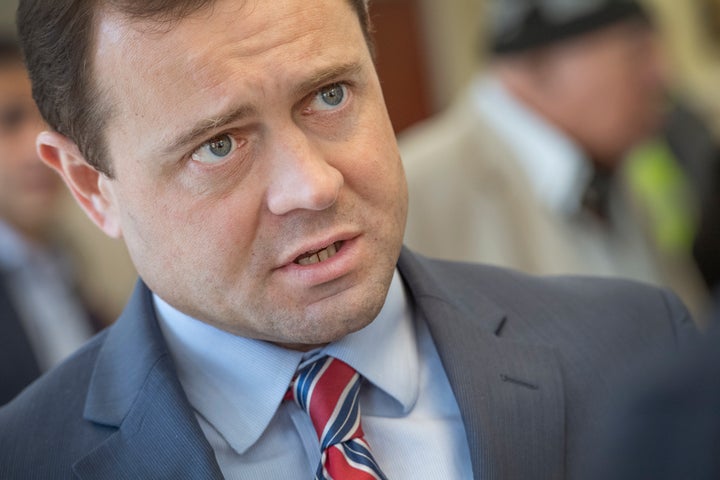 David Turner, a spokesman for Northam's campaign, said Northam may still bring up Perriello's voting record in the remaining four debates.
"If Tom Perriello is going to minimize Ralph Northam's role in blocking trans-vaginal ultrasound, we're going to discuss his role in voting for a bill that Planned Parenthood said at the time was tantamount to banning abortion coverage," Turner said.

Perriello has criticized Northam for voting twice for former President George W. Bush, a staunch foe of abortion rights who appointed two opponents of Roe v. Wade to the Supreme Court. Northam, a pediatric neurologist from Norfolk, claims he was not attentive to politics at the time and would have voted differently knowing what he knows now.
The two contenders' strong stance on abortion rights comes as the Democratic Party struggles over whether to tolerate deviations from its pro-choice platform.
Last week, reproductive rights activists, led by NARAL Pro-Choice America, criticized the Democratic National Committee and Sen. Bernie Sanders (I-Vt.) for embracing Heath Mello, a mayoral candidate in Omaha, Nebraska, who backed abortion restrictions as a state lawmaker. (Mello has since declared that he would protect reproductive rights as mayor.)
DNC Chair Tom Perez responded to the uproar with a statement publicly disagreeing with Mello and reaffirming the party's strong commitment to abortion rights.
Perriello's vote for the Stupak amendment has so far done little to undermine his status as the progressive favorite in the race. As a young congressman, he developed a reputation for supporting the agenda of then-President Barack Obama, despite the growing contempt for the administration in his district. Perriello, now 42, went on to head the Center for American Progress action fund and serve as a State Department special envoy to the Great Lakes region of Africa.
Northam, 57, had all but locked up the Democratic nomination until the election of President Donald Trump inspired Perriello to jump in the race in January. The lieutenant governor enjoys the support of almost all of the Virginia Democratic establishment, including Gov. Terry McAuliffe and Sens. Mark Warner and Tim Kaine.
Perriello has also drawn national attention to the race, casting himself as the candidate best equipped to lead a state-level resistance to Trump's policies. With hardline progressive positions like blanket opposition to the construction of oil and gas pipelines, he has attracted the support of high-profile progressives like Sanders and Sen. Elizabeth Warren (D-Mass.).
Northam has responded by tacking to the left and sprinkling his rhetoric with anti-Trump red meat. In his opening remarks, Northam declared that Virginians are both looking for someone willing to keep them safe and provide greater economic opportunities, as well as "someone who will stand up the narcissistic maniac on the other side of the Potomac River and not let him get near Virginia."
Perriello and Northam's policy differences have blurred somewhat as the campaign has progressed. After Perriello came out in favor of gradually increasing Virginia's minimum wage to $15 an hour ― the state currently abides by the federal minimum of $7.25 ― Northam followed suit.
Yet Perriello's agenda remains the more progressive of the two. He has proposed making pre-Kindergarten education universal in the state, as well as providing two free years of community college, paid for by a tax reform proposal that eliminates deductions for the wealthy. By contrast, Northam's plan for free 2-year community college would require participants to dedicate two years to community service.
The debate at Lanier Middle School on Saturday evening provided Perriello some opportunities to highlight these distinctions.
Unlike Northam, Perriello has declined to accept campaign contributions from the mammoth, Richmond-based energy utility company Dominion. Dominion is hoping to construct the Atlantic Coastal pipeline, which Perriello opposes.
Northam supports construction of the pipeline, but says he's still for tough regulations. He sent a letter to the Virginia Department of Environmental Quality backing a comprehensive review of the pipeline project's environmental impact.
In one of the tensest moments during the mostly genteel debate, Perriello pointedly asked Northam if he had consulted Dominion before sending the letter.
"I've had a lot of discussions with a lot of different people, Tom," Northam responded. "And I'm not gonna stand here on the witness stand with you and respond to what those discussions entail."
Most of the people in the audience appeared to have made up their minds as to whom they were supporting before the debate began, with many sporting stickers for their preferred candidate.
"Ralph is the more appealing candidate because I feel like he understands Virginia very well given his experience and things that he's done in state government already here. And I also feel like he has a unique perspective because he's a veteran," said Kia Thomas-Hamel, 42, of Fairfax, who is also a veteran. Northam has treated Thomas-Hamel's son, who suffers from a rare neurological condition.
Deep Sran, 45, came to the debate with two of his teenage students at the Loudoun School for the Gifted. Before the debate, he said he was undecided and leaning toward Perriello. Perriello's performance not only won him over, it prompted him to donate to the campaign.
"I was actually very impressed with Perriello in particular," Sran said. "He's talking about forward thinking when it comes to automation and consolidation."
The primary election will occur June 13. The most recent polling shows Perriello with a small lead.
This article has been updated with perspectives from the audience of Saturday night's debate.
REAL LIFE. REAL NEWS. REAL VOICES.
Help us tell more of the stories that matter from voices that too often remain unheard.
BEFORE YOU GO
PHOTO GALLERY
U.S. State Capitol Buildings