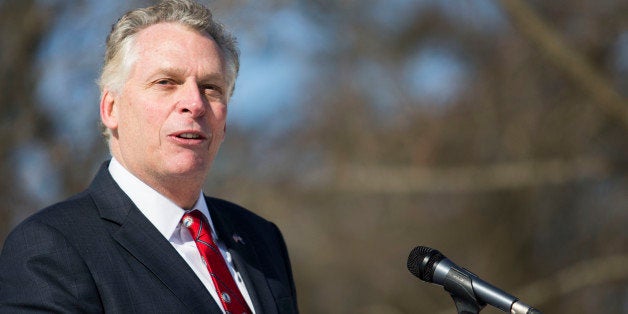 Virginia Health Commissioner Dr. Marissa Levine announced her decision on Wednesday that the state's tough restrictions on abortion clinics should be amended, in the latest development in an ongoing battle over abortion access.
The regulations require abortion clinics to have the same physical building standards as newly constructed hospitals, including specific hallway widths, ventilation systems and janitor's closets. Several clinics have already been forced to shut down as a result of the rules.
In 2012, Virginia's Republican-controlled state Assembly passed a bill requiring abortion clinics to be treated as hospitals, and instructed the state's Board of Health to implement clinic regulations accordingly. The board initially declined to comply, but later passed the controversial regulations under pressure from then-Attorney General Ken Cuccinelli (R).
However, after Democratic Gov. Terry McAuliffe (D) succeeded Bob McDonnell in 2014, he appointed five new members to the Board of Health and instructed them to review the clinic rules, calling them "arbitrary" and "marked by political interference."
Following a 45-day public comment period, Levine's options were to repeal, amend or uphold the regulations. She wrote in a Wednesday letter to McAuliffe that she does not believe she has the authority to repeal the regulations, since the assembly passed legislation requiring them to be on the books. However, she decided the rules should be amended "to be aligned more accurately with medical best practices."
The Board of Health will consider in December whether to accept Levine's recommendation.
Levine said of the 14,279 comments received by the state health department received 14,279 comments, more than 10,000 requested that the regulations be repealed.
McAuliffe's office praised the decision on Wednesday. "Governor McAuliffe requested this regulatory review out of concern that the existing regulations were the result of a process where politics came before sound medicine and the health of Virginia women," said Rachel Thomas, a spokesperson for McAuliffe.
"The Governor is pleased that the regulations will be reviewed and hopes that the outcome will better reflect Virginia's commitment to safe and accessible health care for all Virginians."
Reproductive rights advocates applauded Levine's decision as well.
"Think about it -– the width of hallways, paint colors, and janitors' closets have little to do with actual patient care," said Tarina Keene, executive director of NARAL Pro-Choice Virginia. "Instead, these medically unnecessary regulations were written by politicians with one goal and one goal only: to close high-quality women's health centers and restrict access to a range of reproductive health services for Virginia's women, including safe legal abortion.
"NARAL Pro-Choice Virginia applauds Commissioner Levine today for her recommendation to revise these restrictions, and we urge the Board of Health to follow her lead and begin the amendment process immediately," she added.
This article has been updated to include a comment from Gov. McAuliffe's office.

REAL LIFE. REAL NEWS. REAL VOICES.
Help us tell more of the stories that matter from voices that too often remain unheard.
BEFORE YOU GO
PHOTO GALLERY
U.S. State Capitol Buildings