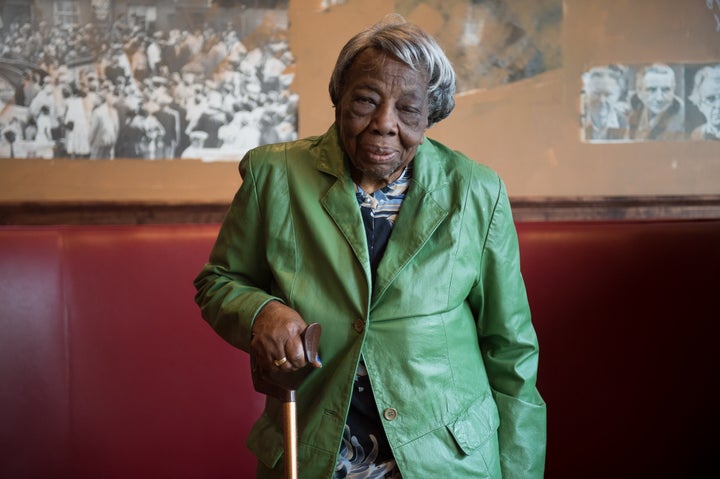 Plenty of people recognize Virginia McLaurin these days. The 107-year-old woman became an Internet sensation after the White House posted video of her joyfully dancing with the Obamas. The video has been viewed nearly 66 million times.
In an interview with The Washington Post, McLaurin described how she lost her photo ID years ago when her purse was stolen. She and her son recently met with a DMV official to try to replace it. But because of strict new federal guidelines, she needs to show her birth certificate to get a new ID. And in order to get her birth certificate from South Carolina, she needs to show photo ID.
"I don't think I'll ever get that face card," McLaurin told The Washington Post. "I was birthed by a midwife and the birthday put in a Bible somewhere. I don't know if they even had birth certificates back then."
She has a temporary ID, but that won't work if she wants to fly, for example.
McLaurin is, however, still able to vote. That's because Washington, D.C., doesn't require photo ID in order to cast a ballot. But in many other states, McLaurin wouldn't be so fortunate.
Seventeen states have some sort of photo ID law in place for the 2016 elections, according to the National Conference of State Legislatures. In recent years, GOP politicians across the nation have pushed through a number of measures restricting access to the ballot box. These laws tend to disproportionately affect African-American, Latino, elderly and low-income voters -- who also, not coincidentally, generally support Democrats.
"It's sad to see my mother having to stand in lines, getting tired," Felipe Cardoso, McLaurin's son, said. "She can't understand how her picture could be in all those newspapers and all over the Internet, how so many people could recognize her on the street and want to take selfies with her, and she can't even get a photo ID."
Bowser and other D.C. officials visited McLaurin Tuesday afternoon to help her complete the necessary paperwork, according to The Washington Post. She received a temporary ID that will be valid until her permanent one arrives in the mail.
"I thank the Lord, Mayor Bowser, and everyone who helped me get my photo ID renewed," McLaurin said. "I am especially happy to know that now all seniors in D.C., will be able to get an ID more easily."
Popular in the Community