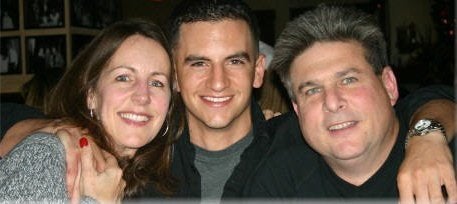 On Mother's Day, 2005, the Marine Corps Gunnery Sergeant and Military Chaplain came to Beth Belle's home in Fairfax, Virginia, and told her that her son, Lance Corporal Nicholas Kirven, had been killed during a firefight with Afghan insurgents.
The grief hit Beth and her husband, Michael, immediately, and they weren't sure how they were going to handle it. "Those months were really hard, of course," Beth remembers. "But a couple months later our close friends invited us to their house for dinner and helped us realize that we could do something for him."
Beth contacted the Virginia Community Foundation, a endowment fund focused on strengthening local communities, about starting an organization in Nicholas' name. She also formed a weekly committee, made up of friends, family, and community members, to discuss what to do with the fund.
"Nicholas was a really gifted musician. He played piano since he was four and was just a beautiful player and composer," Beth said. "So we wanted to give back to young music students in the community."
Beth and her committee immediately made plans to hold a golf tournament in her hometown of Fairfax in October of that same year, with the money going towards high school scholarships for young, gifted musicians who can't afford lessons or equipment, in addition to Save the Children, an organization close to Nicholas' own heart.
"Nicholas loved the kids overseas; he'd send photos back of him with the kids, giving them toys, and things like that," Beth said. "We wanted to work with an organization that helped kids in Afghanistan."
Since 2005, the Nicholas Kirven Fund has held tournaments every year, and has raised upwards of $200,000. "It's a lot of work every year," Beth says, "But we have a lot of great people who support us."
Beth's daughter, Pride, graduated from college the day before Nicholas died, and today works as a trauma ICU nurse. Nicholas' younger brother, Joseph, is an aspiring musician, currently attending college in Florida. Her husband, Michael, is a homebuilder. "It's been a tough time for that," Beth says.
Aside from her work with the Fund, Beth also makes an effort to stay connected with the other families whose children are buried near Nicholas' grave in section 60 of Arlington National Cemetery. They've become a close support group for one another over the years.
"The boy buried next to Nicholas, Larry Philippon, he was killed on the same day and at the same time as Nicholas, but he was in Iraq," Beth said. "And the casualty assistant officer came to his mother's door in Connecticut at the same time as the officer came to our door in Virginia. We make a point to say visit Larry whenever we visit Nicholas."
This story is part of Military Families Week, an effort by HuffPost and AOL to put a spotlight on issues affecting America's families who serve. Find more at jobs.aol.com/militaryfamilies and aol.com.


Related
Popular in the Community