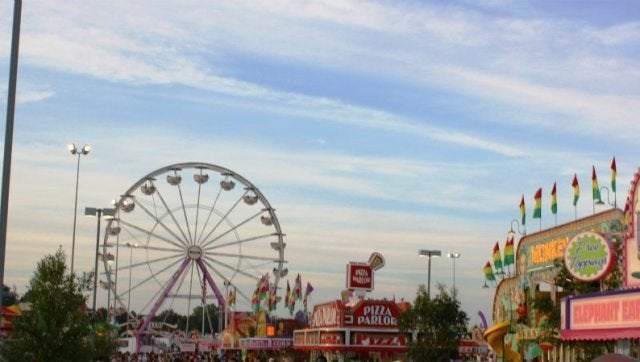 The Virginia Farm Bureau Federation has bought the remaining share of the Virginia State Fair from a Tennessee fair operator that had the winning bid in a foreclosure sale last year.
The farming advocacy organization had been a 50 percent owner of the fair after partnering with Universal Fairs LLC of Cordova, Tenn., in July.
"We've been talking about this for about a month or so," said Greg Hicks, a spokesman for Virginia Farm Bureau. "Both sides just got together and discussed it. We started thinking about some what-ifs."
Hicks would not disclose details of the sale.
Universal had the winning bid for the State Fair -- including 331 acres of The Meadow Event Park in Caroline County as well as the State Fair of Virginia's trademark, name and Web presence -- at a foreclosure auction in May. The company bid $5.35 million, paying about $5.67 million once fees and commissions were added.
Shortly after the sale, Mark Lovell, Universal's president, said he was open to others coming in and buying the fair or a portion of it from him. At that time, a source with knowledge of a possible sale said Lovell was asking potential buyers for $10 million. Lovell did not return calls seeking comment Friday.
Several months after the auction, Virginia Farm Bureau bought 50 percent of the fair from Universal. The price of that purchase was not disclosed.
Hicks said Friday that the company had talked about buying the fair before it went to auction, but did not bid when the time came.
"In retrospect, maybe we were naive about what the bidding would be. But it was probably a good thing that we spent a year having Mark involved, with his expertise. It probably would have been impossible for us to have a state fair on our own," he said.
While Hicks said the working relationship -- and parting -- was amicable, there were "growing pains" early on.
That will happen "any time you have two different organizations that are totally different in what they do," he said. "We had to work through some problems. I think both parties brought some things to the table and we had to mesh."
Hicks said now that it is in charge, the Farm Bureau could add exhibits and events or expand existing ones, including, for instance, a bigger livestock area, a parade during the fair to highlight the agriculture industry, 5K and 10K races with a course totally on fair property or close to the property, a Miss State Fair pageant in conjunction with the Miss Virginia program, and an enhanced Great Pumpkin competition
Virginia Farm Bureau taking full control of the fair is just the latest twist for the 150-year-old fair, a Virginia tradition that has changed hands three times since its longtime operator, unable to pay back about $75 million in loans, filed for bankruptcy protection in December 2011.
SFVA Inc., the nonprofit that ran the fair, filed for Chapter 11 bankruptcy to temporarily stop its lenders from taking over assets, including The Meadow Event Park, which had been home to the State Fair since 2009.
The nonprofit was unable to work out an arrangement to sell off its operations, and converted its case to a Chapter 7 liquidation.
SFVA officials said moving the fair from its previous home in Henrico County to Caroline in 2009 did not cause it to fail; The Meadow Event Park was used partly as collateral on loans the nonprofit took to help buy and build the complex in Caroline.
An investment portfolio used to secure the bank loans and bonds played a major role in the nonprofit's failure and its eventual loss of the fair.
In 2007, the portfolio was valued at about $40 million. But by November 2011, the portfolio was worth only about $18.3 million, according to court documents filed in January 2012.
The drop in value meant SFVA no longer was meeting the terms of its loan agreements and that a group of lenders was entitled to take ownership of the property and certain assets.
The Chapter 11 bankruptcy filing held the lenders at bay for about four months.
For several months last year, there was serious discussion about whether the fair would ever return. But Lovell, hours after putting in the winning bid, committed to keeping the tradition alive. "Mark deserves the credit for having the courage to bid on the fair and accomplishing a lot in a short period of time," Hicks said.
"We learned how to operate a fair, and we'll have a lot more time to do it this time around."
LLLovio@timesdispatch.com
rhallman@timesdispatch.com
(c)2013 the Richmond Times-Dispatch (Richmond, Va.)
Distributed by MCT Information Services
Calling all HuffPost superfans!
Sign up for membership to become a founding member and help shape HuffPost's next chapter
BEFORE YOU GO
PHOTO GALLERY
Weirdest All-Time State Fair Treats