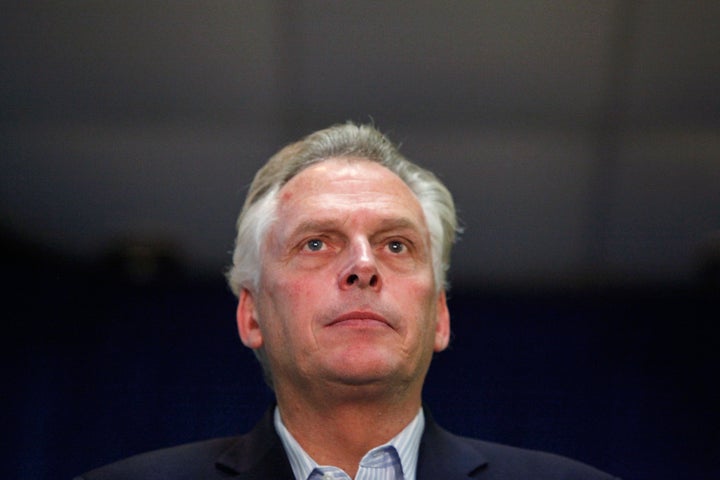 What the governor giveth, the state Supreme Court taketh away. And so the governor giveth again ― but maybe not for long.
Republican lawmakers in Virginia are asking the state's high court to hold Gov. Terry McAuliffe (D) in contempt for not adhering to an earlier ruling that declared his attempt to restore voting rights to 200,000 ex-felons unconstitutional.
After the Virginia Supreme Court, on a 4-to-3 vote, said in July that McAuliffe's order went beyond his clemency powers under the state's constitution, the governor gave it a second shot in late August ― this time individually issuing restoration orders for 13,000 people who had their voting registrations canceled by the court.
"I am not content to condemn them for eternity as inferior and second-class citizens," he said of those men and women affected, all of whom had completed their sentences and had reregistered to vote following McAuliffe's earlier decree.
Now Virginia Republicans want these individual orders held invalid, too, arguing Wednesday that the governor's move is merely a political power play and an affront to the Virginia Supreme Court.
Lawyers for the GOP legislators told the court that "the purpose, scope, and effect of his new process is precisely the same" as the one McAuliffe employed in April, and that it's equally unlawful because none of the former offenders who received the benefit had requested that their civil rights be restored.
McAuliffe dismissed the Virginia GOP's move and said he had "established a process that is fully consistent with the ruling as well as the precedent of past governors."
"Our ongoing fight to restore Virginians' rights is about one thing: Moving our Commonwealth into the mainstream of American states where people who serve their time reenter society as full citizens again," he said in a statement Wednesday.
McAuliffe added that the GOP's legal effort is simply designed to "intimidate and disenfranchise" voters who might otherwise turn the tide against the Republican Party's presidential nominee.
"The people who have filed it are more concerned with the impact new voters could have on Donald Trump's campaign than they are with the dignity of the people whom they continue to drag through the mud with their political lawsuits and ugly attacks," the governor said.
John Whitbeck, the chairman of the Republican Party of Virginia, called McAuliffe's new wave of orders a "mail merge" operation to try and get Hillary Clinton ― a close friend whose presidential campaign McAuliffe ran in 2008 ― elected.
He also said he and his party had hoped McAuliffe "would see the error of his ways" and do as the state's high court had instructed. 
"Sadly, we were wrong," Whitbeck said in a statement.
In April, The Atlantic chronicled the racist origins of Virginia's felon disenfranchisement laws.
Clarification: Language has been updated to indicate that Republican lawmakers, not the state party, are bringing the contempt action against McAuliffe.
Calling all HuffPost superfans!
Sign up for membership to become a founding member and help shape HuffPost's next chapter