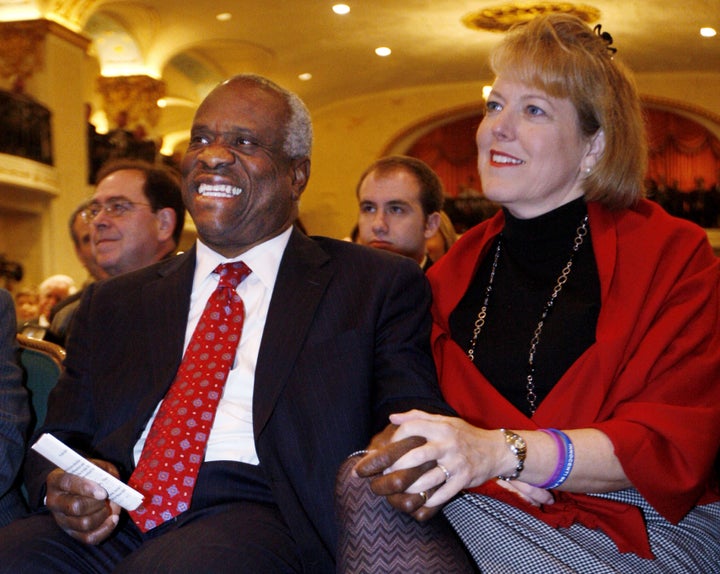 Virginia Thomas, wife of Supreme Court Justice Clarence Thomas, admitted recently that her decision to call Anita Hill, the woman who had brought forth sexual harassment charges against her husband during his confirmation hearings, was a "mistake."
In an interview with the Daily Caller, Thomas said that making contact with Hill "was probably a mistake on my part." She also told the website that her recent decision to step down from her leadership role at Tea Party-linked conservative advocacy group Liberty Central had nothing to do with the admitted indiscretion.
The AP reported in October on the call Thomas made to Hill:
The wife of Supreme Court Justice Clarence Thomas called Anita Hill to ask her to apologize for accusing the justice of sexually harassing her, 19 years after Thomas' confirmation hearing spawned a national debate about harassment in the workplace.

Virginia Thomas said in a statement Tuesday that she was "extending an olive branch" to Hill, now a Brandeis University professor, in a voicemail message left over the weekend.
Hill worked under the Supreme Court Justice at the U.S. Department of Education and U.S. Equal Employment Opportunity Commission during the time period in question.
The message left on Hill's voicemail, however, led many to question the true motives behind the communication.
In a transcript of the message provided by ABC News, which said it listened to the recording, Thomas identified herself and then said, "I just wanted to reach across the airwaves and the years and ask you to consider something. I would love you to consider an apology sometime and some full explanation of why you did what you did with my husband. So give it some thought and certainly pray about this and come to understand why you did what you did. OK, have a good day," Thomas said.
In stepping down from her leadership post at Liberty Central last week, Thomas announced that her group would be joining with another conservative organization, the Patrick Henry Center for Individual Liberty, which is headed by former FBI agent Gary Aldrich.
Calling all HuffPost superfans!
Sign up for membership to become a founding member and help shape HuffPost's next chapter