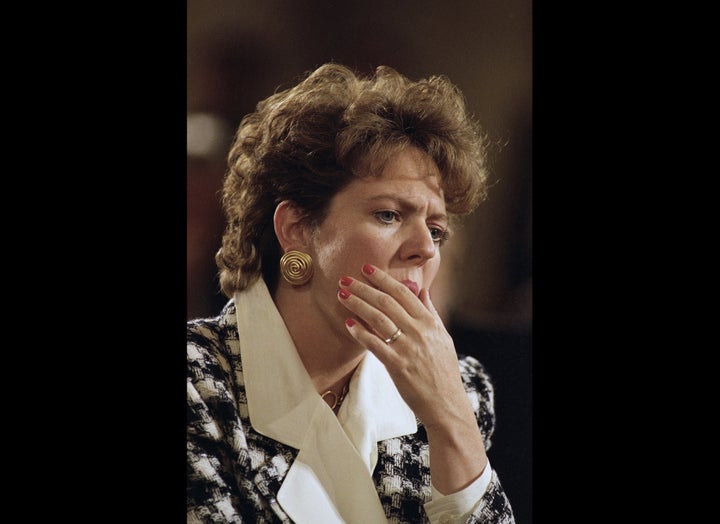 Virginia Thomas, wife of Supreme Court Justice Clarence Thomas, reportedly felt some blowback from her conservative backers following a late-night voicemail that she left for Anita Hill last year, asking her husband's former co-worker to apologize for her testimony at his 1991 confirmation hearing.
From a Politico report Friday about Thomas's growth in the Tea Party movement:
But Thomas and Liberty Central ran into problems after it was revealed in October that she had left a voice mail, requesting an apology from Anita Hill, the woman who accused her husband of sexual harassment during his confirmation hearings for the high court in 1991. That prompted another surge of attention and -- according to a conservative who knows Ginni Thomas and is familiar with her work at Liberty Central -- it "spooked" at least one donor.
Thomas gave up her leadership role in the conservative Liberty Central late last year, ceding control of the Tea Party-linked conservative advocacy group to former FBI agent Gary Aldrich.
The Associated Press relays the transcript of that message.
In a transcript of the message provided by ABC News, which said it listened to the recording, Thomas identified herself and then said, "I just wanted to reach across the airwaves and the years and ask you to consider something. I would love you to consider an apology sometime and some full explanation of why you did what you did with my husband. So give it some thought and certainly pray about this and come to understand why you did what you did. OK, have a good day," Thomas said.
In December, Thomas admitted that the phone call was "probably a mistake, but claimed that it was "laughable" to suggest that it had forced her resignation.
Popular in the Community