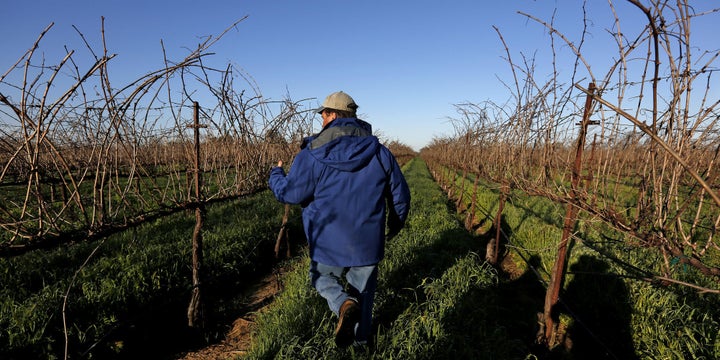 It's dark when Albino Zurita steps out of his home in Virginia's Appalachian foothills. The frozen ground crunches as he walks across the yard to his Ford Bronco.
Zurita runs a crew of Mexicans who take care of the vines at Veritas Winery in Afton. Situated within view of Rockfish Gap, the Blue Ridge Parkway and Skyline Drive in Nelson County, Virginia, Zurita takes pride in helping to create a high-quality wine.
Wine has been produced in Virginia since the 1600s. At the 1873 Vienna Exposition, Charlottesville's Monticello Wine Company won an international award for its "Virginia claret." In the early 1900s, the company was so well-regarded that the city pronounced itself the Capital of the Virginia's Wine Belt.
The rebirth was led by the Zonin family of Italy when they invested in a new vineyard in Barboursville in 1976. A catalyst in the 1970s along with now defunct Oakencroft Vineyards, Barboursville Vineyards opens the door, and by 2012 there were over 230 wineries in the Old Dominion.
The state's hot, humid summers are a challenge to viticulture, so vineyard maintenance begins early.
Mexicans and other foreign labor is welcomed in Charlottesville where many have become knit into the area tapestry. A short drive after breakfast finds a whole other story.
Two hours west of Charlottesville is Hot Springs, Virginia. The village of 738 is home to the world famous Homestead Hotel and is golfer Sam Snead's birthplace. Internationally known photojournalist Jerry Nelson was raised there and until recently his mother still lived on a hilltop just outside of the village..
In the dining room of the hotel, guests sip Charlottesville wine and don't think of the Mexican laborers that made it happen.
Five miles up the road from Hot Springs is the county seat, Warm Springs. Both are located in Bath County, formed in 1790, the present population is under 4500. The county is 92 percent white and 6 percent black. The other two-percent is comprised of Native American .22 percent, Asian, .38 percent, Pacific Islander .10 percent.
Less than one-third of one-percent of the population is Hispanic or Latino. Most of the county's residents have never seen an undocumented immigrant, Muslim or refugee. But that hasn't stopped them from supporting Trump and his wall to keep "job stealing immigrants" out.
The absence of Muslims and refugees has not vanquished irrational fear. Support for Trump's Muslim travel ban still runs at a fever pitch in spite of currently being "on hold."
Federal Visa Program — the H-2A
During the 2016 campaign, Donald Trump made controversial comments about undocumented immigrants from Mexico. His son, Eric, owns a vineyard in Charlottesville and has sought permission to bring 29 Mexican workers into the area. Other wineries in the region rely on immigrants to spray, prune and harvest grapes. They wonder if they will have any problems getting the visas for their workers since a competitor's father occupies the Oval Office.
Trump Vineyard Estates, doing business as Trump Winery intends to use the federal H-2A visa program. The H-2A program allows agricultural employers who see a shortage of domestic workers to bring foreign labor to America to perform agricultural labor or other seasonal services.
January 22 is St. Vincent's Day. St. Vincent, the patron saint of vines, says that pruning should start on January 22.
"The wine is made in the vineyard, so your wine is as good as the fruit," says Veritas owner Andrew Hodson, who is getting a jump start to produce fewer grapes.
With 100 acres, Hodson needs help to maximize the vines' exposure to light and move air through the canopy.
"With no air movement we get fungal infections," he says.
In the distance he sees snow coming over the mountain. At 20 degrees, the wind makes the air feel much colder. Zurita doesn't complain. He enjoys everything about his job — but not the wine.
"My wife won't let me drink anymore," he recounts with a laugh.
At Horton Winery, 40 miles east of Veritas, the story is different. Winemaker Michael Heny looks for 18 people to come from Mexico for ten months of the year.
"We're fortunate," Heny says. "We've had much of the same bunch return each year for twenty-years." The workers are familiar with Horton Winery.
The winery takes care of round-trip costs from Mexico, housing, food, regular Walmart trips and a pay of almost $10.75 an hour. Horton's advertises for help as required by the Labor Department, but Heny says he's had no success in drawing skilled locals.
"Everyone wants to work outside when it's nice in April. They're not as excited when it's cold in January," Heny says.
The fact is native-born Americans don't want the backbreaking labor. Anyone who eats, benefits from immigrant labor. In California, Trump-voting farmers admit that if their undocumented labor force were sent home, it would be a complete disaster."
Much of the production is performed by hand. In Madison County at Early Mountain Vineyard, Ben Jordan can't use mechanical pickers for some wines which shake individual grapes from the vine.
"There is a quality way of pressing chardonnay called cluster pressing. The process involves tossing in whole clusters and pressing them so as not to extract excess tannin from the skins," Jordan says.
"If you stem them first, you'll extract more tannin from the stems and make a different wine."
As Virginia grows as a producer of wine, fruit and other farm products, the state depends on over 3,000 guest workers from Mexico, the Caribbean, and Latin America.
If the Trump administration refuses visas for Mexican workers, Heny says the vineyards will be in trouble. The visas his foreign workers need require approval from Homeland Security, the State Department, and the Labor Department. Eric Trump's father appoints all three agency heads.
"We're hoping it doesn't affect the labor we depend on to make a great product and ruin the whole business.|
Hodson keeps a wary eye on Eric Trump.
"He's a loner within the state's wine industry," says Hodson. "Everyone is waiting to see what happens. We keep our fingers crossed that his being in the area won't make that much difference."
Libby Whitley, runs Mas Labor, the largest H-2A agency in the country, is concerned that some of Donald Trump's allies don't like guest worker programs and may look for venues to do away with them. If that happens, Virginia wineries, orchards, and farms will lose over 3,000 seasonal workers.
Whitley says most Americans won't give up unemployment benefits and other government assistance to take low paid work in the country.
Often those same Americans are the ones who falsely claim that Mexican immigrants are taking American jobs.
"Thanks for being part of my wild and wonderful journey called life," says Jerry.
REAL LIFE. REAL NEWS. REAL VOICES.
Help us tell more of the stories that matter from voices that too often remain unheard.