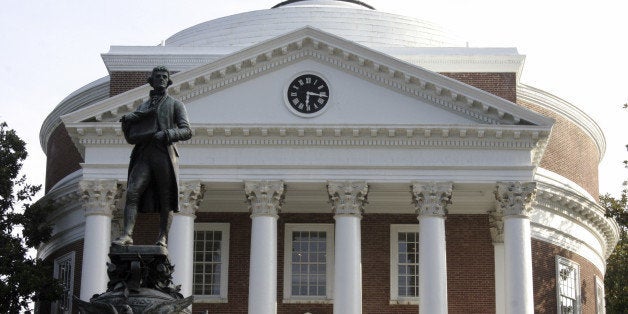 James Madison University is continuing to face pressure over how it disciplines students for sexual assault, with a growing number of alumni and students demanding reforms.
JMU is just the latest school in Virginia to face federal and public scrutiny over its handling of sexual violence, and alumni are noting they raised nearly identical concerns 20 years ago. But state lawmakers have remained largely silent, even as three public institutions are under federal investigation.
Four universities in Virginia are currently being investigated by the U.S. Department of Education's Office for Civil Rights for possible Title IX violations specifically related to sexual violence -- JMU, the University of Virginia, the College of William & Mary and the University of Richmond. Two other schools in the state, the Virginia Military Institute and Virginia Commonwealth University, faced Title IX reviews that concluded this spring.
JMU's case is based on a complaint from a student who has since withdrawn from the university. The school found three men guilty of sexual assaulting her, and guilty of harassment for spreading video of the incident around campus. The school punished them with "expulsion after graduation."
"A finding of responsible, but with expulsion after graduation, is not a just decision in this case," Tammy Castle, an associate professor of justice studies at JMU, told The Huffington Post.
"Students have been suspended for drinking offenses, and expelled for plagiarism, and this sends the message to the university community that sexual assault is not as serious as these other behaviors," Castle added. "It also discourages victims from speaking out against sexual assault, and supports a rape culture."
Students And Alumni Demand Change
The case, first publicized in June, has outraged students and alumni. An online petition demanding a change in JMU's sexual assault policies had reached 12,000 signatures as of Tuesday.
JMU spokesman Bill Wyatt noted that prior to the petition, the university put in place "a comprehensive, ongoing review of our policies, procedures, training, and support services relating to sexual harassment and assault." He declined to comment further to HuffPost except to refer back to a June 19 statement.
However, alumni are noting in online discussions that this controversy is similar to issues some of them protested about 20 years ago.
In 1993, students could only be charged with "sexual misconduct," which covered everything from unwanted touching to rape. Students demanded a new policy that differentiated between more and less serious offenses, and at one point organized an overnight takeover of an administrative building on campus.
"We're talking right now about how we can respond to this latest situation," said Brian Kildee, one of the activists who pushed for reforms to the school's policy in the early '90s. "We succeeded in changing some key policies in the 1990s. Twenty years later, it's clear that changing the underlying culture is much more difficult."
Brad Perry, who about 14 years ago served two years as the Male Outreach Coordinator in the now-defunct JMU Office of Sexual Assault Education, said that during his tenure, officials were frequently unwilling to investigate cases.
"I remember a campus sexual assault colleague of mine said, 'Schools will never change the way they handle these cases until they are more scared of being sued by a victim's family than a perpetrator's family,'" recalled Perry, who later spent a decade as a Statewide Violence Prevention Coordinator at a Virginia nonprofit. "[Universities] don't really have a whole lot of incentive to do much about this and they haven't."
Investigations On Multiple Campuses
Each of the investigations at the Virginia schools, like that at JMU, was sparked by federal complaints.
UVA's investigation is unusual in that it started in 2011, but remains open. The Education Department declined to say why the investigation was so long-running, and noted "that some cases take longer than others due to the nature and complexity of the issues involved."
Officials for the University of Richmond and the College of William & Mary confirmed their investigations were due to complaints. Richmond vowed to cooperate and noted it has in place a bystander-awareness training program to help students recognize and prevent sexual violence. William & Mary referred to a previous statement making similar points.
VCU wrapped up a Title IX investigation in April with a signed agreement about a new policy it must put in place to deal with sexual violence and harassment. The April 29 letter closing the investigation -- which had been sparked by two complaints -- stated it did not determine whether VCU was compliant or not with Title IX, but the letter concluded OCR's review.
OCR consolidated the two complaints about VCU into one investigation. One complaint was from a graduate student who alleged the university didn't properly handle discrimination she faced in a class, took nine months to resolve her case, and retaliated against her when she voiced her concerns. The other complaint alleged VCU botched a Title IX investigation and failed to coordinate with law enforcement to maintain victim confidentiality.
There was no letter of findings issued to say what, if anything, VCU had done wrong in its handling of the cases.
A recent OCR investigation found that the Virginia Military Institute, the oldest state-supported military college in the country, required female students who are pregnant or parenting to resign or face expulsion. One senior male cadet issued wire hangers to female student and told them they were their "abortion tools," but VMI failed to involve a Title IX coordinator or take steps to discipline the male cadet. VMI agreed earlier this year to take a number of steps dictated by OCR to rectify its sex discrimination.
Despite a flurry of activity by federal officials at Virginia's colleges, the state's lawmakers have remained on the sidelines.
The Virginia governor's office, the leadership of the Virginia Senate and House of Delegates, and the chairs of the state education committees in the Virginia legislature all failed to respond to requests for comment from The Huffington Post about whether lawmakers had plans to address sexual assault on campus in the state.
The Virginia legislature did consider one piece of legislation in 2011 that would have brought school and police investigations closer together by requiring local law enforcement to be notified of all campus rapes. The law was named "Kathryn's Law" after a UVA student, Kathryn Russell, who went public about how in 2004 the university tried to dissuade her from reporting her rape.
UVA was also sued in 2003 by a rape victim who was told she'd face punishment if she spoke about her assailant, who the university had determined was responsible for sexual assault but had allowed to stay on campus. Following a 2004 story on the case in a local newspaper, more than 400 students gathered on campus wearing symbolic pink or red gags.
Yet back in Virginia's state legislature, Kathryn's Law died in committee and never got a full vote.
The bill did result in the Virginia Crime Commission conducting a statewide survey of college campuses. The review found that in 2010, there had been a total of 16 rape reports on Virginia campuses but zero arrests. Forcible fondling had led to three arrests.
The commission found 10 percent of Virginia colleges did not have a written policy for rape investigations, as required by Va. Code § 9.1-1301, and 39 percent of universities were using a standard of proof in campus rape adjudications higher than what the federal government recommends. In addition, 76 percent allowed an accused rapist to cross-examine his reported victim.
The ongoing federal investigations of JMU, UVA, William & Mary and Richmond could take six months to several years to complete. OCR typically concludes these investigations with resolution agreements stipulating changes that must be made by the schools. If the office is unable to reach a resolution agreement with the school, it can refer the case to the U.S. Department of Justice or move to cut off the university from federal funding.
Like Us On Facebook |
Follow Us On Twitter |
Contact The Author
Related
Popular in the Community