Virginia is for prudes, according to the state's blue laws.
The starkly explicit sodomy law that helped undo gubernatorial would-be Ken Cuccinelli has been struck down. But before you get celebrating -- and please, no photos -- bear in mind that the Old Dominion still has plenty of laws banning a host of feisty activities that you might have thought would be mostly private matters.
§ 18.2-344. Fornication.

Any person, not being married, who voluntarily shall have sexual intercourse with any other person, shall be guilty of fornication, punishable as a Class 4 misdemeanor.
§ 18.2-365. Adultery defined; penalty.

Any person, being married, who voluntarily shall have sexual intercourse with any person not his or her spouse shall be guilty of adultery, punishable as a Class 4 misdemeanor.
Sodomy may have been knocked off the books, but adultery remains, as former Luray Town Attorney John Bushey knows all too well. In 2003 he was convicted of adultery -- "any person, being married, who voluntarily shall have sexual intercourse with any person not his or her spouse shall be guilty of adultery, punishable as a Class 4 misdemeanor," quoth state code.

Bushey was 65 at the time of his conviction and 18 years into a marriage with Cindy Bushey, the town clerk. He pursued an affair with another woman, but when the relationship went south, she called the cops. Page County Circuit Court dropped the case after he agreed to 20 hours of community service, but the press howled that prosecuting one affair in a sea of adultery was unfair.

"I think [adultery laws] ought to stay on the books," Cuccinelli says. "Frankly it wouldn't hurt to enforce them more." He equates adultery to perjury inasmuch as the occasional prosecution or two would get people thinking twice.
3. Swearing On The Telephone
§ 18.2-427. Use of profane, threatening, or indecent language over public airways or by other methods.

Any person who uses obscene, vulgar, profane, lewd, lascivious, or indecent language, or makes any suggestion or proposal of an obscene nature, or threatens any illegal or immoral act with the intent to coerce, intimidate, or harass any person, over any telephone or citizens band radio, in this Commonwealth, is guilty of a Class 1 misdemeanor.

"Over any telephone" includes, for purposes of this section, any electronically transmitted communication producing a visual or electronic message that is received or transmitted by cellular telephone or other wireless telecommunications device.
Yes, this law is still enforced. Here's a 2012 case in which the Virginia Supreme Court found that the law was properly applied against a man who said some pretty awful things over the phone to the woman he'd been having an affair with, after that woman said some unpleasant things to his wife, causing, as the court notes, "a great deal of animosity."
§ 18.2-374. Production, publication, sale, possession, etc., of obscene items.

It shall be unlawful for any person knowingly to:

(1) Prepare any obscene item for the purposes of sale or distribution; or

(2) Print, copy, manufacture, produce, or reproduce any obscene item for purposes of sale or distribution; or

(3) Publish, sell, rent, lend, transport in intrastate commerce, or distribute or exhibit any obscene item, or offer to do any of these things; or

(4) Have in his possession with intent to sell, rent, lend, transport, or distribute any obscene item. Possession in public or in a public place of any obscene item as defined in this article shall be deemed prima facie evidence of a violation of this section.

For the purposes of this section, "distribute" shall mean delivery in person, by mail, messenger or by any other means by which obscene items as defined in this article may pass from one person, firm or corporation to another.
5. Adoption By Gay Couples
§ 20-45.2. Marriage between persons of same sex.

A marriage between persons of the same sex is prohibited. Any marriage entered into by persons of the same sex in another state or jurisdiction shall be void in all respects in Virginia and any contractual rights created by such marriage shall be void and unenforceable.
Because the state's restrictions on same-sex couples adopting children weren't stringent enough apparently for legislators, even in the face of new efforts to place children in loving homes, last year the Virginia Legislature passed a new law giving child placement agencies the option of not putting kids in situations that "would violate the agency's written religious or moral convictions or policies."
Some lawmakers, though not all, characterized this bill as nothing more than the codification of the status quo, according to Metro Weekly:
But out gay Sen. Adam Ebbin (D-Alexandria, Arlington and Fairfax counties) told his colleagues that the bill was not about protecting religious views, but preventing LGBT individuals from adopting.

''This has been clear since its inception,'' Ebbin said of the bill on the Senate floor. ''In the all-out effort to stop LGBT people from adopting children, this bill not only limits the opportunities to children to find loving homes, it will actually endanger LGBT children, who make up a significant number of children in our foster care system.''

Ebbin said that while LGBT individuals can currently adopt using placement agencies that do not have stated or written religious or moral objections to homosexuality, he said that the bill's passage could result in any one of the 81 agencies that currently contract with the state adopting a policy or ''conscience clause'' tomorrow that would essentially ban LGBT individuals from becoming foster or adoptive parents. He added that he expects SB 349 to lead to legislation in the future that ''does directly what this bill does indirectly, achieving the ultimate goal'' of banning outright the ability of LGBT individuals to adopt.
Before You Go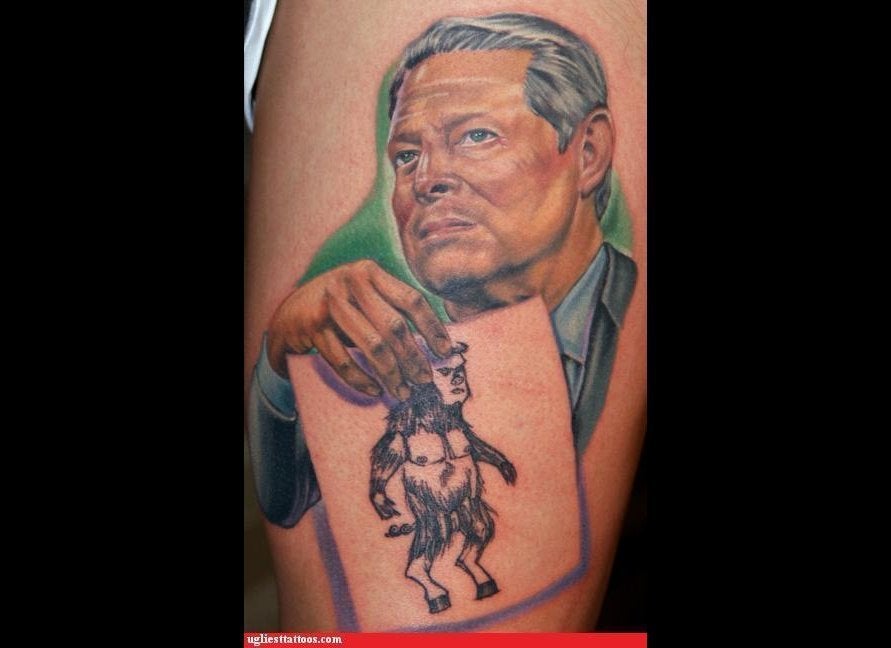 Political Tattoos That Really Suck
Popular in the Community