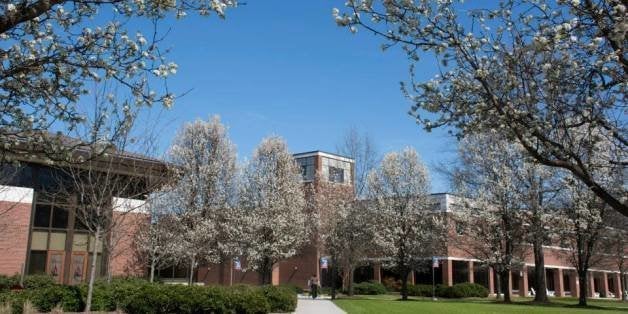 Virginia Wesleyan College found a student responsible for sexual assault, expelled him, then changed his status to "voluntarily withdrawn" to help him get into a new school, according to a lawsuit.
The suit, filed by an assault victim under the pseudonym Jane Doe against Virginia Wesleyan, a liberal-arts college associated with the Virginia United Methodist Church in Norfolk, claims the school failed to help the struggling young woman, but took steps to assist her assailant. Filed Friday in Norfolk Circuit Court by attorney Jonathan Halperin, the suit seeks $10 million in damages.
The victim has dropped out of school since the 2012 attack. The assailant is now at a new college. It's unclear whether that school knew of the Virginia Wesleyan case.
According to the lawsuit, Doe was attending a school-sponsored, no-alcohol party on campus on the third day of the fall 2012 semester when a peer adviser employed by the college lured her to a party where alcohol was served. Doe believes she was served shots of alcohol that had been drugged. She was raped in a lacrosse player's room, the lawsuit says. Doe suffered extensive vaginal bleeding and bruises. The lawsuit contends she experienced significant pain for weeks.
Doe reported the assault to the university that semester. Virginia Wesleyan scheduled a disciplinary hearing on Feb. 14, 2013. Leading up to the hearing, Doe's lawsuit states, she was harassed by students who shouted in public, "There's
the slut who's trying to get [accused student's name] kicked out of school."
The college found the accused student responsible for sexual assault and expelled him. Then, on May 3, 2013, Doe received a letter from David E. Buckingham, Virginia Wesleyan's vice president for student affairs. It informed her the college was changing her assailant's status from "expelled" to "voluntarily withdrawn" in order to "assist him in seeking further studies."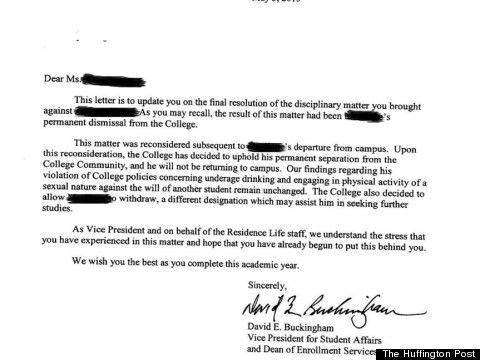 "They just said, 'We looked it over and we want to ensure he can still get a good education and be able to play athletics,'" Doe said in an interview with HuffPost, recalling how college officials further explained the decision in a meeting with her. "That was a giant slap in the face to me. You're going to help my rapist, yet I'm struggling to get decent grades, on the verge of failing out, and you aren't helping me."
Doe dropped out a few weeks into the fall 2013 semester. Though her assailant was gone, she said she struggled without help with classes, and the small community of Virginia Wesleyan made it difficult for her to move on from the assault.
Mark C. Nanavati, an attorney representing Virginia Wesleyan, said the school would not comment directly on the lawsuit, except to say, "While the College sympathizes with Jane Doe, Virginia Wesleyan denies any allegation of improper conduct and will vigorously defend this lawsuit."
Buckingham did not respond to requests for comment. The school did not answer questions from The Huffington Post about Doe's lawsuit or about its sexual assault policies.
"It kind of just ruined finals for me," Doe told HuffPost. "I had worked my ass off to study, but I kept thinking they let him go to another school. What if he rapes someone else? I started feeling guilty, like maybe I should've gone to police, so maybe he would've been arrested." She said she didn't because she feared police wouldn't believe her.
The case shows the limits of college responses in sexual assault cases.
Another sexual assault victim at Virginia Wesleyan -- a current student who requested anonymity -- told HuffPost her assailant was expelled, but transferred to another school. Neither that woman nor Doe know whether their assailants' transcripts reflect the sexual assaults.
A Huffington Post analysis has found that no more than 30 percent of students found responsible for sexual assault by their school are expelled. But it's not clear how often colleges modify sanctions on appeal, or whether schools routinely allow offenders to transfer to other institutions that may be unaware of the assault.
College administrators "are literally feeding in to a culture that allows there to be sexual violence," said Laura Dunn, founder of the non-profit SurvJustice, who was involved in recent changes to the federal campus safety law the Clery Act.
"It's not just a lack of integrity, but the repeated messages of schools knowing nothing of repeat perpetration," Dunn said, pointing to research indicating a majority of college rapists are repeat offenders.
Dunn and Alison Kiss, executive director of the Clery Center for Security on Campus, speculated that Virginia Wesleyan failed to follow its own policies in Doe's case.
"Otherwise, what's the point of sanctioning?" Kiss asked. She added, "If the student is finding out about a change of sanctions without knowledge of appeal, then that's a red flag that the institution is not following their own policy."
Dunn and Kiss said they worried that changing sanctions without allowing victims to respond may prevent other victims from coming forward.
Virginia Wesleyan's policy on sexual assault cases states that its Sexual Misconduct Committee of Appeals may re-examine decisions. The appeals committee wasn't used in Doe's case.
Another option for accused students is called "administrative action," which the policy says is open to "students who have acknowledged their policy violation, have accepted responsibility for their misconduct, and do not chose to utilize the arbitration process." Nothing in the policy suggests the victim would be included in the administrative action process.
Doe said she hopes her lawsuit forces changes at the school, "so the likelihood of this happening to other girls goes down.
"Or if it does happen, the school at least knows how to handle it in the proper way," Doe said. "They never did any of that for me."
Related
Popular in the Community