There has been a lot of buzz about Virginia wines. Awards, expansion, boutique wineries and exclusive clubs have been the focus of much press. Ann Tran and I decided it was time to venture 45 minutes outside D.C. to find out what was happening in our own backyard. When Google maps would not even guide us, we should have known we were venturing beyond the Washington, D.C. environment, in more ways than one.
What we found was entrancing. The wineries are proliferating, and the wines excellent, but it was the philosophy of life, camaraderie of local vintners and the "recherche du temps perdu" sense that was most alluring. Well maybe the unbelievable 2010 merlot (nicknamed Dionysus) we tasted from the barrel was a very close second.
Visiting Doukenie (greek for Duchess) Winery off Route 9 in Loudoun County showed us Virginia held much promise for learning what was going on at a small boutique winery. Owned by George and Nicki Bazaco, they produce only about 5,000 cases yearly, 60 percent sold to their heritage club members (more later on this) and the other 40 percent is sold to visitors to the winery. So if you want Doukenie wine, you have to visit the winery. Exclusivity is appealing, but is this all about a business model or is it something more?
Geologically, Doukenie's location is a blessing of nature. As their resident geologist, Leanne Wiberg explains during her "Science of Wine" presentations, the geology and almost microclimate are perfect for their vines. Her scientific approach, coupled with a vocabulary for novices was a great education.
We then met Sebastien Marquet, General Manager and winemaker. He immediately made it clear that growing wine at a small Virginia winery is not just an exercise in geology and profit and loss, but a recreation of the entire French philosophy of life for this Burgundy native. As he explained the joys of living each year in sync with the cycles of nature, it was clear, mechanization was not on the agenda. Respect for the grape from bud to harvest to bottle defined his approach. Respect for his customers was a close second. Creating a lifestyle, nourished by wine but with a wider perspective of the quality of life was the guiding principle.
"As with all seasonal work, every day is different. In winter all slows down and work is less time pressured. But when spring comes you have to be ready, proactive and moving at the pace shoots are sprouting. Summer sees everything slow down a bit until about three weeks before the harvest when excitement builds as the winery prepares for harvest, getting equipment ready, checking grapes daily to smell and taste the flavor for sugar and acid content and knowing the exact moment when it is ready to be picked." Respecting the pace of nature creates a nice life and a good wine.
Also important is the camaraderie with your fellow vintners. Sebastien told us of plans for expanding the Route 9, barrel tasting or St. Vincent's festival held each February. This is inspired by the festival of the same name held in Burgundy each February honoring the patron saint of wine. He and Leanne also explained to us that when the region experienced a harsh late frost several weeks ago, several wineries lost a substantial amount of their harvest. This is when the value of your friendships with each other is seen most clearly as those who lost will be searching for grapes to buy to salvage their year. And friends will be helping friends to deal with the blow nature has dealt.
Working together, respecting the cycles of nature and not incidentally producing and enjoying great wines, create a harmony. A harmony that is creating a "microclimate" of living the good life in suburban Washington, D.C. that one could almost call a French joie de vivre -- if you dared. Maybe google maps could not compute in this milieu.
Visit the wineries of Route 9 Loudon County, Virginia for the wine, the philosophy and the inspiration. A great antidote to what we all live inside the Beltway and in most urban cities.
Note: Doukenie's wines are sold through their exclusive Heritage wine club, which has "very" strict entry requirements -- agree to buy a case of wine throughout the year and you are in. Enjoy many, many benefits -- including access to a little bit of sanity in our hyper world. You can find directions and details at their website. www.doukeniewinery.com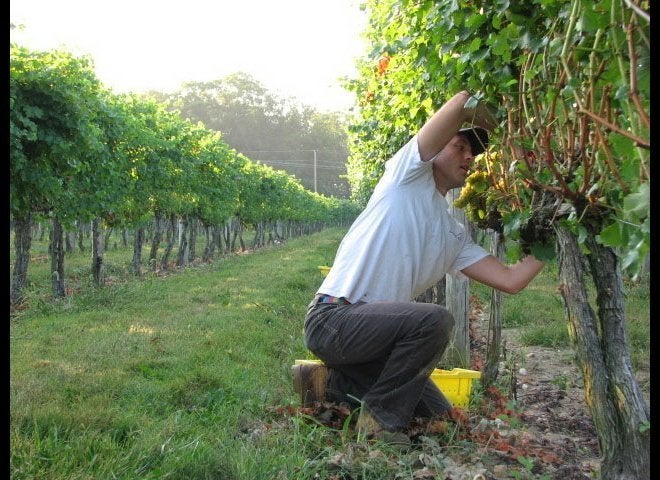 A Taste of France in Virginia Wine Country