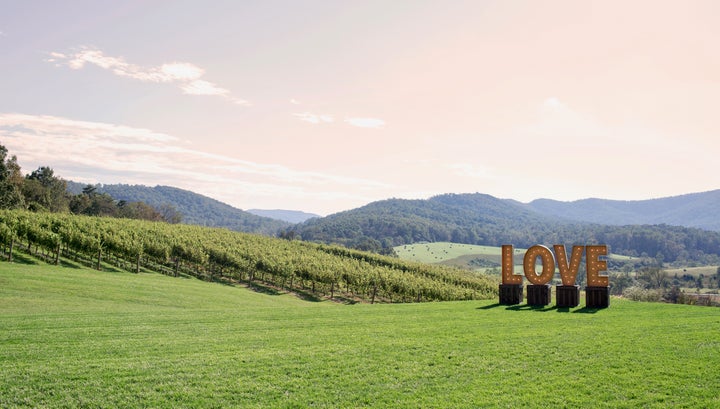 I arrive in Charlottesville before noon on a pristine spring day, the rolling green hills a far cry from where I started my morning, before sunrise in an Uber to JFK. I'm here to learn about Virginia's unique wine culture. My first guide is Gabriele Rausse, an old school Italian winemaker known as the father of Virginia's modern wine renaissance.
My image of an intimidating wine expert evaporates upon meeting Rausse. With a laidback demeanor that is standard fare around here, Rausse offers to take me on a tour of the surrounding vineyards, and soon we are cruising along winding country roads in his 1979 Mercedes. Rausse begins to unfurl Virginia's wine history. From the canopy of sun-dappled maples to the rolling hills dotted with vineyards, I am struck by the lushness of Virginia's countryside.
Vintage Roots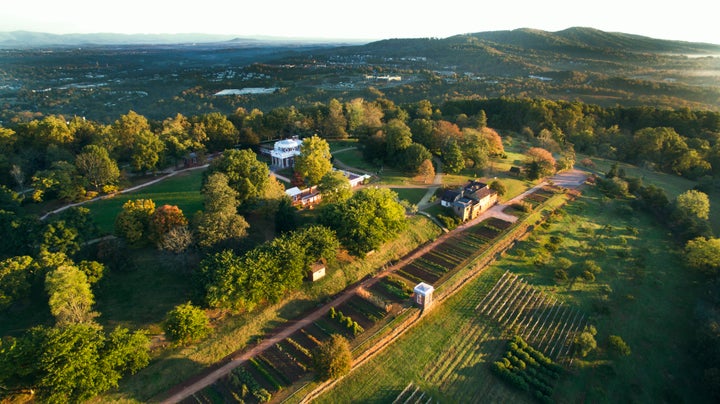 Like most American success stories, Virginia has had to crush a variety of obstacles on its 400 year path to becoming a respected winemaking region. In the early 1600s, the first colonists tried to cultivate the area's native vines to produce a cash crop, but ongoing attempts were thwarted by the region's diverse climate.
By the 1770s, European winemakers were commissioned to try their luck with planting the European Vitis vinifera outside of Williamsburg, but even the experts couldn't achieve a successful harvest. Construction began at Monticello, and along with Jefferson's grand vision for a mountaintop estate, the founding father ensured that wine would always have a legacy in Virginia.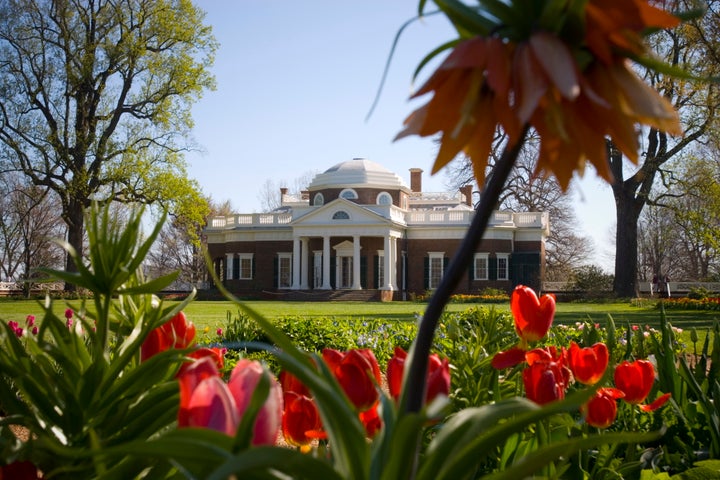 Rausse and I head back to Monticello to walk around the grounds where Jefferson planted 330 varieties of fruits and vegetables, along with two vineyards in which he planted 24 varieties of grapes sloping down the mountainside. Jefferson's original crops didn't survive, but he continued to establish wine as an important part of Virginia's culture by importing more than 400 bottles from Europe a year to serve at Monticello's famous dinner parties. He even installed dumbwaiters from the wine cellar to the dining room to keep the vino flowing without interruption.
Modern Revival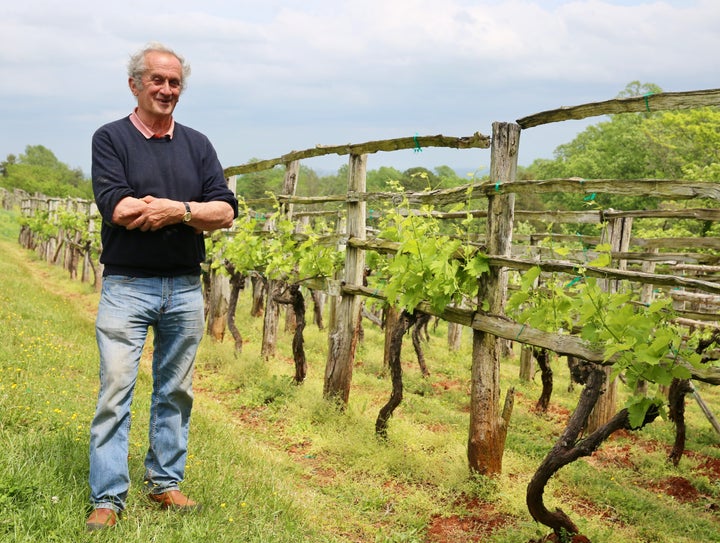 Rausse and I stop to admire the tight green clusters of grapes now flourishing in Jefferson's original vineyard. Overseeing Monticello's grounds and gardens for the past 22 years, Rausse has brought Jefferson's dream to fruition by restoring the vineyards with several of the original vine varieties that Jefferson planted back in 1807. Several vintages produced from these grapes are now sold in Monticello's Museum Shop, including a crisp Chardonnay and Bordeaux-style blends.
We pause to take in the spectacular panoramic view of the Piedmont and Blue Ridge Mountains that unfurl beyond Jefferson's vineyards, where 30 wineries welcome guests along the Monticello Wine Trail. All these wineries are located within 25 miles of Charlottesville, making this a great destination for wine lovers to enjoy tastings, wine festivals, live music, or just soak in the beauty of the Virginia's countryside.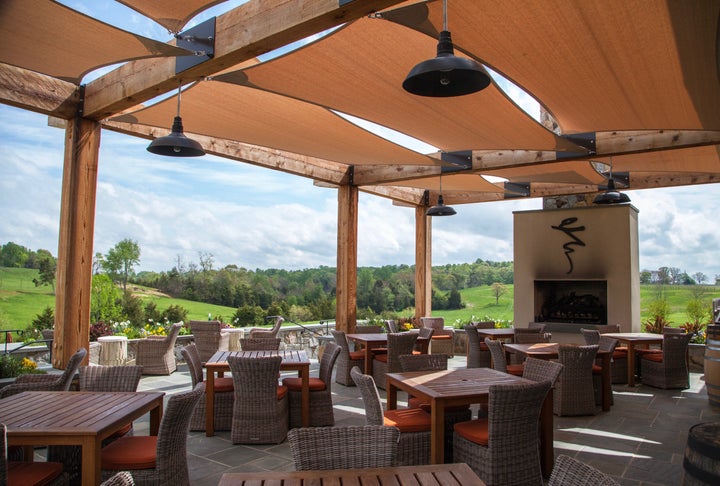 Jefferson laid roots for winemaking in Virginia, but it wasn't until the 1970s that Virginia's winemaking really took off. Looking to expand internationally, Italian winemaker Gianni Zonin bought a parcel of land outside of Charlottesville, taking a risk on a region where many had failed. He sent his vineyard manager, Gabriele Rausse, to find a fresh solution to get the wine flowing in Virginia.
Upon arriving in Virginia in 1976, Rausse was up against a healthy dose of skepticism from locals, who assured him that pinot noir could not be grown in Charlottesville. But these challenges invigorated him: "Before I came, I checked the climate of Charlottesville, and it was exactly the same climate of my town in Italy. So I said, why shouldn't it grow here?"
Over the next six years, Rausse cultivated the fields of what is now Barboursville Vineyards, becoming the first vintner to successfully plant Vitis vinifera in the region. And in the spirit of generosity that Virginia seems to cultivate, Rausse shared his trade secrets with other local vintners. The number of wineries in Virginia steadily grew from a handful in 1980 to more than 300 today.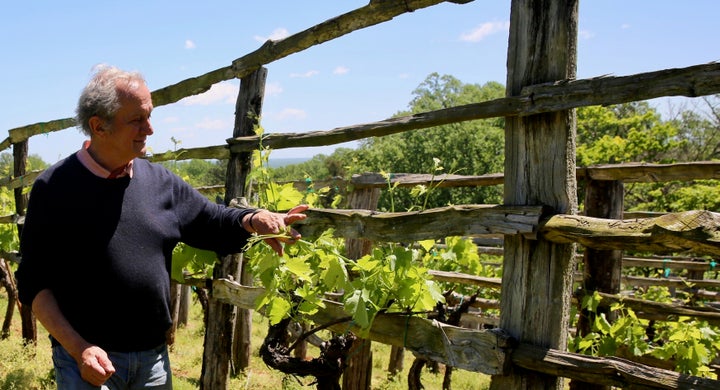 Like all great winemakers, Rausse let the land guide him. He realized that the grafting process had to be perfect to survive the region's drastic seasonal changes. And when it comes to climate, Rausse tells me that "Virginia does whatever she wants." While growers in California can rely on a mostly stable climate with temperate growing conditions, in Virginia, "there's no year that the climate is the same."
This is how underdog stories go. Every time the climate or seasonal variation throws a new challenge at Virginia's winemakers, they adapt, and it's this spirit of innovation that has allowed Virginian viticulture to thrive. With a harvest season that runs according to Mother Nature's whims, the result is constant experimentation. For wine lovers, that means discovering a new and unique flavor profile with every visit to Virginia's wineries.
History Preserved and Perfected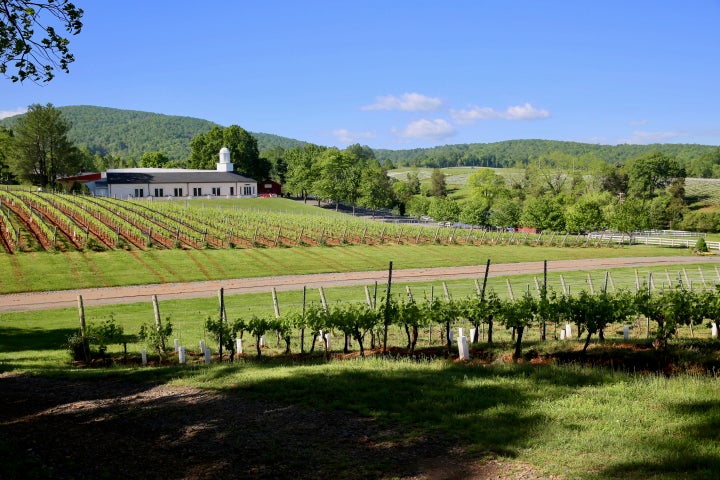 I say goodbye to Rausse at Monticello and make the 40-minute drive to Barboursville Vineyards, often credited as Virginia's top winery. A quick rain shower en route leaves a pleasant earthiness in the air and the sun re-emerges to confirm the tranquility of Charlottesville. Even the highways here feel steeped in nature, reminding this longtime city dweller of the simple pleasure of cruising along a beautiful country road.
I pull into Barboursville and am struck by the size of the vineyard, a sea of rolling green hills and orderly rows of trellises stretching farther than the eye can see. It feels like a respite from the real world.
Luca Paschina, general manager and winemaker at Barboursville, has offered to show me around. Like Rausse, Paschina comes from a family of Italian winemakers, and made his way to Virginia in 1990 to run Barboursville.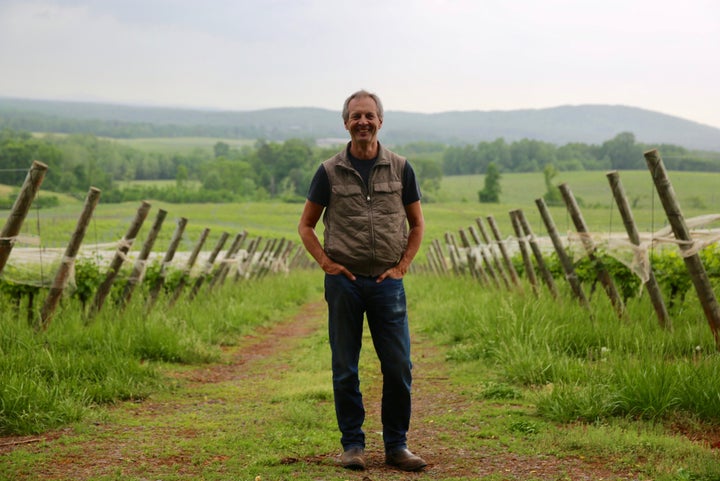 I climb into Paschina's SUV and we make our way along sloping hillsides covered in neat rows of vines. Paschina tells me about the 18 varieties of grapes they have planted, and how even small changes in the slope can lead to hugely different yields. In his 27 years at the helm of Barboursville, he has grown the vineyard from 45 acres to almost 200, and launched a tasting room and restaurant that welcomes 80,000 visitors per year. Paschina is particularly excited about the burgeoning interest in aged red wines in Virginia, and the tasting room features a large collection of older vintages, offering yet another draw for wine connoisseurs.
The vineyard's bestselling wine is called Octagon, a harmonious blend of Bordeaux, Merlot, Cabernet Franc, Cabernet Sauvignon and Petit Verdot with a smooth-bodied finish. The wine is enhanced by its historical connections, with the name Octagon chosen in honor of the octagonal shaped dining room of James Barbour's mansion, whose ruins flank the inn on the Barboursville property. Designed by Jefferson, the mansion burned to the ground in 1884.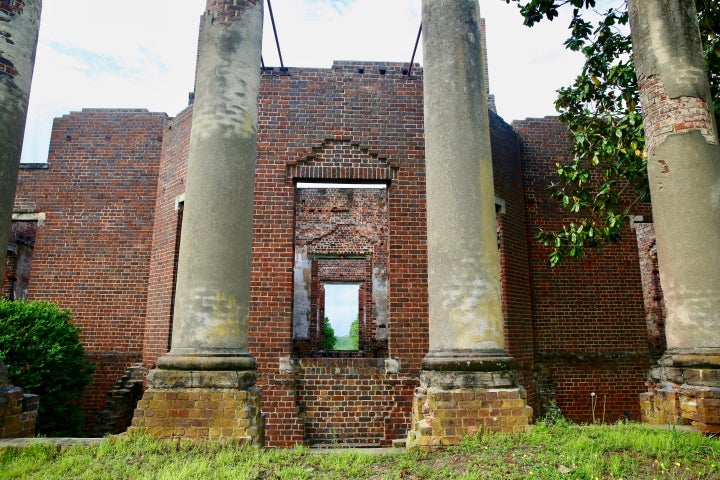 Winemakers are preservationists, and Zonin has instituted an ongoing restoration process to shore up the crumbling ruins from further disrepair. With their stately brick remains coexisting peacefully with the bucolic countryside, the ruins are a sight to behold, and yet another reason to add Barboursville to your next wine tour itinerary.
I am staying the night at the 1804 Inn, adjacent to the ruins and built a century before. I've got the Vineyard Cottage all to myself, and the quaint 18th century dwelling is perfect for travelers seeking tranquility and privacy. I take a stroll to the ruins before turning in for the night, thinking that Jefferson would be pleased at how things turned out around here.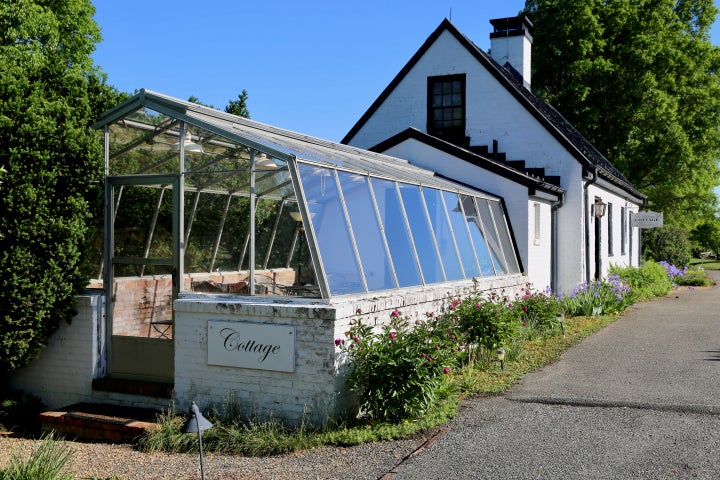 Laidback Luxury
The next morning I drive back toward Monticello, where I am meeting Kirsty Harmon, winemaker and manager at Blenheim Vineyards. Whereas Barboursville is steeped in history, Blenheim takes a more casual and contemporary approach to wines. "The nice thing about Virginia wineries is that every single place you go is going to be radically different than the next," said Harmon. Visitors to Blenheim are encouraged to bring the whole family to enjoy music festivals, food trucks, and tastings at the 30-acre vineyard.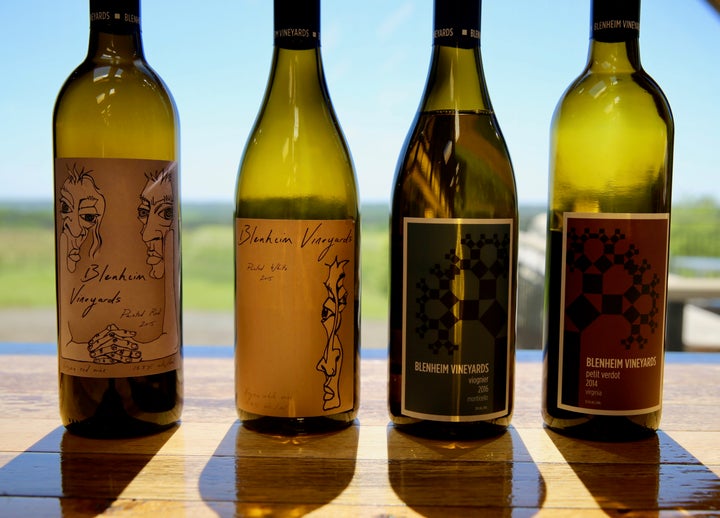 Blenheim is owned by musician Dave Matthews, who designs new bottle labels every year. Harmon says that some visitors come because of Dave Matthews, and learn a bit about wine in the process, and some come for the wine and learn about the Dave Matthews connection.
The vibe at Blenheim may be laid back, but its wines are rooted in Harmon's deep scientific knowledge of winemaking. As one of only 20 or so female winemakers in Virginia, Harmon got her footing in the industry when she met Gabriele Rausse, who became her mentor. She's been running Blenheim since 2008, and in that time has seen a huge increase in wine tourism. Blenheim welcomes 45,000 visitors a year for tastings.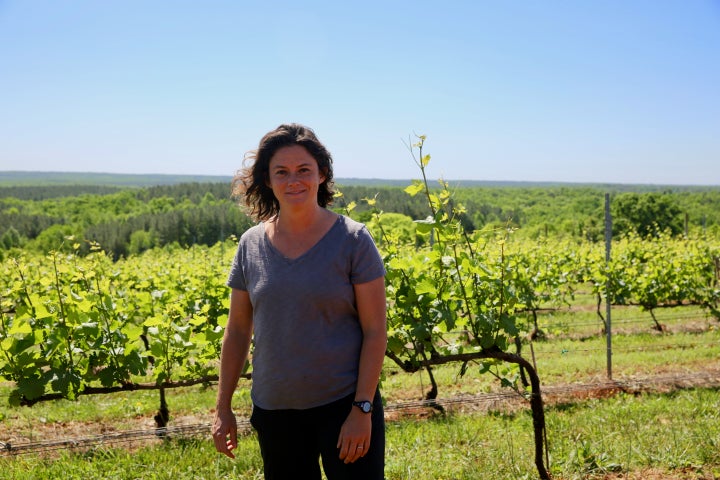 True to her vineyard's laid back vibe, Harmon creates wines that are fruit forward and approachable, meant for everyday drinking: "We try to present wine in an approachable but laid back way. Wine can get very intimidating and stuffy, but it doesn't have to be that."
My wine journey is nearing its end. I've learned firsthand that a spirit of generosity is as much a part of the winemaker's job as a deeply ingrained knowledge of the land, from its history to its soil composition. Jefferson runs deep around here.
But the wineries of Virginia aren't just bringing Jefferson's dreams full circle; they're also taking Virginia's wine culture into bold new territory, where laid back and luxurious can coexist, making Charlottesville the perfect weekend destination for both newcomers and wine aficionados alike.
Experience the rich flavors of Virginia's wines for yourself. Check out Virginia Tourism for a guide to the best wineries around the state and plan your next trip to relax in the laid back luxury of Virginia's beautiful vineyards. Because Virginia is for wine lovers!