Nothing arouses controversy like a movie about a man and a woman auctioning off their virginity.
The film's premiere marks the end of a six-year effort for filmmaker Justin Sisely, who organized the auction. In the process, he discovered that auctioning off a person's virginity is not easy to do.
"Women who want to auction their virginity see it as a quick and easy way to make a lot of money," Sisely told The Huffington Post. "However, this is not the case. It took me almost three years to find bidders prepared to pay large amounts money for a girl's virginity."
When Sisely wasn't struggling with Migliorini's visa problems, he had to contend with legal threats from Brazil's attorney general, who threatened him with sex trafficking charges if Migliorini went through with the "deal."
The Brazilian-born Migliorini allegedly received a winning bid of $780,000 for her virginity from a Japanese man known as "Natsu," while Stepanov was offered a paltry $2,600 from a 43-year-old Australian woman named "Kasandra Darlinghurst." Stepanov was initially offered $3,000, but turned that down when he learned the bidder was male.
In the film, Darlinghurst explains that she chose to purchase Stepanov's virginity more out of mercy than lust.
"I just feel like he shouldn't be just losing his virginity for money," she said. "He should lose it because he really wants to, whether that's a one-night stand or a relationship."
Sisely said the series is being shopped to TV networks around the world, and there are a few U.S. outlets that have expressed interest in showing the series.
Chain NYC Film Festival director Kirk Gostkowski was unfamiliar with Sisely's controversial virgin auction when he first saw the film.
"I actually thought it was a romantic comedy," he said. "But I was impressed. It's extremely fascinating. If the people in this film are acting, they deserve Academy Awards."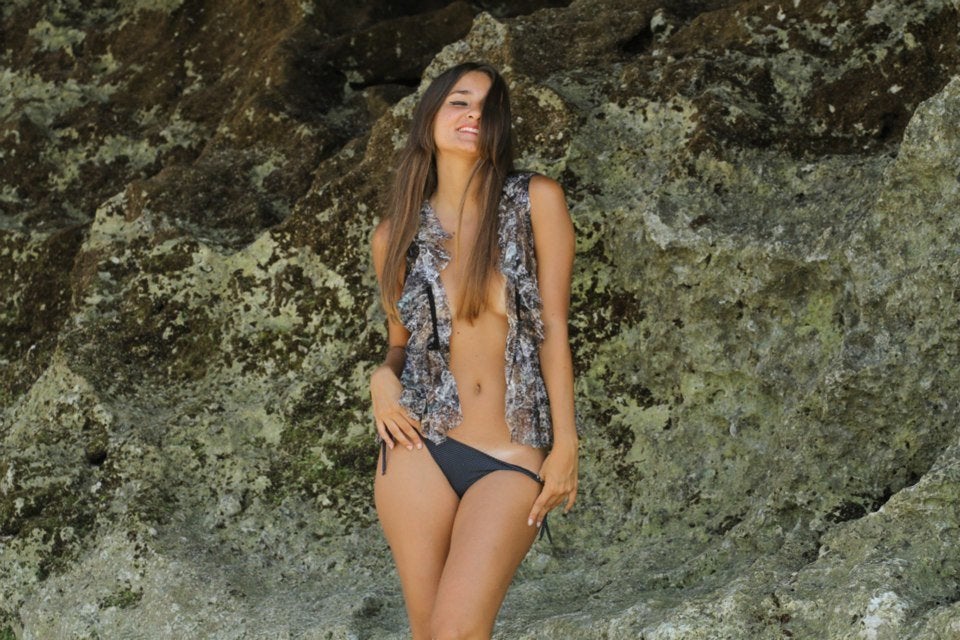 Catarina Migliorini
The Huffington Post has not seen the completed film, but the summary on the film festival website suggests that Stepanov initially developed a crush on Migliorini and tried to talk her out of selling her virginity and have a real romance.
Instead, Migliorini chose to go through with the auction.
The film's key scenes revolve around the first meeting between Migliorini and Natsu. She has long maintained that no sex took place and has previously claimed that she decided not to lose her virginity via the auction because she felt Sisely misled her and tried to defraud her.
She also alleges that when she went to meet the mysterious "Natsu" at a restaurant in Sydney, Australia, he didn't match the description Sisely gave her.
Sisely admits he was just as shocked when the alleged Japanese millionaire showed up.
"Natsu was a shock to all of us. We were prepared for someone different as you can see in the documentary," he said. "Despite who Natsu was, Catarina's fate was in her own hands. Catarina handled the situation extremely poorly and it cost her everything."
Sisely has not spoken with Migliorini since filming completed around the end of 2012.
"I am looking forward to the series airing so people can see what really happened," he told HuffPost.
Neither project has panned out. Sisely says he isn't surprised.
"Catarina made a lot of false accusations and it has become apparent that she is unsuccessful at many things," he said. "I think people generally get what they deserve."
Sisely has a better relationship with Stepanov, the male virgin.
"I speak to Alex occasionally to see how he is," Sisely said. "He was working in hospitality and living on his own the last time I spoke to him."
"I tried to concentrate on the project and see what it brings me because, at the end of the day, I thought, 'I'm just going to do the thing and when it's going to be too hard, I'm just going to pull out.'"
Although Sisely's Virgins Wanted website continues to get submissions from other interested virgins hoping to cash in on their sexual experiences, he has no plans to stay in the virgin auction business.
"I am tackling suicide in my next feature documentary series," he said.
Like Us On Facebook |

Follow Us On Twitter |

Contact The Author
Related
Popular in the Community