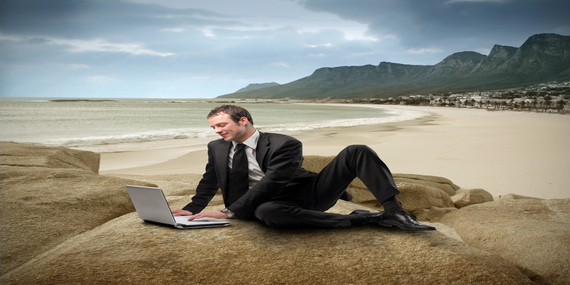 Remember the days of circling ads in papers, and walking into a business when you were looking for a job, or how cool we thought it was when you could fax in your resume? The job search process has changed quite a bit over the last few decades, but sadly, the same cannot be said of the career fair.
What are you really accomplishing when attending a career fair? How much time, money, and energy is spent on getting to the venue, and what are you typically greeted with when you visit a table? Does this sound familiar? "Thanks for stopping by, here is some information on our company, and you are welcome to apply when you get home" Company recruiters are not telling the job seeker this because they have no interest in them, the reality is all companies are going to want you to start the job application with them online to show that they are giving equal opportunity to all who apply. Most companies will not even accept resumes at a career fair anymore.
So, if you are unable to hand in a resume, land an interview, or walk away with a job offer, what is really being accomplished? At best, the career fair is an opportunity to network with recruiters who represent companies who you may have an interest in working with, and if that is your goal, then I would strongly encourage you to continue to attend the career fairs. If you feel disappointed after attending a career fair because it did not meet your expectations, you may want to give the virtual career fair a try.
The term virtual career fair is thrown around quite loosely, and in the interest of full disclosure, my company, Veteran Recruiting hosts virtual career fairs for the military community. Regardless of the platform, virtual career fairs will soon surpass the traditional career fair as a means to connect job seekers with employers, and here is why...
1. Traditional career fairs can only focus on one location at a time, but virtual career fairs allow the company to recruit worldwide.
2. Traditional career fairs require the company and job seeker to travel to and from a physical venue, but virtual career fairs can be attended from anywhere.
3. Virtual career fairs are held online, therefore, when a company tells you to apply online first, you can do that in real time.
4. Virtual career fairs save the company time, money, and resources needed to attend, and greatly reduce their time to hire.
5. Virtual career fairs attract passive job seekers who may not attend a traditional career fair because they do not want to take the time off work.
A good example of how effective the virtual career fairs have proven to be is the Veteran Recruiting events. More than 101,000 veterans have been hired as a result of attending the virtual career fairs since 2011, and more than 800,000 have attended the online career fairs.
Evan Guzman, Head of Military Programs & Veterans Affairs for Verizon had this to say about the Veteran Recruiting virtual career fairs that they attend, "Verizon has benefited greatly in hiring Veterans and military spouses through the Veteran Recruiting virtual events. Every virtual event we have attended so far has yield solid hires for our businesses across the enterprise. I would highly recommend Veteran Recruiting to any company seeking to hire skilled Veterans in the most cost effective way"
David Simpson, an Army Reservist who was hired by Verizon after attending one of the virtual career fairs was interviewed by Cheryl Casone of Fox Business about his experience.
So if you find yourself in the market for a job, or perhaps you are just looking for a more rewarding career, keep an eye out for a virtual career fair that might suit your needs.
Related
Popular in the Community