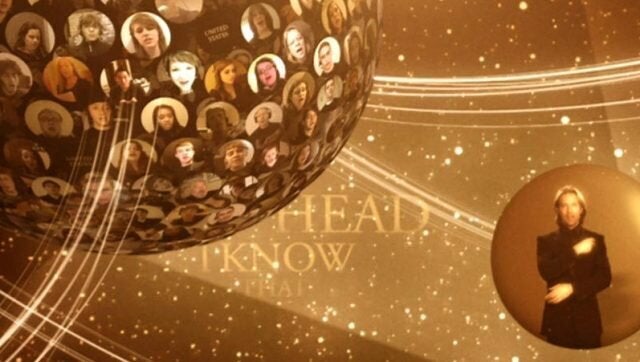 TED and The Huffington Post are excited to bring you TEDWeekends, a curated weekend program that introduces a powerful "idea worth spreading" every Friday, anchored in an exceptional TEDTalk. This week's TEDTalk is accompanied by an original blog post from the featured speaker, along with new op-eds, thoughts and responses from the HuffPost community. Watch the talk above, read the blog post and tell us your thoughts below. Become part of the conversation!
Watch Eric Whitacre's talk above about a global choir that came together on YouTube and the power of crowd-sourced creativity.
It all began with that single video by Britlin Losee, and my god how it has blossomed from there.
Our third Virtual Choir video, "Water Night", was released this past Spring and features 3,746 videos from 73 different countries. We pushed the technology much further this time, making it easier than ever for singers to join and submit their videos. We even offered voice lessons and tech master classes in Google hangouts, professional and amateur singers teaching and helping anyone who asked. And as always, there is no audition process: every single video submitted makes it into the final film.
A woman in Zululand (Southern Africa) who had no internet access in her village. She spent two days uploading her video over her mobile phone. - Eric Whitacre
Most inspiring for me has been the individual stories of singers who participated. For instance:
• A legally blind man who has never been able to sing in a choir because he couldn't see the conductor. With the Virtual Choir he was able to get close enough to the screen to see me conducting and join the choir for the first time.
• A woman in Zululand (Southern Africa) who had no internet access in her village. She spent two days uploading her video over her mobile phone.
• A woman who sat with her dying mother in hospice, gently holding her hand just offscreen while she recorded her video.
There are so many stories like these, singers from all over the world connecting with each other. We've had collaborations between other composers and poets. We've had our first marriage engagement, a couple who met through the Virtual Choir and fell in love. And we have had our first death, the alto Evangelyna Etienne, whose beautiful video I highlighted in my TEDTalk. She succumbed to cancer at the age of 22. There was an incredible outpouring of condolence for her and her family across the Virtual Choir websites, people who had never actually met her in person but had simply made music with her. Our virtual family celebrates together, we mourn together, but through it all we are singing, connecting with each other in a way that only singing allows.
And the community has begun spilling over into "real life" as well. We have seen scores of "meet-ups" -- people who met in the Virtual Choir and travel great distances to meet each other in person. In just the past month I have:
Had dinner with a group of Canadian and U.S. singers in Vancouver: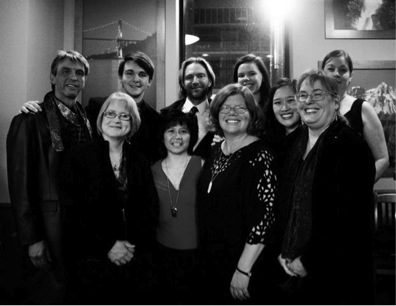 Met Peter Szabo, a Hungarian singer, in London's Trafalgar Square: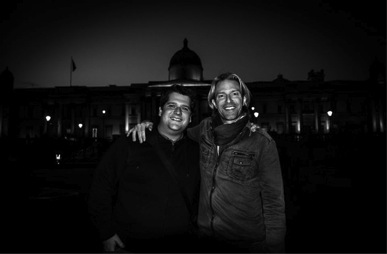 And met Hillel Davis, an Israeli singer, in Jerusalem: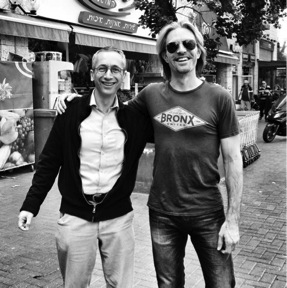 Amazingly, we all met online first, making music together, and only later did we complete the connection in the real world. It's strange when we meet 'IRL' for the first time, but it's impossible to deny: there was an intimacy, a shared energy between us all, a sense that we had done something significant together and were only now aware of its gravity and how deeply it had bound us together.
We're about to launch Virtual Choir 4 with a Kickstarter campaign (these little projects have become spectacularly expensive), and I invite each and every one of you to come and join our choir. You'll find a fun, loving group, made up of every sort of personality, nearly every nationality, and a group bound together by a simple vision: to be a part of something larger than themselves.
All photos by Eric Whitacre.
Ideas are not set in stone. When exposed to thoughtful people, they morph and adapt into their most potent form. TEDWeekends will highlight some of today's most intriguing ideas and allow them to develop in real time through your voice! Tweet #TEDWeekends to share your perspective or email tedweekends@huffingtonpost.com to learn about future weekend's ideas to contribute as a writer.
Support HuffPost
The Stakes Have Never Been Higher
Related
Popular in the Community