It was the summer of 2016 and molecular and cellular biologist/multidisciplinary artist Ashley Baccus-Clark was gifting herself a day of self-care. The police shootings of Alton Sterling and Philando Castile had left her, like so many black Americans, anguished and weary. She tried to ease her heartache by visiting Storm King, the 500-acre sculpture park in upstate New York where hulking man-made forms dwell among rolling green fields.
Because it was summer, Baccus-Clark packed some sunscreen for the journey. But after applying the milky substance to her face, she was left with a purple residue caked atop her flesh, a subtle reminder that, even with something as mundane as sun protection, people of color are too often disregarded.
"Women of color have to modify products to fit who they are as people," Baccus-Clark explained in an interview with The Huffington Post at New Inc, an incubator attached to and led by the New Museum. "Why should I have to spend my time and energy worrying about something like sunscreen? There is so much technology designed by POC [people of color] that isn't made without POC in mind."
She decided, then, to make some sheer sunscreen herself. And that simple, low-tech solution led to the monumental, virtual reality project "Neurospeculative Afrofeminism," which will premiere this Friday in the New Frontier section of the Sundance Film Festival.

Baccus-Clark is one member of Hyphen-Labs, a team of international women who combine art and technology to represent, protect and honor women of color. The team, who have worked together since 2014, also includes Carmen Aguilar y Wedge,a Mexican-American engineer with Cuban roots; Ece Tankal, an architect, moving image maker and multidisciplinary designer from Turkey; and Nitzan Bartov, an architect, game designer and artist from Israel.
With one foot grounded in contemporary reality and another in an imagined future, Hyphen-Labs renders both physical products and virtual reality narratives that specifically cater to black women. For the physical aspect of "Neurospeculative Afrofeminism," Hyphen-Labs engineered a variety of speculative beauty products and accessories designed for women of color, manifesting the belief that self-care is more than just a luxury but a means of survival. A sunscreen safe for dark skin was object one.
Along with the sunscreen, the artists pioneered the prototype for a visor with a dichroic reflective surface that allows its wearers to see but not be seen. The incandescent head gear, made with cooperation from AB Screenwear, is meant for scenarios where people of color enter a predominately white space. Instead of code-switching ― or shifting their self-presentation in order to blend in ― the visor reflects any antagonistic gazes back at the watcher. The accessory symbolizes, as the artists explain, "that what we fear most is often a reflection of ourselves."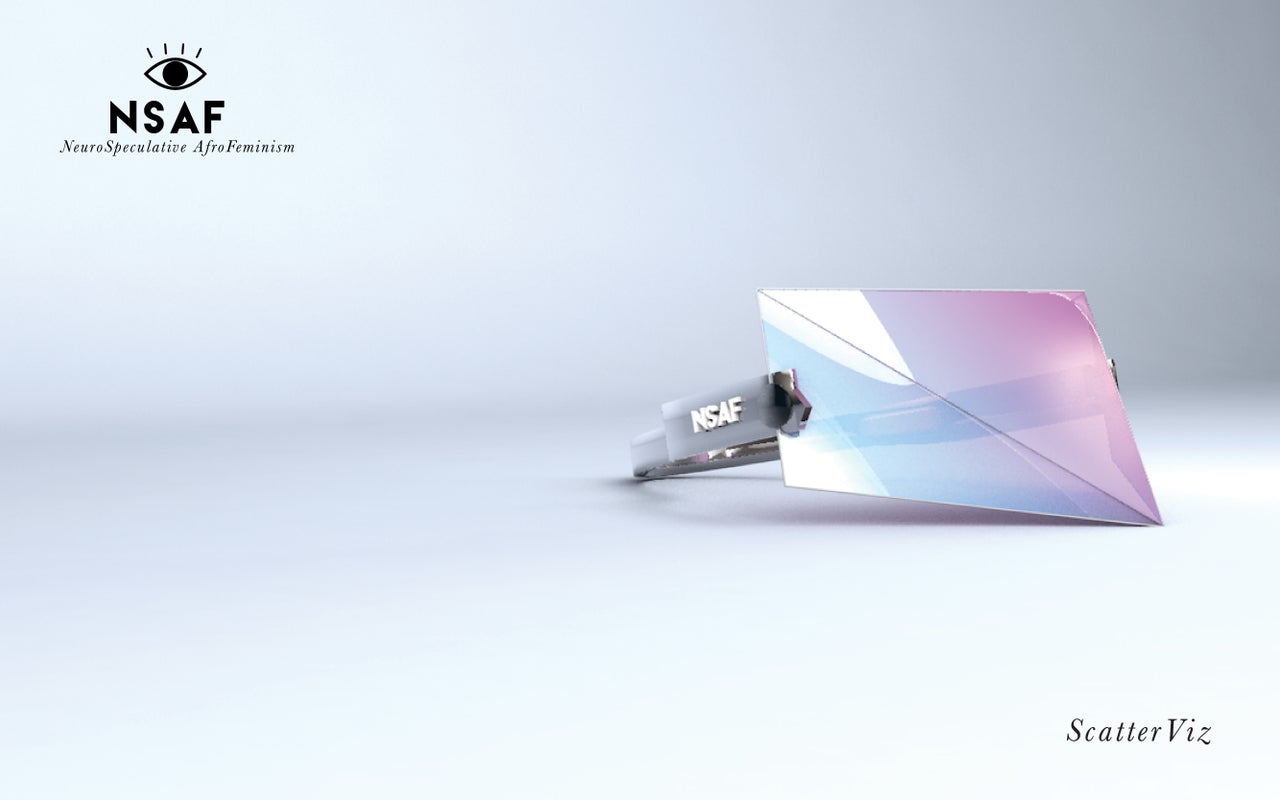 For their third product, Hyphen-Labs designed a pair of earrings that function as cameras and recording devices, meant to document both micro- and macro-aggressions in a safe and discrete manner. The jewelry, a collaboration with Michelle Cortese, responds to the failure of dashboard cameras and bodycams to accurately capture the ambiguous encounters through which black lives are lost without satisfactory explanation. While phones are often confiscated when they would be most useful, the earrings offer an inconspicuous and, in fact, really cute way to chronicle what POC endure on a daily basis.
While some of the Hyphen-Labs products help users survey their environment, others are meant to protect them from what the lab has identified as systematic surveillance employed by government officials. Collaborating with privacy artist Adam Harvey, the team created a silk headscarf whose pattern triggers facial recognition software to the point of overwhelming it. If at a protest, for example, hundreds of people wore the scarf, the cameras would be so triggered by the textiles they would shut down.
The idea for the headscarf emerged when Hyphen-Labs' Ece Tankal, wearing a necklace with an eye pendant, was playing with Snapchat filters, and the app's facial recognition software mistook Tankal's necklace for a human eye. She wrapped herself in their carefully designed headscarf during our interview while Carmen tried to Snapchat a picture. The phone bugged out, as little puppy dog filter faces quickly popped up and disappeared all over the scarf's fabric on the iPhone screen.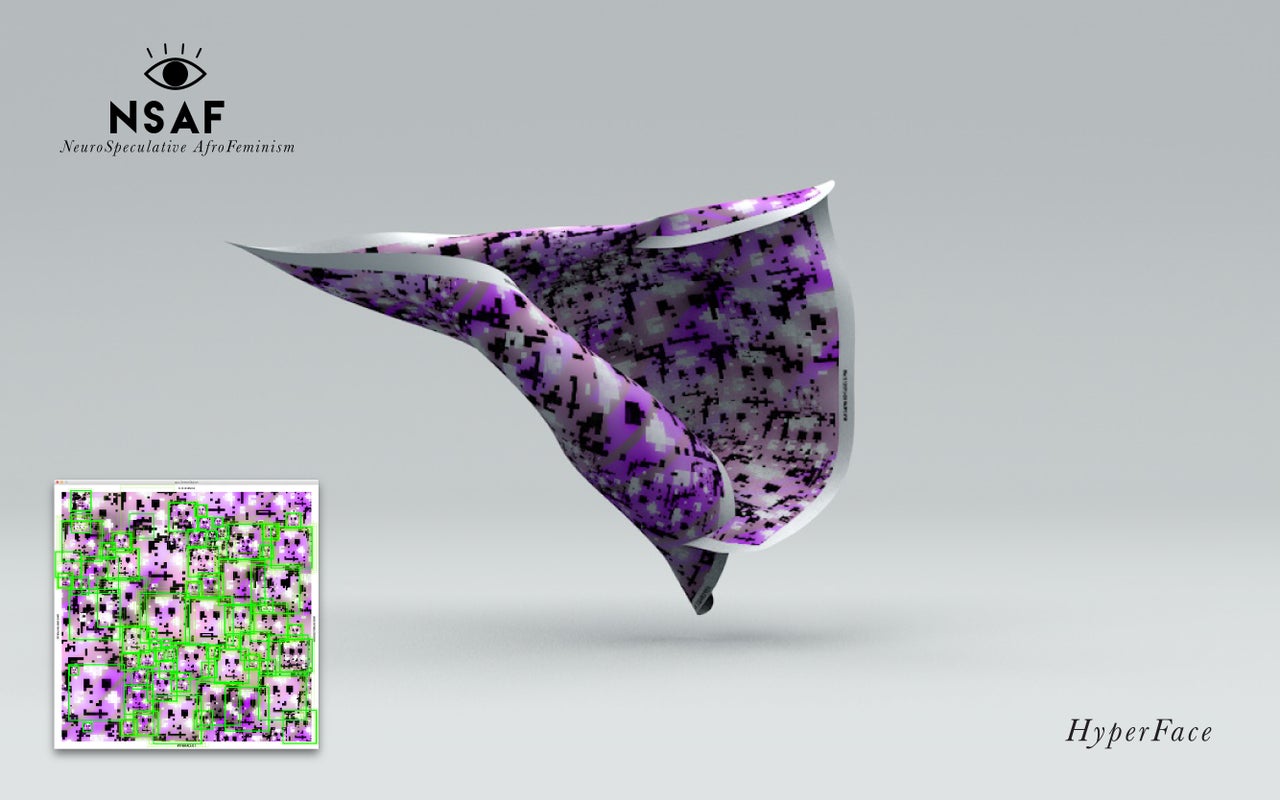 The artists' final product is called "The Octavia." Its technology riffs off high-definition transcranial direct current stimulation (HD-tDCS), a non-invasive brain stimulation technique which uses electrical currents to stimulate regions of the brain. The procedure is currently used to alleviate depression and anxiety in patients, as well as to optimize a user's mind by augmenting memory to increase creativity and work flow. In Hyphen-Labs' take, the electrodes are combined with self-cleaning natural hair extensions in order to be weaved into textured or natural hair.
It is this final product that is at the core of the second aspect of "Neurospeculative Afrofeminism," a virtual reality experience premiering at Sundance's New Frontier Art festival on Jan. 20. The immersive film takes place at a "Neurocosmetology" lab ― think futuristic hair salon ― owned by a woman named Brooks. The setting alludes to the long history of salons as safe spaces for women of color and fertile ground for political and philosophical discussion.
As the viewer, after putting on your Oculus Rift helmet, you're plunked into a chair in Brooks' salon, ready to receive your Octavia electrodes ― aimed to increase your neuroplasticity. Your first view is of yourself in the mirror, as a black woman with long pigtail braids. This, in itself, is a powerful gesture, allowing people of all races and genders to physically see themselves as a woman of color, virtually stepping into the skin of another.
The products from Hyphen-Labs' line are strewn about the virtual salon setting, confusing the space between real and imagined futures. While Brooks prepares you for your extensions, she chats with Naima, the salon matriarch, their conversation smoothly teetering between topics of ancient tradition and futuristic fantasy.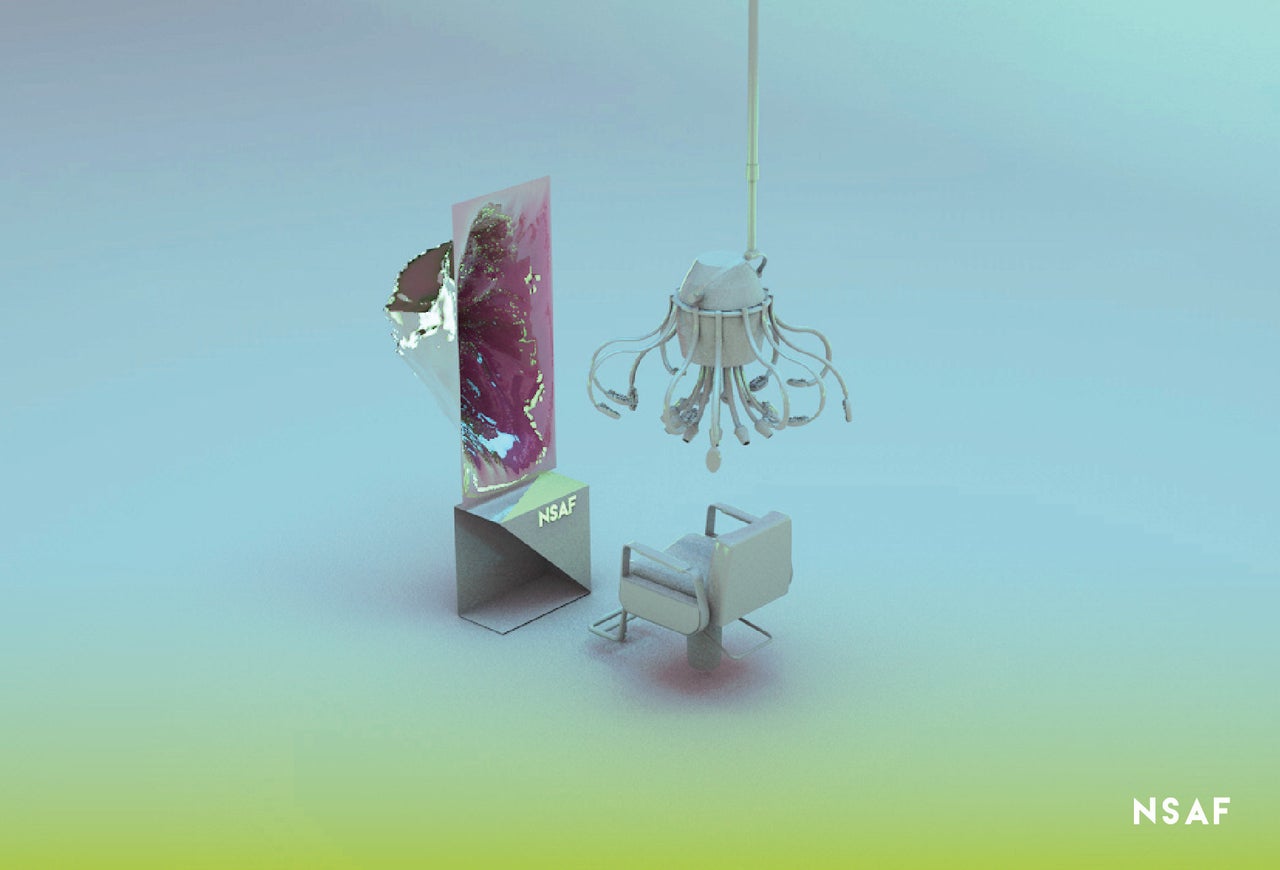 Before Brooks inserts the Octavia, she warns there may be some intense visuals when the electrodes hit. Moments later, you are floating in a 3D hallucinatory dreamscape with mountains made of water and a giant eye hovering in the sky. It's the kind of fully transportive experience that can only occur in VR, a technology that allows you to float through a dreamed-up world.
Although the viewer doesn't actually receive Octavia electrode implants during the VR experience, the effect of the 10-minute art piece is intense. Even the simulation of receiving the extensions is palpable. The Hyphen-Labs team intends to examine just how palpable, with plans to eventually conduct anthropological and neuroscientific research on whether or not experiencing the VR piece changes how viewers engage with the world.
"We are afraid of what we don't know," Aguilar y Wedge explained to The Huffington Post. "By simulating engagement [with women of color], we are trying to lower fear and prejudice." Eventually, the women hope to conduct mobile functional magnetic resonance imaging (fMRI) scans on viewers while they encounter the artwork to determine if VR has a measurable effect on the brain.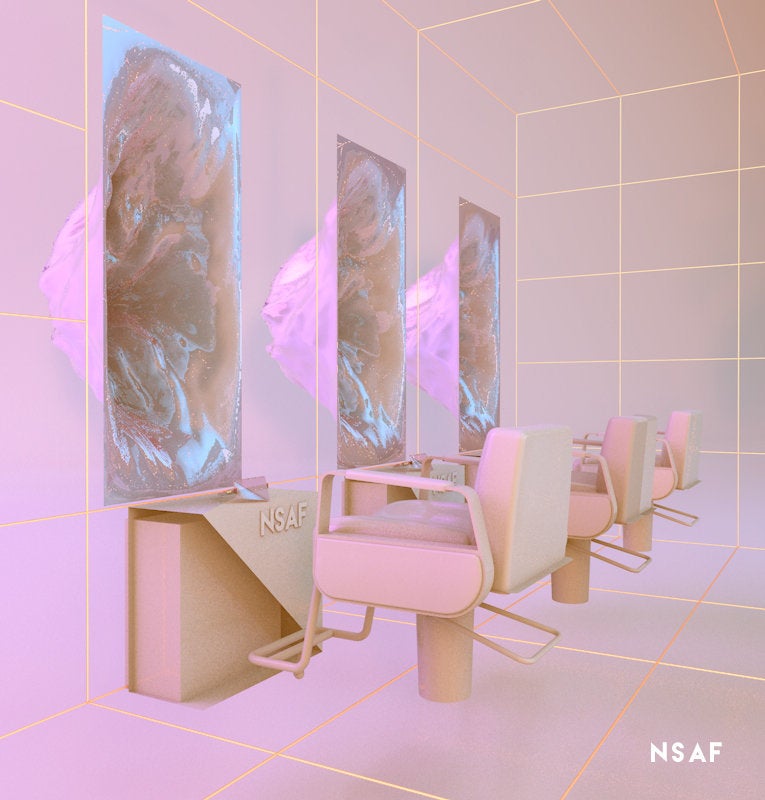 Hyphen-Labs also hopes to use the work to introduce communities to VR who might not otherwise have access to the emergent technology. The artists hope that by seeing familiar characters represented in the work, young women of color will be inspired to pursue science and tech themselves. "Where are all the black women in neuroscience?" Baccus-Clark asked. "As Marian Wright Edelman said, 'It's hard to be what you can't see.'"
The necessity of black representation in film and art have made their way into the public consciousness, belatedly, in the past few years. In both arenas, it's equally valuable to see people of color both on view and behind the scenes, as actor or image and artist, director, producer, etc. In the realm of VR, there are additional opportunities to identify and empathize with people of color.
"It's about world building," Aguilar y Wedge added. "This world is built for black women, but all are welcome." The technology physically positions viewers in situations they may not otherwise encounter, not only engaging with people of color but feeling like one themselves. Many believe VR has more potential than any other medium to dispel racial bias.
However, the strong emotions VR is known for inducing are not necessarily positive. Many have written about experiencing the "empathy machine" gone haywire, with some narratives provoking anger or hatred in the viewer instead of compassion, yielding the opposite of the intended effect. VR artists like Nonny de la Peña are known for dropping the viewer into gut-wrenching and difficult scenarios, such as domestic assault. But Hyphen-Labs seems less concerned with heated narratives and more with the simple gesture of making visible what often is not, letting the viewer come to her own conclusions.
There are plenty of other prejudices the women of Hyphen-Labs are also out to eliminate. The belief, for example, that beauty products are of lesser import than high science. "They are both things that we value," Baccus-Clark said. Or that advancements in the physical world are more legitimate than those built in the realm of art or fantasy.
"Neurospeculative Afrofeminism" premieres this weekend at Sundance, overlapping with the presidential inauguration. The artists believe their work offers a potent antidote to the small-minded world approach of the president-elect, although the issues and inequalities Hyphen-Labs addresses plagued American culture long before Donald Trump was in the picture.
For the artists, the inauguration offers a moment to reflect on many of the longstanding prejudices that America has tried to sweep out of sight. Now is the perfect moment to confront the wounds of our country, and finally, truly, begin to heal. In the face of ignorance, bigotry and ego, Hyphen-Labs serves up radical optimism, self-care, education, awareness and acceptance, through objects as mundane as sunscreen and as otherworldly as a hand-crafted alternate reality.
"We want to subvert victimization," Aguilar y Wedge said. "The only limit is our imagination."
"Neurospeculative Afrofeminism" will run Friday, Jan. 20, through Friday, Jan. 27, 2017, from 1 to 8 p.m. and Saturday, Jan.28, from 11 a.m. to 3 p.m. at Claim Jumper in Park City, as part of Sundance's New Frontier Art.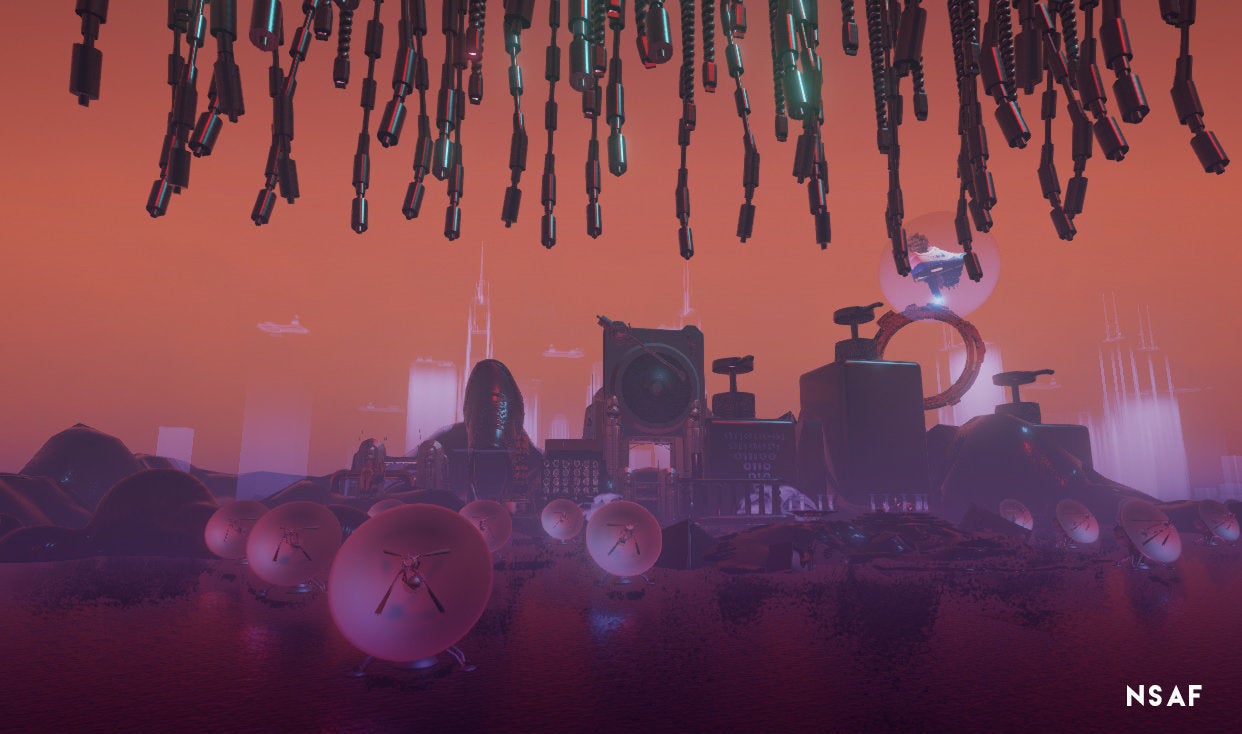 Related