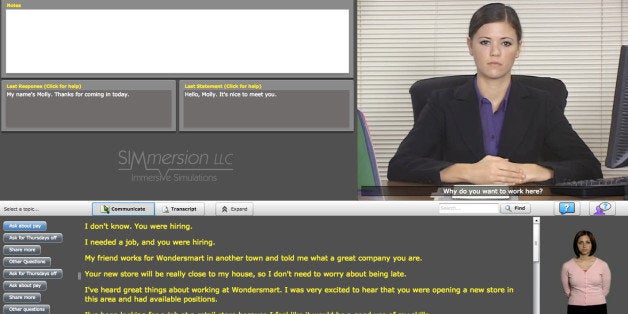 Job interviews are already stressful enough -- there's a reason there are more than 10 million Google search results for the terms "job interview" and "stress." But for veterans who are also dealing with a diagnosis of post-traumatic stress disorder and other mental health conditions, the experience can be triggering in a way that leaves far too many of them jobless.
In an effort to address this, a new job-interview training program developed by a software company is aiming to help veteran job seekers dealing with PTSD improve their interview skills and, hopefully, get hired.
The program, called Job Interview Training with Molly Porter, was created by SIMmersion and inspired by an algorithm the company developed in order to deliver interview training to FBI agents. According to Vice's Motherboard, a user launches an interview with Molly Porter, the human resources professional who kicks off the session by asking common interview questions, including those that a veteran might have particular trouble responding to, such as questions concerning employment gaps. Users are able to choose from between some 10 and 15 responses to each question and the interview will proceed.
At the end of each session, users can review their transcript and read feedback about how they could improve their performance next time and interviews get more challenging as users progress through the training.
Study participants, including both veterans with PTSD and a mood or psychotic disorder and civilians with a severe mental illness, who completed the software training were twice as likely as those who had not to receive a job offer within six months. When that comparison controlled for intelligence, recency of last job and mental health diagnosis, those who completed the training were nine times more likely to achieve a similar outcome.
One participant in the study, Adam Navarro-Lowery, whose PTSD had previously gotten so severe that he was both unemployed and homeless, told the Chicago Tribune that the training helped him build confidence in the job search process. He is currently working as a residential leasing agent.
"You realize there's hope," Navarro-Lowery told the Tribune of the training. "When I was done, I felt like I had an edge."
The program costs $89.95 for unlimited access for individuals online and can also be accessed through institutions like job training centers.
REAL LIFE. REAL NEWS. REAL VOICES.
Help us tell more of the stories that matter from voices that too often remain unheard.
BEFORE YOU GO