Seventy-two years after fighting in the Battle of Normandy, British World War II veteran Frank Mouqué returned to the French town of Armentières, which he helped liberate. But this time, he didn't leave his chair.
A virtual reality headset made the 91-year-old feel as if he'd been transported to the town. A remarkable video shows him being greeted by local school children and war survivors, and being awarded a medal of honor by the town's mayor.
Mayor Bernard Haesebroeck recognized Mouqué as a war hero whose courage, actions and bravery earned his town its freedom.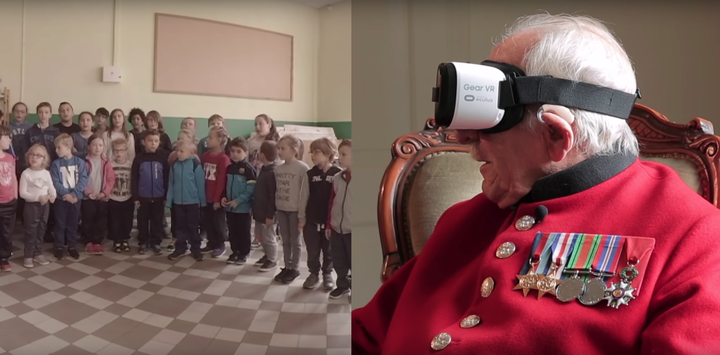 Once the moving presentation was finished, a man assisting Mouqué's VR journey handed him the prestigious Medal of Armentières.
"I'm sorry, I'm lost for words," Mouqué said after taking off the headset and trying to explain the experience.
"I shall treasure that," he said of the medal. "It will become a family heirloom, with a history, my history, of D-Day onwards."
The British corporal was a sapper, and his responsibilities included laying and defusing mines and explosives, as well as constructing and destroying bridges, according to Twine, a start-up that crafted the VR experience ahead of next week's Remembrance Sunday in the U.K., which recognizes service members.
"It was chaos," Mouqué recalled of the 1944 fight against Nazi forces. "We were bombed, shelled, sniped, fired at, constantly. There were quite a lot of casualties. I lost a lot of my friends, one way or another."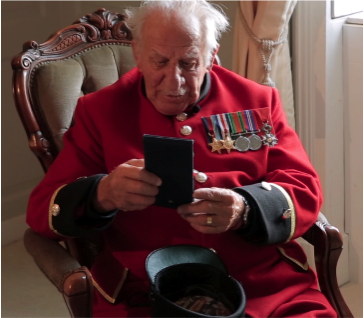 "Remembrance is a chance for us all to remember how lucky we are to be here today and what we owe to our veterans," Col. Simon Bate, adjutant of the Royal Hospital Chelsea, said in a statement.
"For Frank, to be thanked by the people of Armentières for his contribution during the war, and to receive this medal from the Mayor, means a tremendous amount," Bate added. "We need to make sure that the sacrifices of those lost in war are never forgotten."
Mouqué expressed heartfelt thanks for his recognition, as well as for his fellow soldiers.
"I'm honored, on behalf of all of us who were there. I mean, I'm 91, there's still hundreds of us, but I'm a diminishing breed," he said. "Thank you, so much, very much appreciated. On behalf of all the people who were with me, they would say thank you, too."
Popular in the Community