Now that we know the New England Patriots and Atlanta Falcons will be meeting in the Super Bowl, the countdown to kickoff has begun.
Football fans are not the only ones looking forward to the festivities in Houston. So are teachers and students in classrooms across the country who will be participating in the NFL Play 60 Challenge's Virtual Field Trip live from Houston at noon CT on Jan. 31, a few days before the big game.
Virtual field trips transport classrooms anywhere at any time with the push of a few buttons. In this case, teachers simply register for free online for access to the one-hour presentation. When the time comes, they call up the link and the fun begins. That's all it takes.
Powered by Discovery Education, a leader in virtual field trips for students, the event also will be archived. So anyone who can't watch live, or just wants to see it again, can tune in any time.
The show will feature a tour of the Houston Texans' practice facility, where one of the teams will be working out before the big game. There will be a tour of The Health Museum, a fascinating place for people of all ages to learn about health, medical science and the human body. The show also will include a live question-and-answer session featuring questions submitted by students, and it will wrap up with a quick physical activity that everyone watching can do together.
As partners with the NFL on Play 60, my organization -- the American Heart Association -- is excited to be part of this event. Our role is providing the expertise on how easy and fun it can be to get active and heart healthy.
Much of that information will come from Dr. Mercedes Carnethon, an associate professor of preventive medicine at Northwestern University Feinberg School of Medicine. I'm happy to turn this spot over to her for more insight on a subject that she is passionate about -- turning physical activity into a lifelong habit.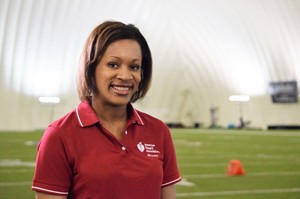 As busy adults, finding time to exercise can be a chore. How can we go to the gym, or even for a walk around the block, with everything else on our to-do list?
Luckily for kids, their days are generally less structured. They also don't need a fitness club membership or a detailed workout regimen.
All they have to do is play.
They can play ball with their friends during gym class. They can run around the playground during recess.
They can ride a bike through their neighborhood or to visit a friend. Maybe they walk or ride to and from school, or to the school bus.
The important thing is setting patterns and habits in youth that they will maintain as adults. Think of it this way: Just like we want our children to be lifelong learners, we need them to be lifelong exercisers.
As an epidemiologist, my job is to study patterns of disease in populations and investigate factors that influence those patterns. We do this using large studies, the kind that involve thousands of people answering dozens of questions, often over a span of many years.
For instance, I was a researcher on the CARDIA study; the acronym stands for Coronary Artery Risk Development in young Adults. Funded by the National Heart, Lung, and Blood Institute, we looked at the development of heart disease in black and white people.
Participants were between 18 and 30 years old. We measured their fitness levels, then watched them for 20 years to see who developed diabetes, obesity, elevated cholesterol levels and other risk factors for cardiovascular diseases.
A key discovery: The more fit they were as young adults, the less likely they were to have heart problems as they aged.
While this proved a basic point, there's far more to it. Our investigation also helps determine intervention points. That is, we dig into the numbers in search of which populations are at greatest risks, what obstacles they face, when is the best time to make a difference, and how can we design strategies to help them become more active and fit.
In our search for solutions, many roads steer us to schools.
It's not just about having PE class. It's about teaching, and emphasizing, the benefits of physical activity.
It's not just about offering healthy lunches. It's about teaching, and emphasizing, the benefits of eating fruits and vegetables.
It's also about highlighting that being active and eating healthy isn't a chore. It can and should be fun.
This is where the Virtual Field Trip can help.
My segment was filmed last summer. Along with Texans linebacker Whitney Mercilus, we went through several physical activities to help get the blood pumping. We talked about proper form for basic exercises like push-ups and sit-ups, high knees and kickbacks. I narrated while he demonstrated.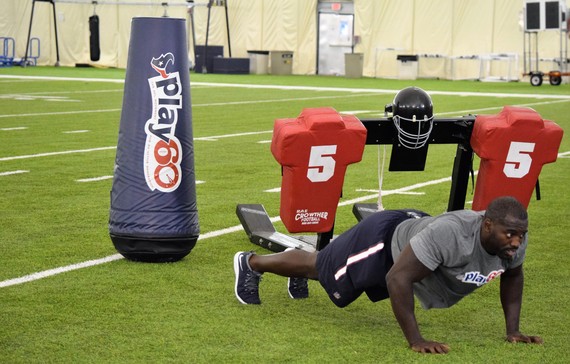 After working up a sweat, Texans defensive lineman Christian Covington and I enjoyed a snack. We talked about munching on veggies with a healthy dip and washing it down with water.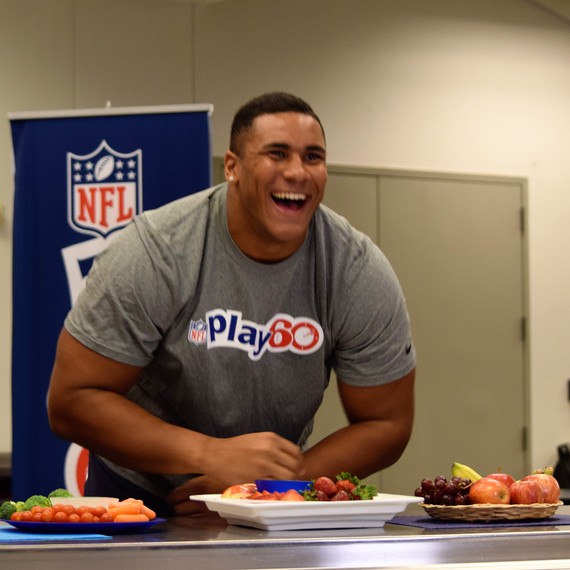 I hope this campaign, and others like it, have the same lasting impact as the anti-smoking campaigns I saw as a child.
The proof is in the results. As that generation became adults, smoking rates went down. The number of clean-air laws went up. Now our children are growing up in a world where smoking is unhealthy and somewhat stigmatized.
I would love for kids to think of inactivity in the same way. Or, to put a positive spin on it, for kids to grow up craving and expecting an active lifestyle.
If they haven't gotten their heart rate up in a few days, I hope they feel the urge to do so. I can imagine a day when they hold their friends and family accountable too.
I have a 4-year-old and a 2-year-old. My husband and I were athletes in college and we remain active as adults. I love it when my 4-year-old sees me pulling on my sneakers and says, "Are you going to take your exercise now?"
Hopefully, when he is a parent, the accountability will be even stronger. Maybe his kids will grow up will say, "Hey, Mom and Dad -- when was the last time you had 30 minutes of physical activity? Let's get moving!"