Nearly mid-July and it's safe to say we're at the height of yard sale season. On any given Saturday (some rain dates or flow overs on Sunday) there are road signs pointing to neighborhood or individual yard sales. Gone are the days of the "Sunday" drivers looking for some entertainment to add to their joy ride. Now, the savvy yard sale merchant puts up an array of signs, advertises in various newspapers, and community circulars along with social media sites designated specifically for yard sale goers.
Recently, I participated in a neighborhood yard sale. The industrious woman "producing" (trust me it was a huge production) the event contacted those in the neighborhood a few months in advance to gather interest and discuss a date via fliers and the neighborhood Facebook group. Once she had her "merchants" lined up, she advertised the event and kept the interest going on the Facebook page right up to the day before the yard sale.
Prior to dawn with flashlights and strong coffee in hand, my husband and I started setting up our tables and putting out the goods I had previously tagged. Though the yard sale didn't officially start until 7 a.m. customers, commonly known as "early birds", showed up at 6 a.m. and it was "go time." The first hour or two had me wringing my hands together and thinking "This is great. I might sell out by lunchtime." And then my sales nearly plummeted and by lunchtime I was discounting my prices. In the end I consider the yard sale a success as I sold a fairly good amount. I took the rest of it to a few charitable organizations leaving my house and garage lighter and more organized without the clutter.
Since some of the items I had trouble parting with for free and a few were too big to sell at the curb that day I decided to try another type of yard sale. The virtual yard sale is growing and is definitely a worthwhile endeavor. Though I did a few things wrong in the beginning. I'm pleased to say that I did sell most of those big items and made some more money. There is definitely a blueprint for the virtual market, a design that when put in place works best. It's not as easy as taking a photo, uploading it to the site and clicking a button.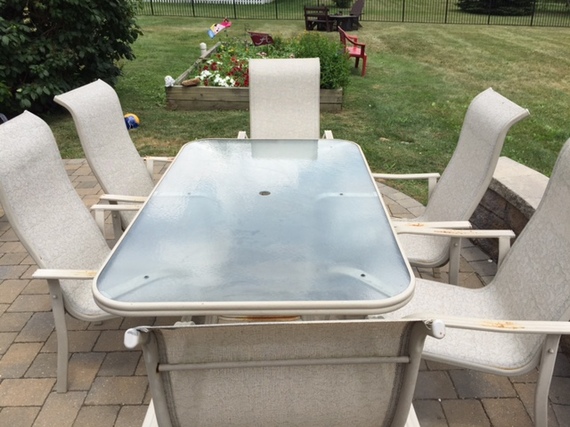 This summer season item listed with chair/table measurements and being in Good Used Condition sold within a few hours on a Virtual Yard Sale site.
Actual Driveway Yard Sale v Virtual Yard Sale
1. DESCRIPTION- Have all items tagged and offer some fun trivia or interesting facts behind the items. Virtual Yard Sales require measurements of the items, prices and brief descriptions including condition-Excellent Used Condition, Good Used Condition, etc. Also, a photo needs to be uploaded to the site.
2. WEATHER can be a factor in the Driveway yard sale. Be prepared to set a rain date. Virtual Yard Sale is open 24/7 as long as the Internet is up and running. Checking it often is a necessity to success for selling and especially purchasing.
3. NEGOTIATIONS will occur in both unless otherwise specified.
4. PRICING/TAGGING is very important both online and off. These are not high-end department store or specialty boutique shoppers. They are seeking bargains with quality. One of the bonuses to the Virtual Yard Sale is the search option. Use it often to check out the competition and consider the true value of your item.
5. SMALL TALK and being polite often turns onlookers into interested shoppers. Save the bubble wrap and old newspapers and offer to wrap the item if it's breakable. The Virtual Yard Sale needs to be viewed because it also requires interaction with the "onlooker". Often they write "interested" or "next". This means they might have questions or popped in too late but if the first person loses interest or doesn't make the purchase, then next in line gets the chance to purchase the item. Always read the rules set up by the Virtual Yard Sale site monitor.
6. SOLD. It's important to mark an item sold if someone has paid for it or designates a time they plan to return with money to pay. In the Virtual Yard Sale the post must be updated if there is a change in price or to mark the item as sold once the transaction is completed.
7. CLEAN UP--Find a charity that you feel is going to share your leftover items with those in need. Often a tax deduction is offered. Make room in the car, the Virtual Yard Sale also requires the above if the item is not sold.
Happy sales be it actual or virtual. In the end, the outcome is the same: some money to be made, items no longer taking up space releasing a house of clutter, and leftovers going to the needy.
Calling all HuffPost superfans!
Sign up for membership to become a founding member and help shape HuffPost's next chapter