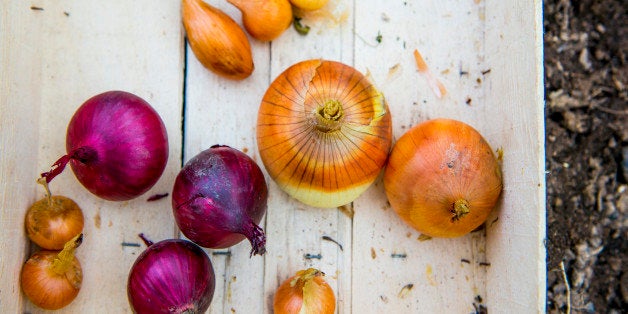 I was at Julia Child's home in the South of France, leading a small culinary trip. What carried me up the dusty road to La Pitchoune ("The Little Thing"), Julia's name for her rose-covered hideaway, though, was actually a large dose of courage. I was an editor and writer, not a tour guide. And my head was still spinning from being laid off from my job of thirty years.
Yet, with my parents as my inspiration, I'd dreamed up a simple new culinary technique called "Virtues Cooking" and was now at the doorstep of the Grande Dame of French Cuisine, transforming my life and, hopefully, that of my foodie friends.
My parents were often in the kitchen when I was growing up. Full of resourcefulness (a virtue, you know), Mom watched The French Chef and tried out recipes for dishes such as boeuf bourguignon. Dad baked his Friendship Bread and friendliness was the virtue prompting him to give away hundreds of loaves over the years. His Primordial Soup disaster, when a pressure cooker exploded and flung soup "ceilingward at a speed of thirty miles per second" before it became, as he said, "edible stalactites" had him filled with wonder, another virtue.
As an adult and as a magazine editor who loved riveting stories, I began to appreciate how my own family's life was loaded with zany food adventures, often involving easy and healthy recipes. And then it hit me, this idea for "Virtues Cooking": how by pairing a virtue with a specific recipe, you could bring out that quality in your life. Or that of your family, just like they did. Of course, they didn't focus on a virtue intentionally. It just happened around food naturally.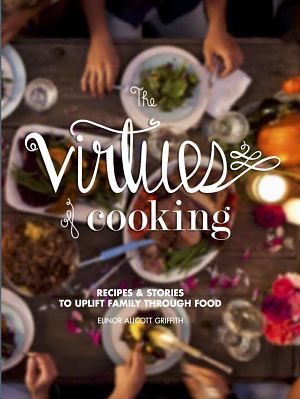 And so this idea took hold for my new book The Virtues of Cooking. It's really quite fun and simple. You can see results right away: you just focus on a virtue (like courage, resourcefulness, friendliness or wonder), cook up an appropriate recipe that reinforces that virtue and make the idea sizzle and stick.
Initially after losing my job, courage-- or facing what's happening head on (adversity, pain, misfortune and fear) -- involved telling my spouse what I was thinking, even when his face became all wrinkled up. "Really, you want to organize cooking tours to Europe?" he said. "That wouldn't be very lucrative." He didn't understand that money wasn't the point.
"These trips would be only once or twice a year," I explained. "My main efforts would remain book editing and writing."
Courage then became breathing into that dream by taking many small steps to set up my new business. No courage was needed, however, when it came to choosing the cooking school. I came across an American chef in the South of France, near Nice, whose name was Kathie Alex. Now I'm no astrologer-consulting, tea-leaf reading, New Age type, but the chef's name was essentially that of my two children, Kathleen and Alex.
It seemed like a cosmic sign: GO THERE. Especially when my eyes spotted on the website that this "once in a lifetime opportunity" involved cooking in "Julia Child's former Provence kitchen." She was my culinary hero growing up. What would it be like to cook in her sacrosanct kitchen?
Since 2007, when I first bumped up that dusty road to her home, I've gone back eight times. A special trip was in 2012, for instance, the 100th anniversary of Julia's birth.
In a rented van filled with five other food enthusiasts, the vehicle so overloaded with people and suitcases that it slowed to a near stop, then stalled. I tried to gloss over this inauspicious beginning by acting as all-out travel guide.
"The stucco house on that hill is where Julia completed much of the second volume of Mastering the Art of French Cooking," I told the group, finally getting the vehicle restarted. "In the 1960s she and her husband Paul were visiting one of her cookbook's co-authors whose family owned the old farmhouse across the hillside. A handshake later, no money paid for the property, the Childs were building this simple home, and lived here off and on for nearly thirty years."
Welcoming us warmly -- with a bubbly Kir Royale, slices of dried sausages and crunchy French radishes -- was Kathie Alex, La Pitchoune's owner. An American expatriate, she knew Julia personally and in 1992 had started this cooking school.
"I hope Julia's high-spiritedness and her courage to change rubs off on us," said a woman from Michigan.
The next morning that transformative magic was already happening. We felt such warmth coming from the sunny yellow walls of Julia's cozy kitchen; stencils outlining the original location of the pots and pans for her batterie de cuisine. It was much like her Cambridge kitchen, now displayed at the Smithsonian Museum. As I looked at her photo on the wall, taken in this very kitchen, I could imagine her here, a bustling six-foot-two, as we gathered for class.
Soon Kathie had us preparing a complicated Magret de Canard, Sauce Vin Rouge. Amid the peeling, dicing and chopping, Kathie said, "Have you heard Julia's cooking credo?" Only silence.
"If you can't have fun in the kitchen, don't cook!"
Julia also said, "The only real stumbling block is fear of failure. In cooking you've got to have a what-the-hell attitude." Translation: an unconventional recipe for COURAGE.
Before long, our cooking finished, no more courage needed for difficult recipes, we were tableside. Le déjeuner, the leisurely main meal at noon in France, was about to begin.
"Bonnnn ah-pay-tea," said our token male, his deep Texan voice imitating Julia's well-known singsong voice.
"Yes," everyone chorused, "bon appétit!"
Indeed, what could be better than food, friends and France (or just about any travel destination). Just think of where courage can take you.
-----------
For a "Bon Courage" French Dinner, try this recipe from The Virtues of Cooking.