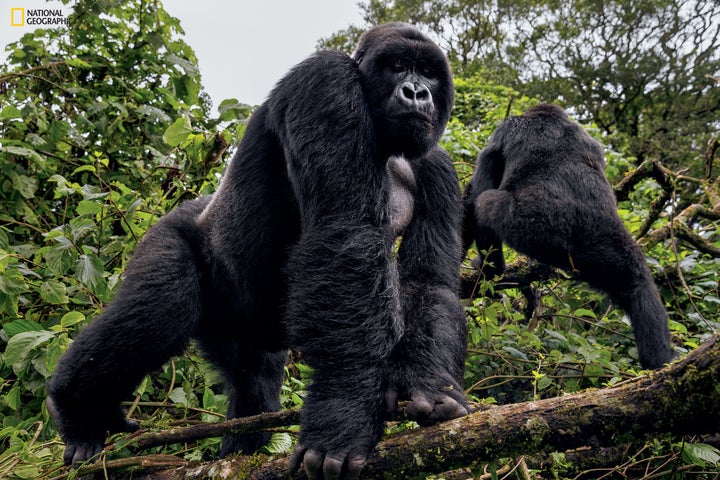 Around 480 mountain gorillas live within the confines of Virunga, Africa's oldest national park. The critically endangered primates are among the most threatened animals in the world, and the population inside the region is the only gorilla species on the rise.
But despite it's renowned status, including a designation as a World Heritage Site, Virunga has become a war zone.
National Geographic sent two correspondents into the park to investigate the thorny relationship between people trying to save Virunga and those jockeying to use the park's resources to survive.
"What that's aiming to do is electrify the region," Hall, the host of an episode of Nat Geo's "Explorer" series on Virunga, told The Huffington Post. "The major plan is to create a supply of energy ... to create jobs locally and supply lasting betterment in the quality of life."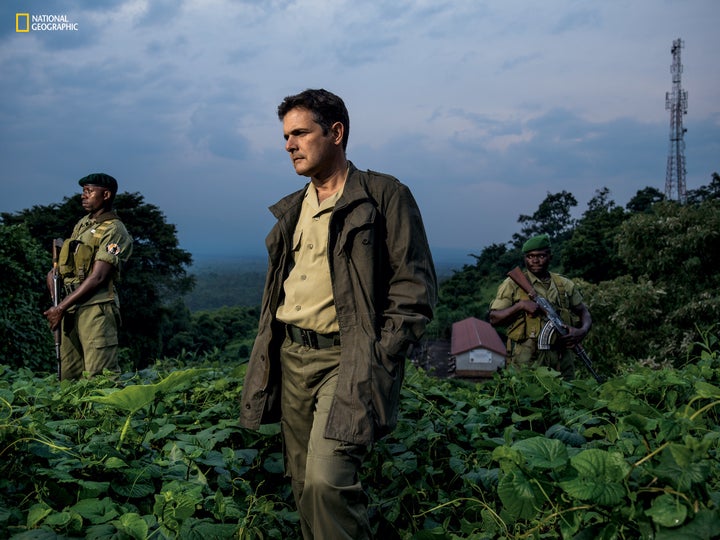 Some 4 million people live along the border of Virunga, a 3,000-square mile expanse of dense jungle on the eastern edge of the Democratic Republic of the Congo. Many survive on less than $1.25 day, dependent on an illicit charcoal and bushmeat industry that's encroached on the park.
Hall said the realities of this conservationist-local relationship present a complex dynamic that can't be fixed by classifying the region as a national park or protecting its fauna with "endangered" labels.
"People have died in conflict in this area," he said, noting many came from neighboring Rwanda after the 1994 genocide. "They are born of trauma, essentially -- they have nothing to rely on. They look to the park to sustain them on a very fundamental level."
Hall also embedded with a local militia known as the Mai-Mai, which has violently defended illicit financial interests in the park. Since 1996, 152 park rangers have been killed in Virunga. De Merode himself survived being shot four times during an ambush in 2014.
"If it sounds harsh, imagine what it'll do to the minds of young kinds, left alone in a world that doesn't care," Hall said, noting many young people are swept into militias like the Mai-Mai in search of a better life. "You can see how an armed group -- power, camaraderie, weaponry -- would be inspiring. They look to the park as a means to extract money and power."
Virunga survives on just an $8 million annual protection budget -- far less than the billion dollars a year the land would bring were it developed. De Merode's plan to utilize the vast hydroelectric resources and form lasting infrastructure hopes to shield the park from such efforts. But the $166 million project is an expensive endeavor.
"The truth is that we're not going to succeed unless we mobilize a critical mass of funding," he told Nat Geo's Robert Draper.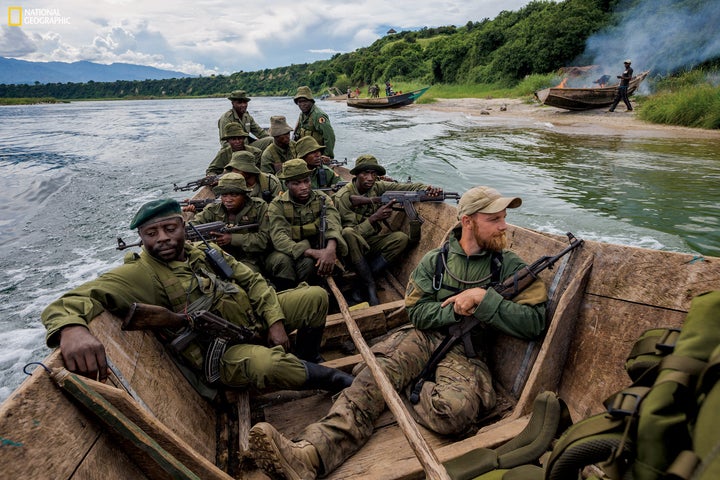 For now, even with those plans only half completed, Virunga's wildlife has begun to rebound. Populations of mountain gorillas are on the rise, primarily due to intense conservation efforts.
"It shouldn't take a catastrophe to make people react, to be inspiried to get involved, to put focus on this area of the world again," he said. "So often dramas unfold in the wider world where we're not watching."
BEFORE YOU GO
PHOTO GALLERY
The Battle For Virunga, National Geographic