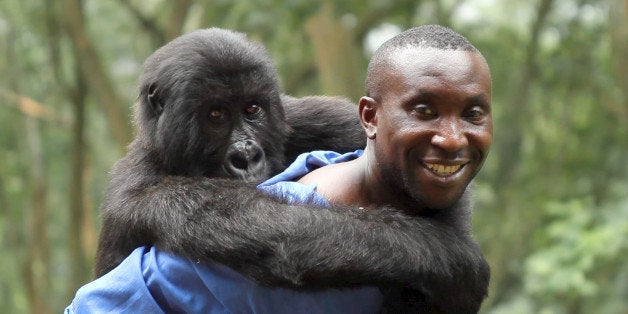 Virunga is an important movie for many reasons. A call to action, and a sobering account of how many competing forces are at work in the Democratic Republic of Congo -- the perils of global capitalism, the lingering effects of colonialism, an endangered environment, etc. I have seen many movies that address one or more of these themes, but few, if any, that have created such a complex picture of an impending disaster.
Director Orlando von Einsiedel presents both a world of forgotten history and a glimpse of current events that, for the most part, remain unknown. A heartbreaking story of an ecosystem on the verge of collapse and of a small group of heroic people determined to do something about it.
I am quite taken with the use of so many diverse techniques -- from exquisite nature photography (which at times seems so hopelessly sad given the underlying message of the film) to degraded surveillance footage (some of the most powerful footage I have seen in any film). Virunga conjures a world of almost unimaginable horror, and at the same time, extraordinary heroism and compassion. It is a reminder that we humans are capable of so much good and so much evil.
Heroes usually make a decision to put themselves in danger or to protect people who are in danger. But the true victims in this story -- the mountain gorillas of Virunga -- are hard to see as anything other than innocent quarry of machinations far beyond their ken. They are pure victims in every sense of the word. I don't know whether the gorillas have a good attitude or a bad attitude, but it's clear that the operatives from the oil company SOCO do not have their best interests at heart. To me it's the most memorable line in the movie, produced in one of the undercover sequences recorded by French journalist Melanie Gouby. One oil company operative, clearly unable to grasp that some sympathies cannot be bought, says, "They don't give a fuck about the gorillas!"
It's part of the power of the film -- that we sense this complex interplay of forces. Some of which, many of which seem beyond anybody's control -- products of just how the world is constituted. An interplay of greed and self-righteousness, but also of sacrifice and selflessness.
We may have thought that we heard the worst from the Congo. This movie shows that it's still in so many ways an ongoing tragedy. In 1999, the writer Philip Gourevitch wrote, "Oh Congo, what a wreck. It hurts to look and listen. It hurts to turn away."
Virunga, like the finest documentaries of the current era, presents us with the facts of injustice, but it also shows the mechanisms through which it endures. It's a powerful, Manichean story, where forces of evil and forces of good are working as hard as they can to either ruin or to preserve the world. A strange contest, the movie is a reminder that we're all a part of it.
Virunga premieres Friday, November 7 in theaters in New York and LA and on Netflix at Netflix.com/Virunga.
Photo courtesy of Netflix. Park Ranger Andre with Ndakasi, one of the resident Mountain Gorillas of Virunga National Park.
Support HuffPost
The Stakes Have Never Been Higher
Popular in the Community