WASHINGTON -- As Congress considers how to enhance national security in response to the Paris terrorist attacks, one idea gaining traction is to reform the visa waiver program.
Created in 1986, the visa waiver program allows citizens of 38 countries -- including most European nations, as well as Australia, South Korea, Japan and Singapore -- to visit the U.S. for up to 90 days without obtaining a visa or being interviewed at a U.S. embassy or consulate. According to the State Department, more than 19 million people come to the U.S. each year under this program, primarily for tourism or business purposes. In turn, those 38 countries allow U.S. citizens to visit without a visa.
Lawmakers now fear that terrorists could exploit the program to enter the U.S. All of the known assailants in the Paris attacks were citizens of France or Belgium, which are both visa waiver countries.
"If a terrorist is going to try to come into this country, they're much more likely to use loopholes in the visa waiver program to do it instead of waiting two years to go through the refugee screening process," Sen. Chuck Schumer (D-N.Y.) said last week.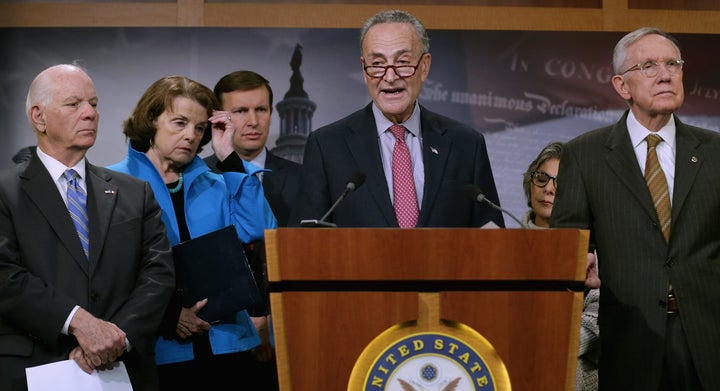 Although lawmakers in both parties have raised concerns about the program, Democrats in particular see changing it as a more palatable alternative to a measure, passed by the House last week, that would establish greater roadblocks to refugee resettlement. Refugees seeking to enter the U.S. already undergo a rigorous screening process.
The White House, which has said it would veto the House bill, has also expressed interest in reforming the visa waiver program.
"There probably are some reforms to the visa waiver program that we're currently discussing with members of the United States Senate that actually could further enhance our national security. There are a number of steps the Department of Homeland Security has already taken over the last year to strengthen that program, and there may be some additional steps that we can work with Congress to implement that would strengthen that program," White House press secretary Josh Earnest said Monday.
While the visa waiver program, which is administered by the Department of Homeland Security in coordination with the State Department, offers travelers a less stringent and less formal process, it still involves an automated screening called the Electronic System for Travel Authorization (ESTA).
That process determines whether a person is eligible for travel to the U.S. and not a security threat. Applicants for visa waiver fill out an online form, which then directs the ESTA to check if the person is on any terror watch or no-fly lists. The system responds "Authorization Approved," "Authorization Pending" or "Travel Not Authorized." Those who receive the "Authorization Pending" message undergo additional screening that takes up to three days.
The program has undergone changes over the years, most notably after 9/11. Zacarias Moussaoui, a French citizen who was convicted of conspiring in the 9/11 attacks, came to the U.S. under the program. Also in 2001, would-be "shoe bomber" Richard Reid, a citizen of the United Kingdom, used the program to fly to the U.S.
In 2004, the visa waiver program began rolling out the requirement of machine-readable passports, mandating an electronic code on the bottom of the passport's identification page. The code is now standard for most passports around the world. For many newer passports, there is an extra layer of security: an electronic chip that stores biometric information, like fingerprints, to track travelers.  
The Department of Homeland Security introduced ESTA in 2006. Over the years, it has also expanded the amount of collaboration between the participating countries. For example, countries are required to immediately report lost or stolen passports and share information about terror watch lists.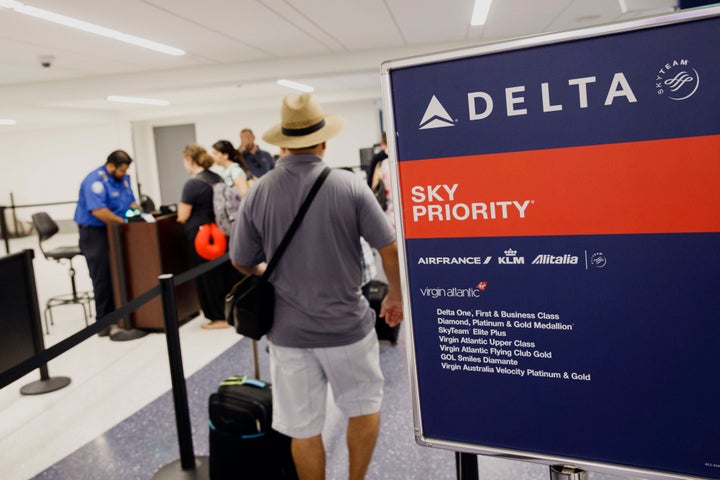 In August, Homeland Security Secretary Jeh Johnson announced he would tighten the program's rules further, in response to the Obama administration's concerns that citizens of European countries have traveled to Iraq or Syria possibly to train as terrorists. Several of the Paris attackers had visited Syria, and the New America Foundation estimates there are about 4,500 Westerners who have joined the Islamic State or other militant groups in that war-torn country.
Now, reforming the visa waiver program is again on the table. Last Thursday, Sens. Dianne Feinstein (D-Calif.) and Jeff Flake (R-Ariz.) announced that they plan to introduce a bill after Thanksgiving, with Feinstein calling the program "the soft underbelly of our national security policies."
Feinstein and Flake's bill would require in-person interviews for those applying for a waiver who have visited Iraq or Syria in the past five years. It would also require all visa waiver countries to issue passports with the electronic chip.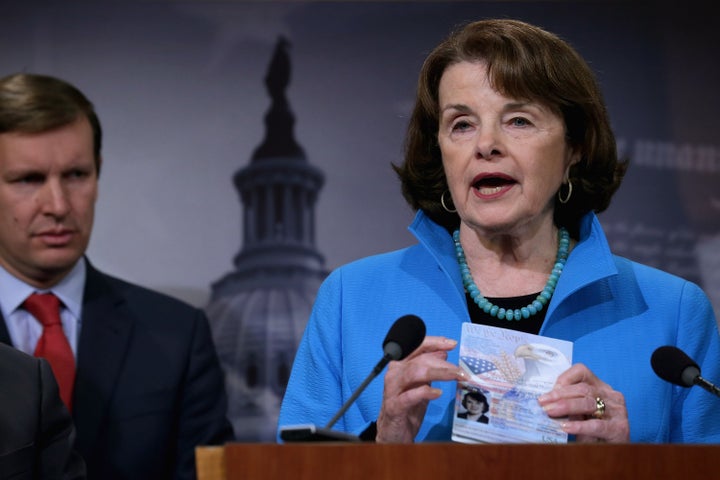 Sen. Maria Cantwell (D-Wash.) is planning a measure calling for better biometric tracking and collaboration among visa waiver countries.
"We want to use technology to help us unmask who these terrorists are, and we want countries, particularly our European partners, Canada, Turkey, all to share information about who is traveling to these regions and make sure we know exactly who they are," Cantwell said last week.
Some of the Paris gunmen were on terror watch lists in the U.S. and Turkey, yet they managed to slip through the cracks in France. Officials in Turkey had twice warned their French counterparts about one of the attackers.
Sen. Dick Durbin (D-Ill.) has introduced legislation to fix another flaw in the visa waiver system: Currently, those who enter under the program can purchase guns in the U.S., while those who go through the visa process cannot. Republicans, however, are reluctant to take up Durbin's bill and have objected to similar measures in the past due to the political power of groups like the National Rifle Association.
Some lawmakers have advocated for thoroughly overhauling the program, like Sen. Rand Paul (R-Ky.), who wants to temporarily halt visas for people from countries with "significant jihadist movements" and impose a 30-day waiting period on visas from all other countries.
Members of the travel industry are worried, arguing that changes to the visa waiver program could deter travelers and hurt revenues.
Jonathan Grella, executive vice president of the U.S. Travel Association, told The Huffington Post that Congress should not amend the program without "asking the proper questions."
"Lots of folks have strong opinions about the program but perhaps not a full picture of what it brings to the table and have been sufficiently spooked by hypotheticals," he said. "We're trying to encourage members to take a deep breath and deal with our security situation in a more cool, rational, detached fashion, as opposed to a knee-jerk emotional reaction to a tragic event."
Grella said that he isn't opposed to changing the program, as long it enhances security without undermining travel.
"Do this the right way, have the proper hearings, talk to the right experts. We're hoping there's a full and complete appreciation for it and that there's a full assessment of the program," he said. "These are conversations worth having. Without security, there can be no travel. There's just a lot that needs to get ironed out."
PHOTO GALLERY
Politicians React To Deadly Paris Attacks
Calling all HuffPost superfans!
Sign up for membership to become a founding member and help shape HuffPost's next chapter