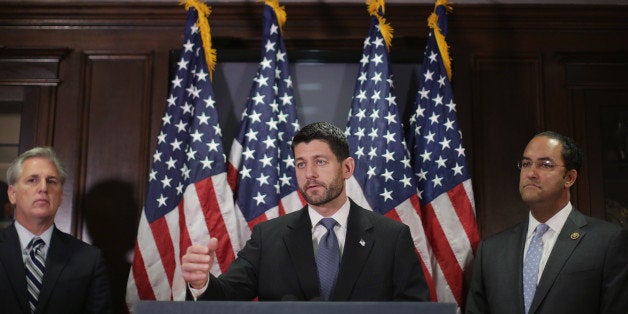 I was born and raised in Los Angeles county. The past 22 years, California has been my home. It has been my parent's home for the last 37 years. California is also the home to the largest Iranian diasporic community outside of Iran with some estimates ranging between 500,000 to 1 million Iranian-Americans living within the United States.
I have temporarily left my home state to attend graduate school abroad. I thought to myself, "While I'm here, I can't wait to travel throughout Europe to see my cousins during my term breaks" and began planning the trips to Switzerland and Germany to see them.
But because my Iranian-born parents automatically passed down their nationality on to me through jus sanguinis laws and I am an Iranian-American dual national, now I'm uncertain if freely traveling to see my family will be a possibility due to the recent passage of a discriminatory House bill sponsored by Rep. Candice Miller (R-MI-10).
H.R. 158, otherwise known as the "Visa Waiver Program Improvement and Terrorist Travel Prevention Act of 2015" intends to revise the Visa Waiver Program. The program currently enables citizens of 38 countries to travel to countries within Europe, the U.S., Japan, and South Korea without a visa for up to 90 days. The aim of the bill is to prevent foreign nationals, many of whom have passports from the list of approved countries, that have visited Iran, Iraq, Syria, and Sudan in the past five years from entering the United States without a visa.
The visa waiver program operates on a system of reciprocity and according to Trita Parsi, the President of the National Iranian American Council, a non-profit organization in Washington D.C., "it will very likely trigger reciprocal restrictions from Europe and participating countries." With the revisions to the program, it intends to exclude American citizens who have travelled to these aforementioned countries in the past five years, as well as dual nations (Iranian-Americans, Syrian-Americans, Iraqi-Americans, and Sudanese-Americans), from being able to make use of the rights entitled to them as American passport holders.
According to the Los Angeles Times, the bill intends to "eliminate the risk of terrorists with ties to the Islamic State or other militant groups from entering the United States," and Speaker of the House Paul Ryan (R-WI) stated, "this will help neutralize the threat from foreign terrorists entering the country." This bill's language will enable broad discrimination of citizens based on country of origin or loose ties to one of the four countries.
Rep. Miller stated in the House floor, "the enemies of freedom are looking to use our freedoms against us." With the passage of this bill, it is my freedom as a law-abiding, American born- and- raised citizen that is being infringed upon.
Several groups such as the American Civil Liberties Union, the American-Arab Anti-Discrimination Committee, Council on American-Islamic Relations, as well as the Public Affairs Alliance of Iranian Americans, and the National Iranian American Council have protested against the bill citing its discriminatory language and failure to include a sunset provision, which would allow the legislation to be reviewed and evaluated in a few years time.
Subsequently, the bill creates hardships for ordinary, birth-right and naturalized American citizens intending to travel abroad. For the past five years, I have been to Iran for several reasons. I effortlessly visited elderly relatives in Iran because of the rights and privileges entitled to me as an American passport holder. Two summers ago in Tehran, I volunteered for the Omid Foundation, a non-profit organization providing young, female survivors of sexual and domestic abuse in vocational training skills, social services, and therapy. This past September, my grandmother, also a dual-citizen, and I flew to Iran to help her fix the house that she has owned for almost four decades. At 84-years-old, journeying across the world is not as easy as it once was, and she required my assistance and company on the 18+ hour trip. This upcoming summer, I plan to return to Tehran in efforts of enhancing my Persian language proficiency and conduct essential archival research for my Master's thesis. I will be punished retroactively because of my parents' origins and for travelling to a country I love and previously had the freedom to do so.
Also, the bill states if a single passport holding American has visited one of these countries in the last five years they will be affected. If passed in the Senate, this bill will additionally affect American students who travelled to Iraq last year, such as the two members of my cohort during my undergraduate at the University of California, Berkeley to do fieldwork for their dissertations: One an Iraq War veteran and the other currently serving in the United States Navy.
American citizens, such as myself, will be punished and treated like second-class citizens, merely because of our parents' birthplaces. Our passports will be unworthy of reaping the benefits granted to us as American citizens and the law will justify treating us as inferior citizens. Many of these U.S. citizens left their homelands decades ago and haven't returned since. They too will be marginalized by this bill. Additionally, American students, like me, will be reduced because our academic interests correlate to one of these countries. This bill disproportionately affects journalists, students, educators, and humanitarian aid workers who have travelled to these countries in the recent years. The list continues. Doctors, artists, businesspeople, entrepreneurs...
I ask you and our lawmakers, are we not American enough to receive the benefits of our passport? Does my birth-right citizenship not make me worthy enough to be deemed as an American?
According to this bill, the answer is no.
REAL LIFE. REAL NEWS. REAL VOICES.
Help us tell more of the stories that matter from voices that too often remain unheard.