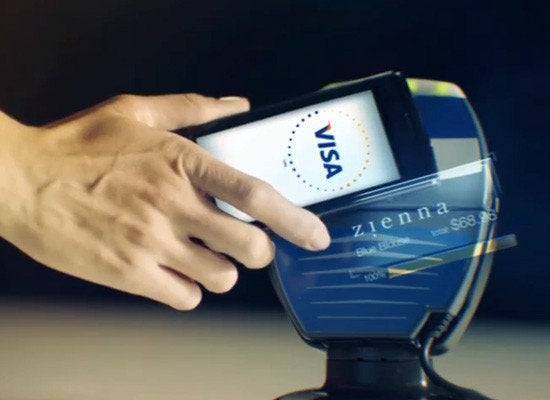 Pretty soon, your phone may replace your wallet.
Visa announced that it will be rolling out a digital wallet that will let customers pay for purchases across the web with one click, eliminating the step of manually typing in credit card information. With a single dedicated username and password combination, users can pay using the card they choose, be it credit, debit, or a specific store's credit card.
While one-click shopping exists, most prominently at online retailer Amazon, Visa's move is sure to make waves, thanks to the size of its pre-existing user base.
According to Jennifer Schulz, Visa's Head of Global Product Strategy Innovation & eCommerce, Visa is currently "the largest provider of digital payment capability online."
Thirty years ago, Visa invented the magnetic stripe. Schulz compared the digital wallet to that advance in terms of the impact it could have on the payments industry.
The digital wallet, to put it simply, makes it easier to buy things, both online, in real life, and on the phone. Rather than having to enter in credit card numbers, expiration dates, and home addresses in different places across the Internet, the Visa system will provide the checkout experience by connecting all online payments to one account.
"Convenience is incredibly important to allow for consumers to use their currency online," Schulz said.
They're not stopping there: Visa is also working with cell phone companies to push forward phones equipped with Near Field Communications (NFC) technology. With NFC, a smartphone does the job of a credit card, so that instead of swiping a card, the shopper would be able to wave or tap a phone when paying for a purchase. While some smartphones, like the Google Nexus S, are set to have NFC technology baked in, Visa plans to offer cases and SD cards that provide compatibility for devices built in earlier times.
The service would also provide merchant offers, a take on the blazingly popular online coupon industry, which is spearheaded by companies like Groupon and LivingSocial and emulated by parties ranging from Facebook to Google to AT&T. Visa has already partnered with the Gap to bring these kinds of location-based discount offers to Visa card users via text messages promoting discounts at local Gap stores. (These services are strictly opt-in.)
Paypal, probably the oldest and most famous online payment system to date, seemed pleased, rather than worried by Visa's announcement, citing its 98 million-strong user base.
"It's clear that the payments industry is starting to look more and more like PayPal," a PayPal rep said in an emailed statement. "PayPal was built 12 years ago, because traditional payment methods weren't designed for the digital world. We're light years ahead."
Visa, while not commenting specifically on any rival online payment systems, seemed confident that it would prevail in any online payments showdown to come.
"The way we look at the market in general, the solutions out there today [...] ask consumers to do an additional act or ask retailers to do an additional act," said Schulz. "Visa's global scale and size-- 1.8 billion cardholders--will allow for ubiquitous acceptance."
But making it easier for consumers to purchase goods online may also make it easier for cyber-criminals to access a vast store of valuable credit card data. Currently, when credit card information is entered into a website, the data is sent in packets over the web, rather than in one full transmission.
Beth Jones, a senior threat researcher at cybersecurity firm Sophos, noted that the first iteration of any new technology is likely to have a greater risk of vulnerability.
"[Visa's new system] is a good thing because now your payment information isn't spread out all over the web on hundreds of different servers," Jones said. "But this is a goldmine for criminals, an absolute goldmine. All that payment information is in one spot. All they have to do is get that one password and they've got everything."
Schulz's response to queries regarding the digital wallet's security was simple.
"At Visa we take security extremely seriously," she said.
The digital wallet technology will be introduced this fall, and Visa expects customers to start using it in online spaces such as gaming, where small quantities of virtual currency can be purchased via digital transactions. Visa also envisions a future wherein a consumer might set his preferences so that all travel tickets purchased online would go straight to a credit card, while smaller retail purchases would be set to charge to the debit card.
This is not Visa's first foray into digital payments. Last month, the credit card company announced its investment in Square, Twitter founder Jack Dorsey's new startup that lets any business accept credit card payments through Square's "dongle," a small device that plugs into a phone.
But Schulz doesn't believe that we've seen the end of the plastic-crammed wallet just yet.
"There is a population that is just not comfortable with it. My grandma wouldn't want to use it, but my son cant wait to ditch his wallet," she said. "This is a multiple decades journey. It's an evolution rather than a revolution."
Related
Popular in the Community