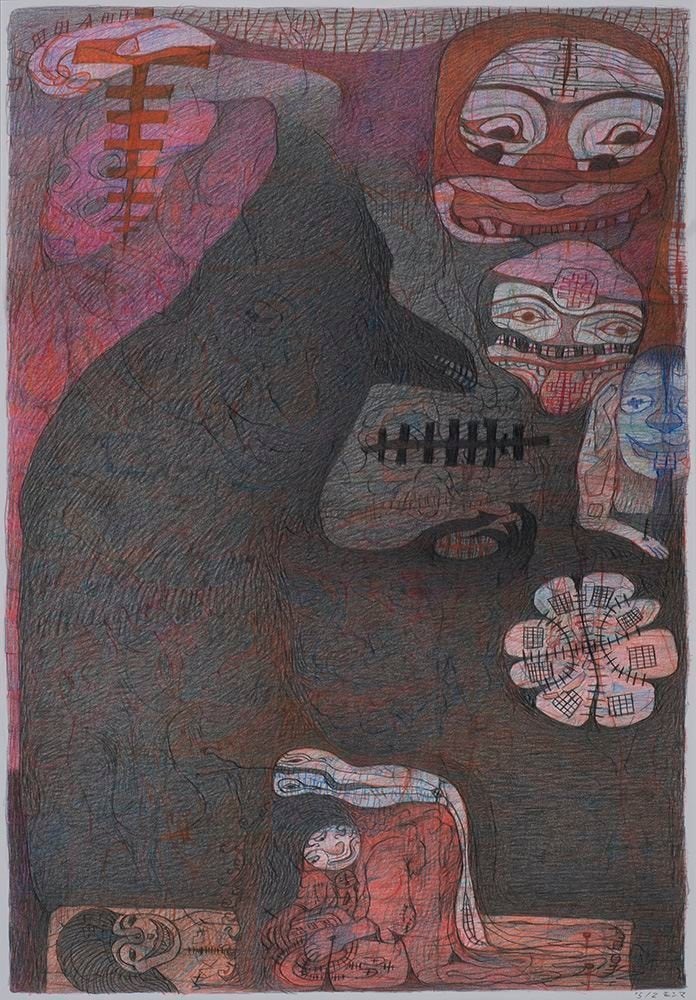 With graphite and ink and colored pencil, Japanese contemporary artist M'onma drafts densely layered visions of melting hallucinations. Intricate cross-hatchings muddle and reveal deformed clowns, divine Buddhas and animal-beast hybrids, wrapped up in a narrative accordion that's constantly in flux. The convoluted visions feel like a code without a key -- rich with meaning yet blissfully unknowable. 
"Looking for a cohesive narrative in one of M'onma's drawings is like telling someone about a dream and then realizing that you are losing and changing the thread of the experience as you tell it," curator Randall Morris teases. "The further in you get into the telling, the further you travel from the original way you remember it."
According to Morris, M'onma made art throughout his early life, but he was never satisfied with his creations. This changed in his 40s, when he says he was drawing a still life and an invisible presence took over his hand, guiding his drawing. During the uncanny encounter, M'onma claims his entire body glowed and he could not see. The ordeal was the first instance of what the artist now refers to as "visitations," the visionary mode through which his dreamlike artworks come to be. 
"M'onma's work came to us from a Japanese friend who made ceramics," Morris explained to The Huffington Post. "M'onma is one of the artists who reminds us of why we do this stuff. We knew he was important from the very first second we saw the work. It is completely comfortable in its own mystery. He draws in a trance."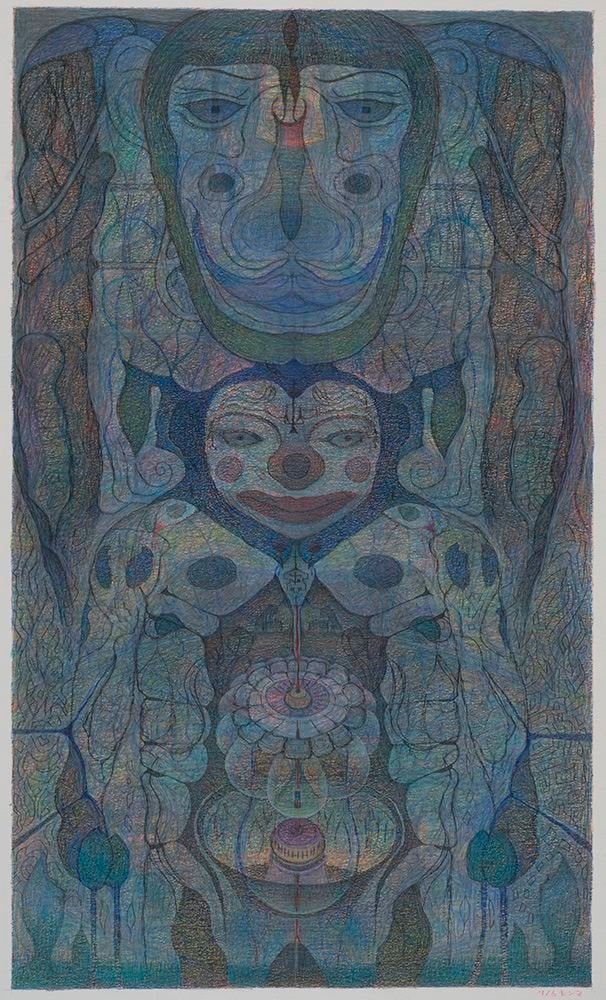 For almost 20 years, M'onma fought against the visions. He eventually quit his job and moved to the countryside, walking between Shinto temples in his downtime. So when the visions returned, he was ready, and he surrendered control to the creative force. "He is a visionary artist. His drawings are like layers of dream impeccably drawn but never fully revealed,"Morris added. "He is an immediate old master like [Martin] Ramirez or [Adolf] Wolfli and others but he is contemporary. It speaks to the dream time we live in now."
The recent discovery of M'onma's style -- according to his CV, he showed his work for the first time in 2012 -- has prompted a wider exhibition of Japan's art brut at Cavin-Morris Gallery. M'onma's lucid dreams are interwoven with Tae Takubo's brightly colored architectural doodles and Hiroe Kittaka's flocks of calligraphy like birds in the distance.
Here's what Randall Morris has to say about the visionary makers of Japan's art brut scene:
How would you define art brut? Is there a distinction between this and outsider art? 
Art Brut is actually undergoing a sea change right now. I can't accept it as a concept until it rethinks and reworks how it will include non-Western self-taught and/or vernacular artists. I would say that a better phrase than "outsider," which we hate with a passion for its racism and its acceptance of a mainstream smaller than itself, is non-mainstream. Non-mainstream doesn't describe the artist. Neither does art brut or the less orthodox form the Europeans call l'art singulier.
Outsider is colonial and, yes, we recognize that it has become a brand. The Outsider Art Fair is a necessary fair to push those parameters. But the irony is that if you look at the book by Roger Cardinal that named it "outsider," all the artists in that book are art brut artists. Outsider has come to mean everything that isn't seen as art brut. This is a shame for the discourse.
Under what conditions are most of these artworks made? Are there studios for artists facing barriers to the art world like there are in the West? 
Japan's workshops are a bit different. They are havens where a person with physical or mental disabilities can receive materials and a place to work. Most then go home at the end of the day. Some continue to work at home. This is all still pretty new for Japan and for the families of the artists to accept a more public face to what their artist offspring achieve. That is a major thing in a culture that values privacy and not rocking the boat as a major concept. 
I think there is a lot of work, great work, coming from the workshops, and I think the people that staff the workshops do pretty well in allowing the artists to find their comfort zones and creative expressions. An indication of this to me is the sheer variety of forms and recognizable personal styles that are manifested. But, keep in mind also that a lot of this first wave out of Japan is not restricted to ateliers and workshops. It's like anywhere else in the world. M'onma is not from a workshop, for example, he is a seer.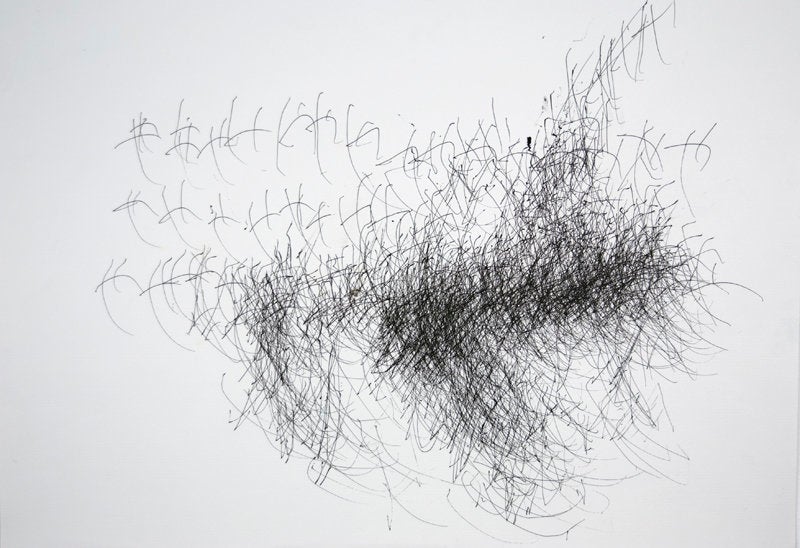 What are some of the defining characteristics of Japanese art brut? How do they differ from Western self taught artworks? 
I would say the only places where they differ from the Western is where they directly manifest their own culture. Popular culture is taken more seriously in Japan as is calligraphy.
Theres no real definition of it. It is art that comes from not only the need for a finished product but also the experience of the process of making the art. Look at Judith Scott. The end result was important, yes, but not as important as the process of making the work. There are many many self-taught artists who share this. Art becomes a way to take measure of the world, define a personal space, and to participate in a way of making words and statements out of a cultural language.
What aspects of Japanese culture and history are made visible through these works? 
I think that in the art brut workshop work, a lot of it is about language. It is synesthetic in that it is reflective of cultural noise you don't always hear much of except in movements like Gutai. But it isn't in a dialog with art history. That's what makes it art brut. It springs out of a iconoclastic relationship with its culture. "I am different. I am making this work to visually verbalize my state of being."
Japanese culture is obsessed with visual beauty and integrity of the word and its calligraphy. It isn't surprising that so many non-academic artists engage it. They break it down. They rebuild it differently.
For a viewer who is unfamiliar with art brut, how would you recommend encountering a work? 
Make no excuses on any level for art brut. Don't excuse badly made work, but don't judge it in mainstream terms. Avoid it if it seems generic. It exists on two planes, that of the artist and that of the art world infrastructure. That of the artist establishes its authenticity, originality and, yes, that bad boy word modernists so detest, intentionality. But all these stories about the artists don't mean a damn if the work isn't masterful on a formal level.
So we need to apply that form of appreciation to it as well. But our appreciation has to become unstuck from the dictates of the art world.  We can't use the mainstream to qualify the art. We have to use everything we know, from the caves to the spirit world to the firsthand expression of joy and pain. 
Encounter it as art. We look for work where the artist lives it as he makes it. The difference between a hack rock guitarist and, say, Hendrix [is] when you watch him and realize anything could happen because he was living the solos right there on stage. You want that immediacy from the work, that encounter with a universe, that power.
Enjoy an introductory tour through Japan's art brut makers below.
PHOTO GALLERY
Outsider Art Fair Preview
Calling all HuffPost superfans!
Sign up for membership to become a founding member and help shape HuffPost's next chapter