I am a sucker for visiting places that make me forget about the rest of life, places that set the backdrop of a new story that I get to write myself. And, there is a certain magic that happens when a woman follows a major vision into fruition. Bandit Town was just that.....an escape to a different time and land, led by a woman who stumbled into a vision.
I went to Bandit Town, sort of on a whim. I had heard tales of the rad lady who bought an old western town outside of historic North Fork in the exact center of California, and was throwing events there. Many of my favorite artists and musicians had been buzzing about it on Instagram so naturally I was interested. It looked great in photos, and the concept of an authentic but reinvisioned old west experience sounded to good to miss.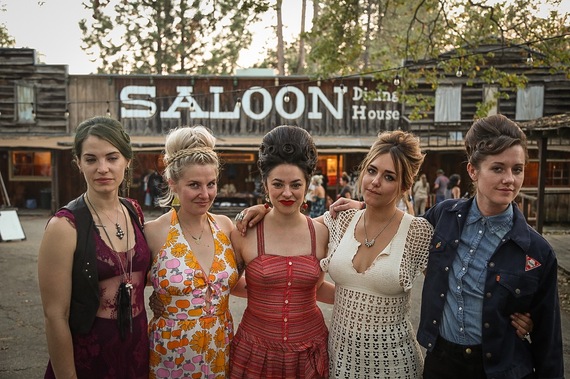 The Bandit Town Labor Day Campout had a great ring to it, so a gaggle of friends and I decided to go. I left my kids at home, although I must say that half the time I was there I wished I would have brought them because it would have blown their little wild girl minds.
I packed up my best western gear, and my hair styling kit, in case anyone wanted country lady hair while we were there. I flew to Fresno that afternoon, met some friends at the airport, and drove through North Fork California and into Bandit Town with a trunk full of leatherwear and camping gear as the afternoon light chased sunset from the smoky hills of Yosemite to the west coast.
My first impression of the place was that I felt like I had walked into a different time. I left my life as I knew it at the front gate, and transported to an old west dreamland. There were wooden buildings scattered around the property, an old church house with a white steeple, a saloon, stables, and animals everywhere. Kittens lounged on porches, chickens clucked about, and horses grazed lazily in the pasture. The country vernacular on that still late afternoon was illuminated by animal sounds and the smell of hot sweet grass. Bandit Town was a story of a time that had passed, and we were ready to help write it in our own words, just for the weekend.
Jennifer McMillian, founder of Bandit Town, came to great us. She welcomed us warmly and showed us around the property. She introduced us to her earless pet pig, who had met an unfortunate fate the week before. The pig had been attacked by dogs and had it's ears chewed off. Jen told the story with humor and the slightest country twang, like it was just another day in the wild west.
Our weekend was spent lounging on the old porch, eating fry bread tacos and ham sandwiches made by grandmas from nearby North Fork, drinking cheap beer, taking photos, perusing racks of vintage clothes and handmade leatherware, two-stepping lessons and great country music, chasing animals and making friends. The vibes were positive among the people of Bandit Town who appeared to be a vibrant mix of city folks, country folks, bikers, war vets, artists, photographers, old timers, and hipsters who had come out to enjoy the labor day festivities in fine country style.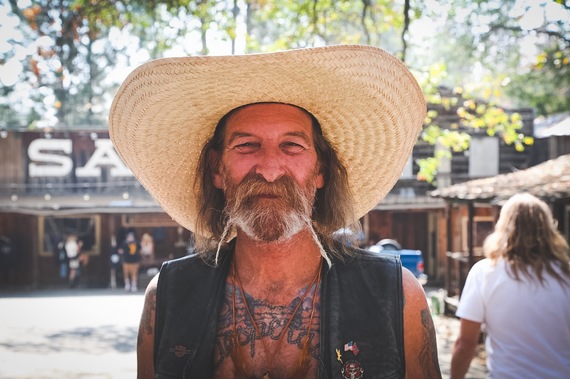 I almost got a Harley ride from Annette, a true biker queen from North Fork, but it didn't quite pan out. I did learn about why she really loves the Harley (that big vibrating motor that you get to sit on) I had the pleasure of braiding an older mans beard in exchange for Vietnam war stories and a crystal. We met all sorts of different folks that weekend. We felt like a part of something special. We didn't feel like we had to impress anybody and we felt like we had a new outlaw family.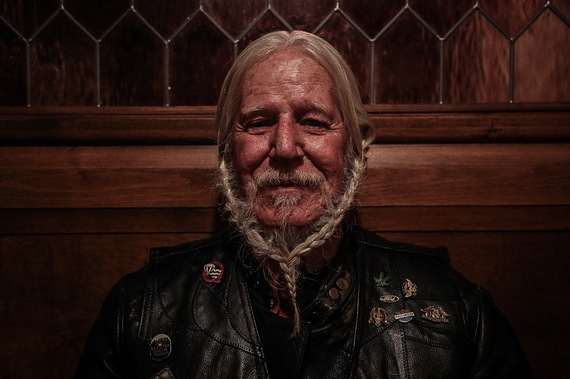 When it was time to go home, I cried a little bit. I wanted to go home, I missed my kids and Husband, but to be honest, I just wasn't quite ready to leave Bandit Town.
On our way out, Jennifer yelled " Y'all come on back, ya hear?" in a completely un-ironic way. 'We Will!' I yelled. Inside, I thought of ways that I could avoid having to leave and drag it out another couple of days. I wasn't quite dusty enough to leave, that was my excuse to myself. Needless to say, I will be back for another country fix.
If you need a good shaking out of the doldrums of daily life. and you love the old west, great country music, the great outdoors, and animals, I highly suggest attending one of Bandit Towns many events, and while you are there, find Jen and introduce yourself to the mayor of Bandit Town.
For more on Bandit Town and how it came to be, check out this exclusive interview with Mayor Mcmillan here.