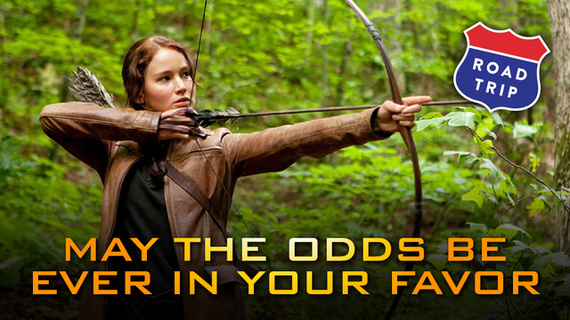 If there's a Hunger Games fan in your life, chances are they're pretty excited today. The first installment of Catching Fire is finally here, and tonight District 12'rs will be flooding theaters to cheer on their favorite braid-sporting heroine Katniss. In honor of tonight's long awaited games, take a trip to the real Panem on this Hunger Games Road Trip. Happy Hunger Games!
Pisgah National Forest is the real-life backdrop for the forest surrounding the fictional post-apocalyptic area called District 12. In The Hunger Games, the scenes of Katniss and Gale hunting were filmed in Pisgah because of the rich, dense woodlands that make up this beautiful national forest.
The Henry River Ghost Town is a 72 acre village that, during the industrial era, was a bustling community. More recently it played the part of District 12's dystopian post-apocalyptic village. In its day, Henry River contained 34 houses, and covered roughly 1, 500 acres. Today only 21 original buildings still stand, including the house used as Peeta Mellark's family bakery.
Dupont has become a mecca for photo-ops as it's one of the most recognizable locations in the first Hunger Games film. Many of the scenes that take place inside the arena were filmed against the woodlands and itsimpressive waterfalls.  Triple Falls has become one of the most visited areas inside Dupont State Recreational Forest for Katiness cosplayers and Hunger Games nature tours.
The strange and futuristic design inside Charlotte's 1,191 seater Knight Theater made for a perfect Capitol backdrop, and an even better atmosphere for the important Tribute interview scenes. The design of the building worked so well as a Capitol building, little was actually done to change the look of the stage before filming began.
Plan your next adventure at one of these beautiful (and free) Hunger Games Filming destinations, and may the odds be ever in your favor!  
Calling all HuffPost superfans!
Sign up for membership to become a founding member and help shape HuffPost's next chapter