When you're raised on movies like, The Natural, A League of Their Own, and The Sandlot, it's easy to celebrate baseball as America's favorite past-time.
The first Major League Baseball game I ever attended was more than 20 years ago when I visited Mile High Stadium with my family to watch the Colorado Rockies (who now play at Coors Field). Sadly the game was canceled by a downpour and destined to become the Rockies' first ever rainout; dad did make-up for it, taking us to another game a few weeks later.
Tallying up my ballpark visits earlier this year (11), I decided to plot out an itinerary to see all 30 stadiums before the 2015 season ended. This weekend, I visited my 30th ballpark, Turner Field, home of the Atlanta Braves which is the oldest continually operating team in baseball (since 1871).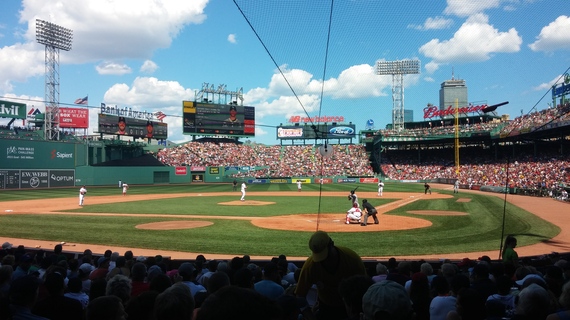 I loved planning my "2015 Baseball Tour" which included six legs targeting stops in New England, the Southwest, Midwest and Southeast. Utilizing long weekends, I booked flights, hotels and rental cars and coordinated when possible with family and friends to join me in different cities.
People ask me what my favorite experiences were, who had the best food, the craziest mascot and what the fans are like. So, without further adieu, here's a recap of the sights and experiences:
Food
Some argue that Cleveland or Los Angeles has the best hot dog. Now somewhat of a hot dog connoisseur, I'd have to give the title to the Phillies who offered a crispy skin with a savory sausage flavored interior. Hands down, Detroit had the best cheese curd poutine fries. Boston sold terrible cotton candy in a small, crumbly bag for $6 while Cincinnati had the best helmet sundae topped beautifully with whipped cream and a cherry on top.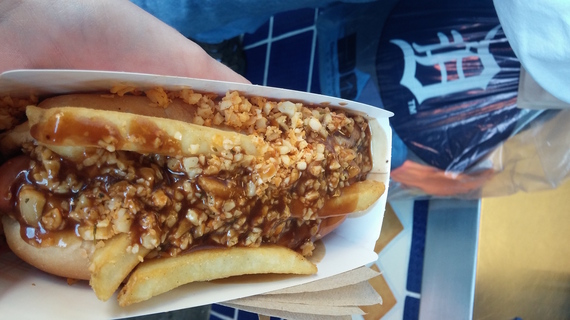 Be it Stomper's floppy ears, Dinger's taunts toward opposing batters, or Orbit's failed lemonade stand, these critters are cute, engaging and produce boatloads of amusing antics on game day!
Weird Stuff in the Outfield
Who knew the Blue Jays had a hotel, the Diamondbacks a swimming pool, the Brewers a giant slide, the Padres a dog park and the Rays a sting ray petting tank in the outfield?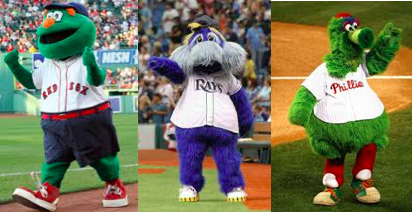 The Green Monster from Boston makes sense given the metaphor for the giant green wall in the outfield, but I have no idea what is going on with the Tampa Bay or Philadelphia mascot.
Ambiance
After hearing 30 renditions, I still tear up during the "Star Spangled Banner" (especially when Orioles fans change the words!). Houston's Minute Maid field touts an orange train that whistles and spews steam whenever the Astros hit a homerun. Detroit has a tiger merry-go-round inside the stadium along with giant tiger statues to greet arriving fans. The free Yankees Museum displays signed baseballs from legends Babe Ruth, Lou Gehrig and Mickey Mantle while Baltimore's Babe Ruth Museum next door to Camden Yards has the ball that Ruth hit after calling his shot in the '32 World Series. It was also pretty cool catching a ball at the Marlins game.
History Made
I was at AT&T Park on June 13, 2012 when Giants Matt Cain threw a perfect game (22nd pitcher) and at Tropicana Field September 12, 2015 when Red Sox David Ortiz hit his 500th career home run (27th hitter), both impressive feats given there have been nearly 20,000 players to ever put on an MLB uniform. On each evening, I left early to beat traffic. Interestingly, I watched Ortiz hit his 400th home run in Oakland on July 4, 2012.

How did Homer, Mr. Red and Mr. Met all ended up with baseball heads -- where's the originality?
Fans
In St. Louis, literally every person I saw was wearing a red cap and shirt. Usually you'll see people sporting the visiting team's colors, but the Cardinals have the loyalist fans. Boston fans loudly show their pride and don't blink when offered a bottle of game used Fenway dirt for $20.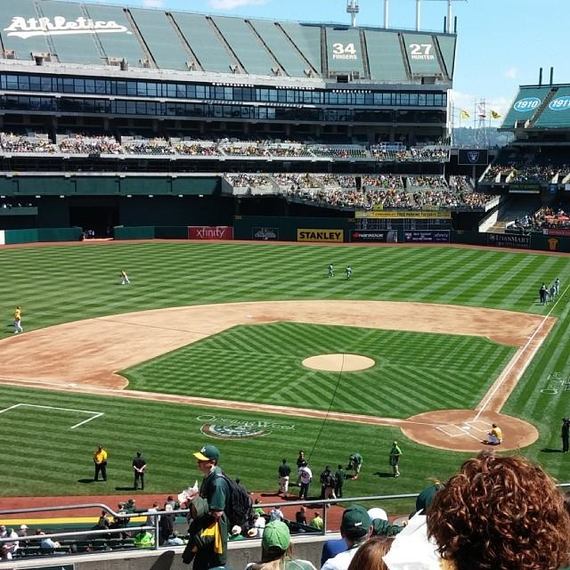 Now that I live in the Bay area, I've since adopted the Oakland A's as my favorite team. While it is disappointing being an A's fan, I love the energy of the fans and charm of the Coliseum on game day, not to mention the steal of a deal $6 kids hot dog meal. One of the worst teams in baseball this year, they'll always be my favorite.
Calling all HuffPost superfans!
Sign up for membership to become a founding member and help shape HuffPost's next chapter