If you have as much wanderlust as I do, then you could imagine how often I dream of Bali's Bukit Peninsula. Kneading my toes through the island's chalky-white sand beaches, while staring hypnotized at a sunset burning out over the sapphire and emerald waters. The image of Bukit paints sharp pictures in my mind of beauty intertwined with perfect surfing waves on the horizon.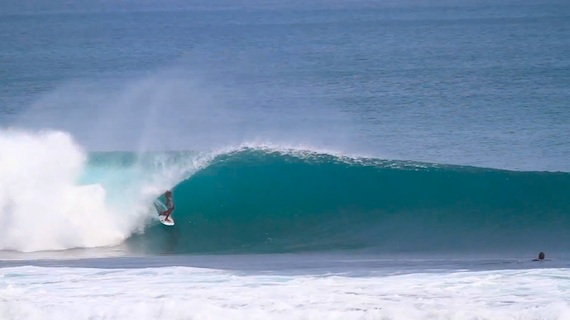 If you heart's desire is aqua blue water and white sand beaches, hop on a plane to Indonesia. Photo: Local Style
Why is Indonesia a place that I dream about? Well for starters, the average coastal water temperatures range somewhere between 70 and 80 degrees all the time, the incredible landscape is blanketed with lush greenery, and there is a plethora of waves so flawless that they break with not a drop of water out of place.
Indeed Bali's Bukit Peninsula is nothing short of a surfer's paradise, and the best way to get to know it is through the eyes of the locals:
But don't think that you have to be an adrenaline junkie to enjoy Bukit. With such a fair climate and every activity from golfing to massages, Bukit is as equally enjoyable for the leisure seeker as it is for the thrill seeker.
About 45 minutes from Nusa Dua, you will find the Bukit Peninsula, home to one of the most iconic surf destinations in the world, Uluwatu.
Uluwatu gets its name from Uluwatu Temple, one of nine directional temples meant to protect Bali from evil spirits. It is a spiritual center (both the temple and the surf spot) and also a pseudo-cultural epicenter of the peninsula.
The temple perches 70 meters above a sheer cliff that drops straight into the breaking waves of the iconic surf spot. The temple at Uluwatu hosts Bali's most spectacular views at sunset, as well as several ceremonies like the Kecak Dance (monkey dance) every sunset.
But be warned! The temple is home to gangs of monkeys who learned to be very skilled and cunning thieves. Keep a very close grip on all your belongings.
Of course, there are a number of surf spots that line the coastline, each with their own personality. Among them is Dreamland -- a perfect two peak wave, Impossibles -- one of the fastest waves on the island, and Padang-Padang -- A wave so good they had to name it twice.
Related