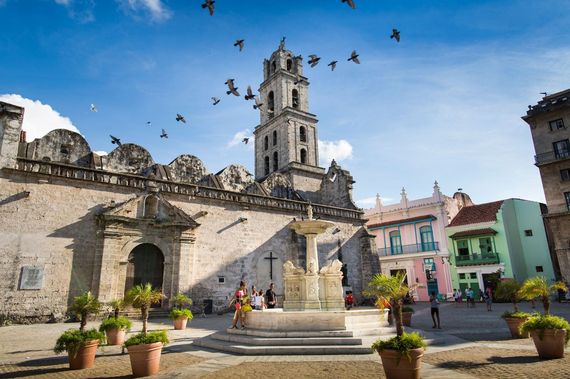 There was palpable excitement on the Adonia, Fathom's 704-passenger ship, as we sailed into the harbor in Havana. For many of us, it was our first look at what has long been hidden. The biggest surprise was the numerous skyscrapers in the city's skyline. One fellow passenger chided, "Remember the rest of the world has been traveling here," while critics of Castro's government reminded that the hi-rises are for non-Cubans with no Cubans living in them. The Cuba of yore can still be found. The government is currently renovating Old Havana, which has been designated a UNESCO World Heritage Site, to attract tourists.
Americans have long been fed the propaganda that life under Castro was extremely hard so the infectious happiness of the Cubans that we met was unexpected. The country is poor and the infrastructure is crumbling, but the people blame this not on the Castro brothers or the trade embargo with the United States, but on the dissolution of the Soviet Union and their subsequent withdrawal of their support from Cuba. While almost everyone toils for the government at a ridiculously low wages of several hundred dollars a month, they don't seem to resent it as much as one would expect. The tremendous benefits the Castro government provides its citizens helps make it possible to subsist on the low salaries.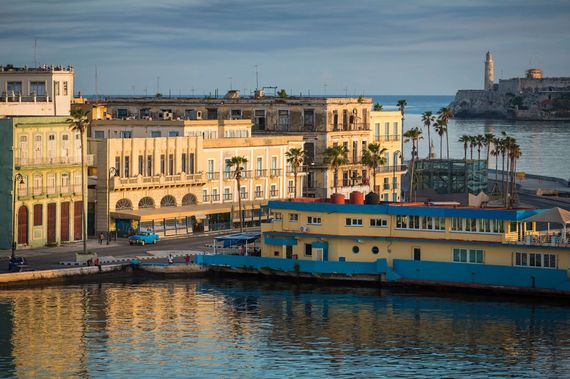 Our guides, who are handpicked by the government to interact with tourists, proudly highlighted the state of art hospitals during our tour and boasted there were only 3 known cases of the Zika virus in Cuba due to a government military style extermination program. Every Cuban we met boasted about the free healthcare and education that the government provides. One guide finally admitted that only the best students can choose their course of study, but he shrugged it off as non-important. He said, "By allowing only the top 3 students to study law, it fosters a competition for good grades." Another guide, who was the only one to show some unhappiness with the current government, chose not to go to college. He waved off our questions with a vague "it's not really free." It wasn't clear if he did not have the money for room and board or he couldn't choose to study what he wanted. In addition to free medical care and education, the government gave its citizens a rations card, which allowed them to buy heavily subsidized rations for minimal cost. For example, a tube of toothpaste can cost 10 cents in the ration store. The rations, which are allocated monthly, rarely last the entire month thus forcing Cubans to do without or buy at an extremely high price.
Castro's strident insistence on income equality may be the reason that Cubans appear satisfied with their life despite the harsh conditions. Our tour guides frequently pointed out institutions once reserved for the elite that Castro had opened up to the hoi polloi.
Still, life in Cuba is hard. Generations of Cubans are often forced to live together in small apartments. Our guides laughed at our naiveté when we asked where they went on vacation. Tomasito Cruz, a performer on the ship, told a heartbreaking tale of his high school years at the prestigious National School of Art of Havana. While he had the privilege of studying under the king of Cuban percussion, Juan Luis Quintana, he was forced to do it while starving. He said, "The government paid for me to board at the high school since my family was from the country, but the school did not have enough money to feed the boarding students. The school provided the students with one meal a day. Breakfast was water and lemon. I was so hungry that I got a job at the Hotel Nacional even though we were forbidden to work while at the school. The hotel would pay me in food. I would have to sneak back to the school without getting caught after my shift was over at 1 am in the morning, a time when very few buses ran."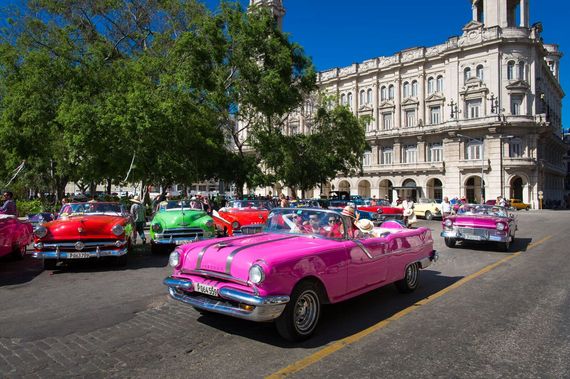 Life for ordinary Cubans greatly improved when Raul Castro, Fidel's brother, took over. He opened up the internet. Cubans say they can even criticize the government in their blogs although I am not sure that I would be brave enough to attempt that under an authoritarian regime. He has loosened the rules of home ownership which many Cuban-Americans are starting to taken advantage of thus raising the price of real estate in the country. Castro has also allowed more private enterprise, probably to meet the demands of the tourist influx. Cubans, with a government permit, are now allowed to rent out their house. In Santiago, we ate in a private restaurant that had opened 2 years ago. It was a step up from the government established restaurant in Havana where we dined earlier in the tour. We were served decent food in a well air conditioned room while being serenaded by a soulful singer.
One of the great treats of my visit to Cuba was the high quality of its musicians. The best and brightest of Cuba go into the arts because it is one of the easiest ways to work around the rule laden Communist system. The government also supports the arts with the establishment of high schools of performing arts, paying salaries to artists, and permitting travel outside the country for artistic groups. Castro was known to give his favorite artists houses and cars.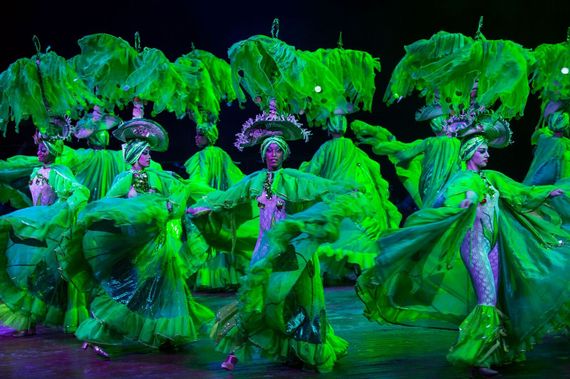 The Tropicana Night Club in Havana with its talented singers, complicated dance routines, and elaborate costumes is probably the best showcase of Cuban talent. It might be the rum talking, but the show is a must see. My guess is that some enterprising American producer will bring the show, which can be best described as a Latin mashup of "American in Paris" meets "Rent," to Broadway. The open air club so invokes 1950s glamour, with its décor and glamorous cigarette girls, that I half expected Frank Sinatra to tap me on the shoulder and ask if he could buy me a drink. My personal favorite of our people-to-people cultural experience was the Spice Girls of Santiago, "La Chicas Marranos" (The Brown Girls). Thanks to my daily dance lessons on the ship with teachers Douglas and Debbie, I was able to cha cha and mamba to their music.
A visit to Cuba forces any person with half a brain to confront the stupidity of US foreign policy being dominated by special interests. For years, the antipathy of Cuban Americans towards Castro prevented any serious discussion of American rapprochement with Cuba. After listening to an explanation of the Cuban Missile Crisis from the Cuban vantage point, President John F. Kennedy's actions during the Cuban Missile Crisis appear to be those of a young and inexperienced commander-in-chief. He most likely overreacted to Castro's sabre rattling. It is sheer folly that we have continued his inane policy for the last 50 years. While the United States abstained for the first time in 25 years this week on the UN vote condemning the US trade embargo against Cuba, there doesn't seem to be any political will to end the trade embargo or allow the Senate confirmation of Jeffrey DeLaurentis as US ambassador to Cuba to proceed.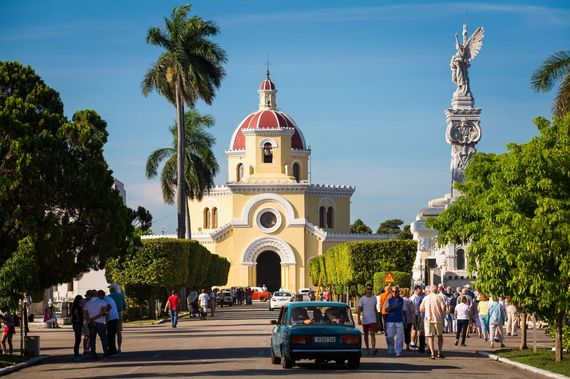 Yes, Castro is a dictator and guilty of serious human rights violations, yet many Cubans believe that they are much better off with him running the country rather than the Fulgencio Batista regime that he toppled. When in Santiago's Antonio Maceo Revolution Square, our guide told us a story that his mother had relayed to him. He recalled, "Right here in this square, my mother's neighbor was killed. Batista's men were here. One warned my mother's neighbor, I will kill you if you are still here after I circle the square. He asked my mother's neighbor do you understand. My mother's neighbor nodded yes. Batista's guard turned around in place and shot the man dead."
Unlike many dictators, Castro has not built monuments to his wealth and power. In fact, most public buildings are simple, sparsely decorated and devoid of modern conveniences such as elevators. One of his most extensive construction projects was a sea wall to break the waves that now serves as a gathering place for Havanans on hot nights. Instead his government has continued to provide free medical care and education to his people despite the bottom having fallen out of the Cuban economy. Contrast that with the actions of Syrian President Bashir Assad or former Iraqi president Saddam Hussein who gassed their own people. Unlike the Arab states which routinely execute bloggers, homosexuals, and women that commit adultery, the Cuban government does not permit capital punishment and only recently began sentencing people to life imprisonment instead of 30 years. The government does not seem to target ethnic or religious minorities or homosexuals. All the churches we visited were in adequate condition or in the process of renovation. The Cubans were among the first to deal with the AIDS epidemic in a responsible way.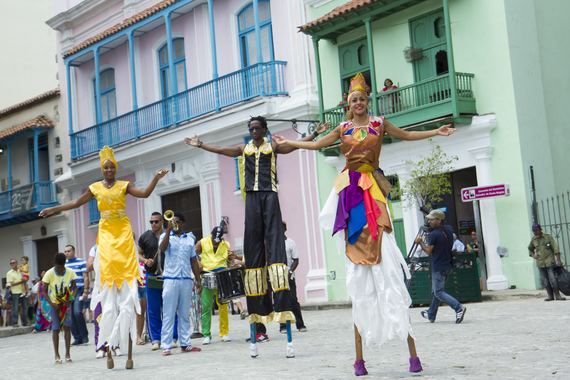 Castro has not indoctrinated his people to hate the United States or Americans. The Cuban people welcome us with open arms despite examples of America's overreach in foreign policy everywhere. The US-Cuba fight over the child Elian Gonzalez is immortalized with a giant statue of Cuban patron saint Jose Marti holding a child meant to be Elian with one hand and pointing at the site of the then American interests section in Cuba with the other hand. While several Cubans expressed the opinion that we should return the US military base at Guantanamo to Cuba, they recognize that there is little chance of that happening. In fact, there is only one American that they didn't like-Donald Trump. Every Cuban we met begged us not to vote for Donald Trump because they fear his presidency would disrupt relations between our two countries.
Americans and returning Cuban-Americans are now the second largest group among the more than 3 million people that visited the island last year despite the ban on tourist travel still being in effect. Signs of construction abound everywhere on the island. While everyone is rushing to see Cuba before American economic investment changes it, be forewarned that it is currently ready to receive only the most intrepid travelers. The Washington Post recently recommended that travelers to Cuba consider taking a tour. Reuters reported poor baggage infrastructure at the airport and the current nationwide hotel capacity of 63,000 rooms has become stretched thin with the easing of travel restrictions from the States. It often reached 100 degrees during my mid-October visit to Cuba, yet air conditioning in public places, such as theaters and restaurants, is scarce. Toilet paper, if available, is not found on a dispenser but often handed out by a bathroom attendant. While the mojitos and Cuba Libres went down smooth, the food in regular restaurants was okay not fabulous. If you want to explore the entire island, beware that a distance on a map that would normally take 5-6 hours in the United States would take that double that in Cuba because of the poor condition of the roads. While Havana is certainly the highlight of any trip to Cuba, other cities in Cuba such as Cienfuegos, a city so beautiful that its nickname is the "Pearl of the South," and Santiago de Cuba, which was the first capital of Cuba, have their own unique story to tell.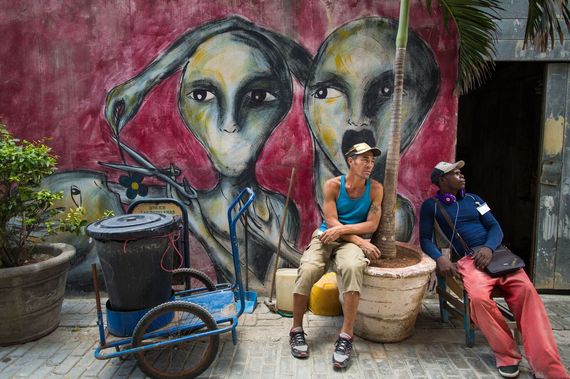 Tourists in search of American style conveniences must pay a pretty penny. A night at Havana's Hotel Nacional, which was immortalized by Francis Ford Coppola in Godfather 2 as the scene of the Havana conference of Mafia chieftains, costs $300 during high season while a Santiago hotel, without air conditioning in the lobby, costs $200 a night. Sailing on Fathom's Adonia offers one of the easier ways to travel to Cuba at the present time. One disadvantage of traveling by ship is that one is at the mercy of the Cuban dock masters who brook no dissent. While the United States Government has eased travel restrictions to Cuba for American citizens, there are still some rules and visa requirements. Fathom expedites a people to people visa and files the required paperwork with the State Department. Travelers going on their own are required to arrange 8 hours of people to people meetings and keep the paperwork for 5 years.
Fathom, which is a division of Carnival Corporation, is serious about their mission of impact travel. The story of Tomasito Cruz's return to Cuba offers one of the more touching examples of the impact that Fathom is having. Cruz defected from Cuba 15 years ago when he was touring the United States with Cuba's most popular band, Paulito F.G. Y Su Elite. He tearfully told me that he was not able to return home despite the deaths of his grandparents. While performing on a Fathom cruise to Cuba, he was finally able to have a reunion with his family including his ailing father. He visits the local cultural centers to teach children during his down time from performing on the ship. Cruz held a fundraiser to raise funds for instruments for the Cuban children when he's back in Miami. Cruz's first instruments were his mother's pots and pans.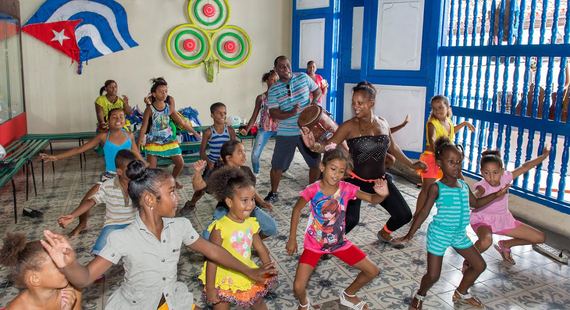 He used his subsequent trips to Cuba to reunite with old friends and former colleagues. This reunification sparked a desire to perform once again in his homeland. The dream of the 3 time Grammy winner was fulfilled this month when he recorded an album with the international famous Buena Vista Social Club and percussionist, Juan Luis Quintana. The album, titled "Yo Soy Cuba" will be released by the Three Six Zero Group in 2017.
In another reminder that Cuba is not really free yet, Cruz was unable to perform a concert there. His permit only permitted him to record the album. He is the rare native born Cuban that has been allowed to return to his country. US airlines are not even allowed to staff their flights to Cuba with those born there.
Calling all HuffPost superfans!
Sign up for membership to become a founding member and help shape HuffPost's next chapter