My mission in life is to build a global movement so that every young person can learn how to start a small business. I believe that in doing this, there will be a dramatic decrease in poverty around the world, as young people develop the entrepreneurial frames of mind necessary to be effective and self-sufficient in businesses. (As a side note: I think this will also help them to be more productive in non-profits.) For those not wanting to go into business for themselves, there will be more jobs available as well as ownership opportunities for low income youth.
Of course, being invited to Cambodia by the U.S. State Department to give a series of 11 lectures was a very exciting opportunity for me, particularly since five of the presentations were with high schools in Cambodia. At each high school, I found the students to be attentive and fascinated by business.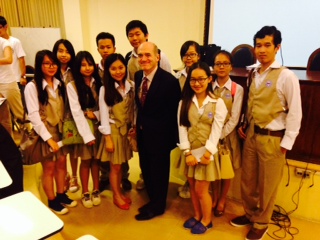 They were quiet, so part of my assignment was to get them to be more outgoing. I opened each discussion with an introduction to NFTE and our vision of to create a worldwide network of young entrepreneurs. I encouraged them to come to New York City where I would introduce them to other young people interested in business.
Together, we did an exercise showing how markets are always changing: a good entrepreneur can always adjust and make money. As an example, I gave them the scenario: "What would happen if gasoline prices doubled?" How can you make money?" They threw out a wide variety of ideas such as carpooling, and substitutes for cars such as bicycles and walking. I was very impressed with their energy.
For each scenario that I would give them of a market change, they would think of businesses that could be started. The successful entrepreneur is one who practices and gets good at understanding markets, anticipates change, what people will want, and is continually thinking of how to solve problems. A major argument for youth entrepreneurship training is that it prepares people to handle the stresses and anxieties of change.
I then went to my five basic lessons for young entrepreneurs.
Never compete; instead, find out what everybody else is doing and then don't do it.
Hire the best and brightest, and provide incentives for them like profit-sharing.
Get your economics of one unit accurate. The unit that solves a problem must be clear and concise and you must know not only its price, but also its full costs.
Learn how to communicate your story, which has to be absolutely true and streamlined, but must answer the question of what your life's work will answer. And in doing so, that will be your business opportunity -- your business story.
Always have a business plan that is based on comparative advantage. Comparative advantage means that you can compete with anyone else, because you have a unique knowledge of time and place. You have abilities, knowledge, and interests in your niche that other people can't compete with.
These were my basic lessons for the high school kids in Cambodia, and when interviewed by one of the top reporters for Cambodian TV, I reiterated those basic lessons and also encouraged the Cambodian government to keep taxes low and simple so that anyone can understand them. I also suggested to regulate only business that support health and safety, but did not prevent people from competing.
Rallying the world's young entrepreneurs to create wealth and solve problems, and encouraging every young person to consider being capable in financial literacy and entrepreneurship is one of the most important agenda items of our time.
I was glad to be a small part of this effort in Cambodia.
Popular in the Community