Myanmar in 2012 is an outrageous shape shifter.
Before I left on my trip there earlier in March, I had read extensively about this southeast Asian country, not least because its history of military dictatorship demands due diligence from travelers. But owing to how fast things have been changing, nothing I read had actually prepared me. Most everything I experienced -- from the relentless street scene in Yangon to the serene temples of Bagan -- was more complex, vibrant and profound than I imagined.
It was the type of journey where your brain is on all the time, because everything you see invites further questions. If things continue to change as fast as they have been, it will be different to visit even six months from now, let alone years when -- predictably, hopefully -- the sanctions will have been lifted and U.S. and European investors will have discovered this culturally rich place.
Since the contested elections in 2010, Myanmar -- under sanctions from the U.S. and Europe for decades -- has been steadily moving towards democratic change. What began as a whisper of transformation has grown louder, as timid but extraordinarily hopeful signs point toward a lasting shift.
The release of longtime opposition leader Aung San Suu Kyi, known as the Lady, from house arrest in 2010 was a marker, as was the state visit by Hillary Clinton in November 2011, the first by a U.S. official in over 50 years. Just one year ago locals were not able to access online blogs, could not exchange U.S. dollars and could get into a lot of trouble for distributing pictures of the Lady or her party, the National League for Democracy (NLD).
On my recent trip to Myanmar, I met residents who have Facebook pages; I was able to pay with U.S. dollars even at some smaller markets (though the local currency is preferred); and I visited the NLD's headquarter in Bagan, reopened in January, where I purchased T-shirts and cards bearing the Lady's portrait. There was an overwhelming sense of history being made right now. And everyone was anticipating today's parliamentary elections where Aung San Suu Kyi is expected to win several seats.
For me, Myanmar was the trip of a lifetime. There were big experiences, like seeing the Lady at the Yangon airport, visiting the massive golden Shwedagon Pagoda and drifting in a hot air balloon across Bagan's temple-strewn fields. But it's the small moments that got under my skin and that stay with me still: the smiles exchanged with locals at a rural market; the visit to a monastic orphanage run by an engaged, beautiful, 35-year-old monk; discovering floor-to-ceiling murals in a hushed, dark temple, whose toothless caretaker encouraged me to illuminate them with a flashlight he provided.
One of my guides told me about the Buddhist belief that the more lost you are, the more alms you get. This was certainly true of my trip. I lost myself in Myanmar -- and am richer for it today.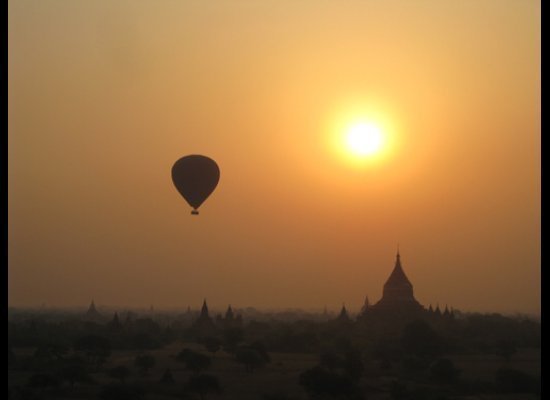 Myanmar Now
Related