Sitting behind the wheel of a Bentley Flying Spur Speed Series 51 Sedan, I feel like I am flying as I hit the Palisades Parkway headed to Storm King Art Center in Mountainville, NY, one of the world's leading sculpture parks. My last test-drive of a Bentley Continental GT coupe in Nizwa, Oman may have been in a more exotic locale, but as the speedometer creeps past 80 and I listen to the Spur purr, I'm in my zone.
Of course, it's not hard to be in your zone while driving a vehicle with a 600 horsepower, twin-turbocharged 6-liter W12 engine that accelerates from 0-60 in 4.5 seconds. I'd push it to its maximum 200 mph if I dared, but I wouldn't want to take the chance of anything happening to this $214,535 vehicle nor do I want a speeding ticket.
Almost too quickly our little convoy of two Flying Spurs, a Black Sapphire Mulsanne, and a white Continental GT coupe pull into the Storm King parking lot. We have almost two hours to explore the 500-acre landscape with over 100 site-specific art pieces. I've been to Storm King before but never on such a perfect autumn day without a cloud, under a sunny cerulean sky with brushstrokes of red, yellow and crimson painted on the surrounding trees and in the distant Schunnemunk Mountains.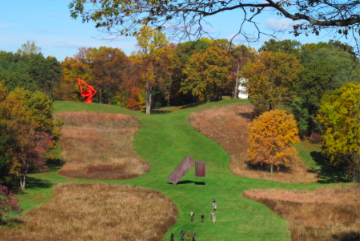 Storm King Art Center (Photographs by Margie Goldsmith)
I look out past the sculpture garden's rolling fields and hillsides to three enormous metal sculptures by Mark di Suvero that look slightly like a contemporary version of a Texas oil drill. There's an installation by Maya Lin, the 11-acre Wavefield, which wasn't here on my last visit, and that's where I plan to go first. I could rent a bike for $10 an hour or hop aboard the free tram which traverses most of the grounds but I prefer to walk.
I grab a map and head past the visitor center to Museum Hill, past three bright red Calder sculptures. At the bottom of the hill, hugging the woods, is a mirrored picket fence by Alison Shotz that I've never seen before. It is strangely beautiful and reflects the colorful fallen leaves.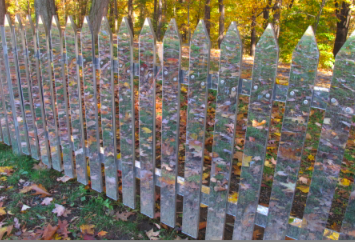 Mirror Fence by Alison Shotz
I walk past Kiss by Darrell Petit, two huge columned boulders that graze each other at the top. In the distance is a huge metal sculpture resembling a rhinoceros, but as I walk closer to Zhang Huan's twenty-eight feet high, 12-ton behemoth,Three Legged Buddha, I see it is exactly that: a sprawling three-legged creature. One of the legs rests on an eight-foot-high Buddha head that appears to be either emerging from or sinking into the earth.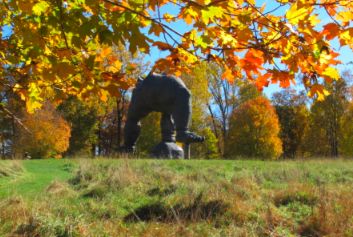 Three Legged Buddha by Zhang Huan

Further south Andy Goldsworthy's Storm King Wall, a stone wall about four feet high snakes around rows of trees. It used to be my favorite sculpture, but the Three Legged Buddha is now my new love.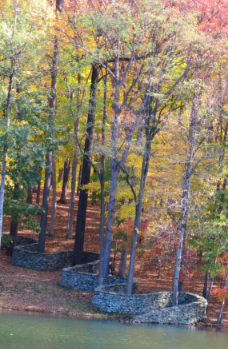 Storm King Wall by Andy Goldsworthy
I pause at a small lake to look at Roy Lichtenstein's whimsical boat, Mermaid.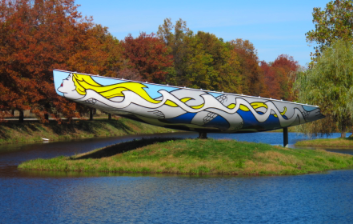 Mermaid by Roy Lichtenstein
On the side of the gravel road is Maya Lin's Wavefield, seven rows of undulating hills shaped like waves. Unfortunately, the site is fenced off with a Keep Out sign, a pity because I've read that Maya Lin's hills are 12-18 feet high, and you get an entirely different perspective when you disappear inside them. From here, they just look like uneven hills full of weeds.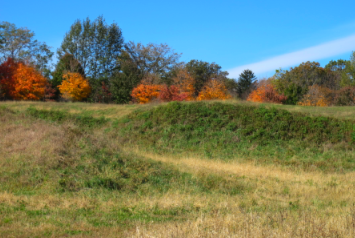 But no matter. There's plenty more to look at with over 100 sculptures, and even if there were no art, the rolling hills and wooded areas framed by the spectacular peak foliage is so peaceful, that I can forget about all my work and New York City and enjoy breathing in the crisp air. I climb a hill and look out at three massive Di Suvero sculptures when suddenly a butterfly flits by me and hovers above some tall grass. Can it get better than seeing a butterfly on the last day of October?
Though it's time to join the others and head off to lunch, I'm compelled to return for a last look at the Three Legged Buddha sculpture.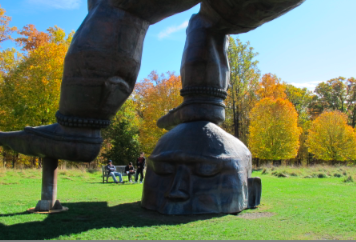 Close Up of Three Legged Buddha
The sun warms my face and I breathe in the autumn air grateful for the sunny day, the art in this outdoor setting and the trees radiant in shades of crimson, gold and amber. All this, and the drive home in the Bentley to look forward to.
After November 13, Storm King Art Center will remain open to the public Friday-Sunday through November 27, when it closes for the season.