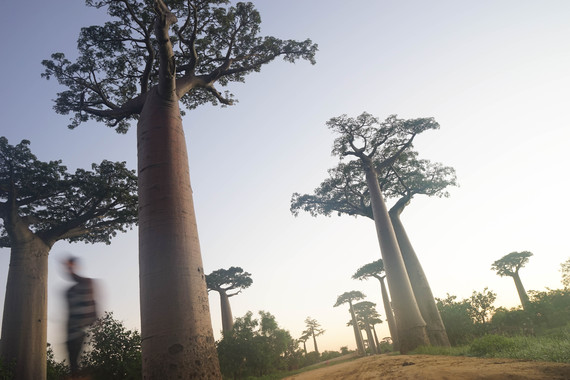 Traveling in Madagascar will thicken your skin and earn you a very large, very cold beer at the end of your trip. There are so many sites to visit, all offerings of nature - white sand beaches up North, whales migrating along the East coast, one of the longest reefs in the world off the West coast. It's hard to decide where to go and -considering the rough roads and lack of modern infrastructure for tourism - it's even harder to get where you want to go. At the top of our list was the Avenue of the Baobabs -the (literal and figurative) roadblocks made getting there even sweeter.
We arrived in Madagascar at the end of April with our route mapped out for the next three weeks. With four months of international travel under our belts, we were pretty good at planning ahead and maximizing our time in each new location. From Antananarivo (Tana for short), we would head West to the Avenue of the Baobabs, then South to Andringitra National Park for hiking, then West to Andavadoaka for scuba, and further South to Toliara for surfing. It would be a perfect taste of all ecosystems Madagascar has to offer.
When we shared our plan with Sari, the owner of our hostel, she gave us a flat out, "It's not possible." The road to the Baobabs was washed out. And that's the only paved road there (we learned there is a limited number of these in the country). This barrier was a rude awakening and a taste of what to expect. We had to drop our plan and leave it more open-ended, which is about all you can do in Madagascar - hope, wait and be flexible. This is when our neatly arranged trip turned into an unplanned adventure.
So we waited and passed the time exploring Tana en foot...and two days later, once the road was patched, we were hurtling West in a taxi-brousse (shared van), crammed in with 15+ other people, luggage loosely tethered to the top, music blaring. At high speed we zoomed past flooded rice fields, up and along the edge of mountains, barely easing on the breaks through bustling villages or when faced with oncoming traffic or animals (its okay, iguana tails grow back right?). We marveled at the parents in front of us - each with a child, one of which was sick, on their laps through the entire journey. Our driver had a mission to end his fourteen-hour shift, and we were on a mission to get out of the hot van, so we were accepting of our reality in a tense, sweaty-palmed way.
Although there are Baobab trees all over Madagascar, the largest grove of the largest trees is in Menabe. Unfortunately for the trees, there is a road that runs right through the grove, making them relatively easy to access for humans...I say relatively because it's still another hour-long bumpy ride from town. Morondava is the closest town to the Baobabs where travelers can find modest hotels and restaurants - it's the kickoff town for visits to the Avenue of the Baobabs, Kirindy Forest Reserve, and Tsingy de Bemaraha National Park. Travelers often visit the first two in the same day, as the Baobabs are along the road that runs to Kirindy.
Malagasy is the prime language, but knowing some French will certainly help in getting around. English not so much, though we did find a few who spoke a bit. Bargaining is common in Madagascar, so few things have a set price and most prices will be jacked up especially high for the foreigners. A good part about standing out as a tourist is that opportunities seemed to present themselves. In a ten-minute walk from our hotel to the main street of Morondava, we received a handful of offers for guided outings and boat trips. From there, we were able to weigh our options and see who had the most enticing (safest sounding and reasonably priced) option.
Sonny, a middle aged man with a big crooked smile, won us over with the promise of a reliable 4x4 truck and he spoke some English, so we agreed to set out early the next day. He picked us up a late because the car wouldn't start, but we still arrived just before sunrise at the Baobabs. Sunrise and sunset are the best times to capture that epic Madagascar shot, commonly seen on Pinterest "dream destination" boards and travel agency ads. April is a wonderful time to go because it's just at the end of the rainy season, so the roads are (mostly) passable, there are few other tourists to get in your shot, and the trees are green at the top.
Walking through the Baobabs is what I imagine walking along dinosaurs would feel like...they are massive and otherworldly, and next to them you feel tiny. The long, hot, bumpy journey getting there shed off our shoulders as we walked along the bases of the trees in the cool morning air. Before the sun came up, we pressed up against their smooth grey trunks, gazing up at the moon and stars through the small branches above. While this was a walking on air type of experience, there is still the reality of tons of flies (wear pants), trash strewn about, and sadly kids asking for money (expect to hand over some bills if you capture them in a photo).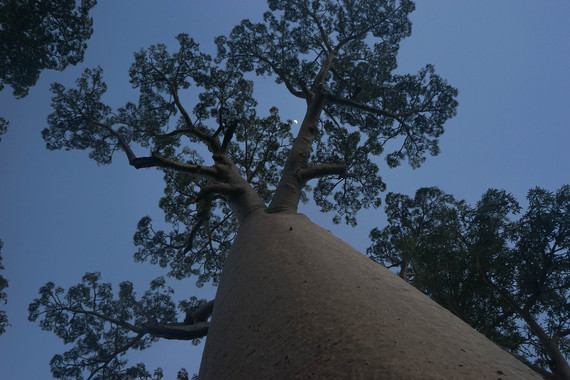 There are over 20 trees here, each about 30 meters high, and aged up to 800 years! While deforestation is a big problem in Madagascar, as the population grows and clears forest for farmland, the Baobabs remain. Locals consider them sacred and believe that the spirits of the deceased reside within these trees. This provides momentary relief, but the reality is that the changing environment around the trees will still ultimately impact these beauties, no matter how solid and impenetrable they may seem. There is currently no fee for visiting the Avenue of the Baobabs, but environmental groups are urging for change - a small fee can help maintain the health of the local ecosystem, while employing a few locals.
We had planned to visit the Baobabs at sunrise, continue on to Kirindy (1.5 hours further) to see lemurs, then visit the grove again on the way back for sunset. But there was a worthwhile change of plans. We stopped in a small village on the way back and met a nice young couple with a sick little boy in their arms. The urgency of getting their boy to the hospital most definitely outweighed our need for sunset shots of the trees, so we all packed in and trundled back to Morondava to get them to the hospital, communicating through our guide (whose hearing and grasp of English were both questionable). Had we not bumped into them, they would have waited patiently for half the day to wave down the next taxi-brousse that swooped by. Their thankfulness for the ride did not need translation and their smiles made our day.
While there isn't anything noteworthy about Morondava, it is a glimpse into life in Madagascar. It's abuzz with Malagasy people selling, buying, transporting goods in over-stuffed carts, women toting groceries and kids - the main drag is full of the energy of people living. As a tourist you get to dip into the scene for a moment, walk around, duck into markets, and take it in. Two nights is enough here plus one night in Belo sur Mer, a sun-bleached fishing village just south, will give you a look into - the quieter and even further offline - village life. Get there by pirogue or 4x4.
More likely than not, Morondava is far from where you head next. For us, it was a four-day journey by pirogue (local sailing craft) to get to our next destination further South. The many hours spent in transit to and from Morondava were worthwhile to have a morning with the Baobabs. It will be one of our most memorable sunrises and was a highlight of our time in Madagascar.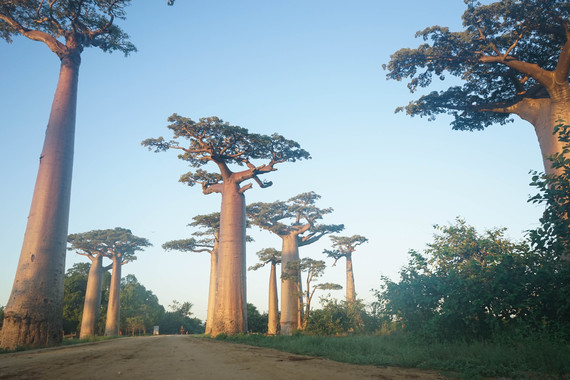 Quick Tips:
Stay at Trecicogne Hotel - it was very cheap ($7 a night) and clean enough with friendly staff. The Baobab Hotel is a more upscale option, had a pool that we looked at longingly, and a good restaurant that we dined at a few times.
Grab a beer at L'Oasis at night and take in the reggae vibes.
Visit the Baobabs (they flower between February and March)! Reach them by taxi-brousse from town or private driver. And pirogue South to Belo sur Mer, a tiny sun-bleached fishing village for the night.
Get there by taxi-brousse from Tana - this taxi-brousse ride is apparently one of the most reliable in Madagascar.
Don't take photos of people without asking - it's rude and also fady (taboo). Also mind your things and leave your jewelry and nice clothes at home. Don't be afraid to bargain, even locals do.