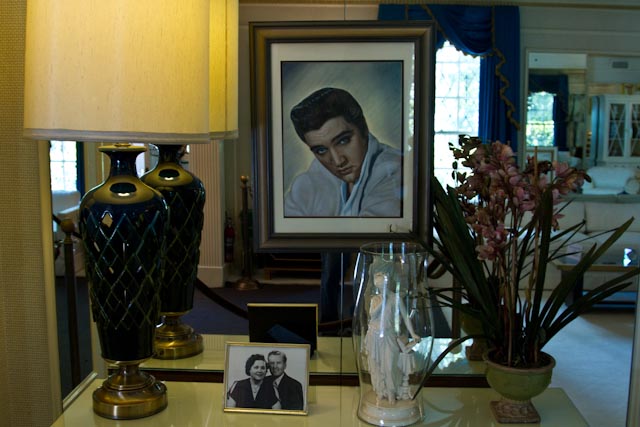 Photo by Eric Lindberg
Edison Pena, one of the rescued Chilean miners and a huge Elvis fan, is getting his wish: Graceland and the Memphis Convention & Visitors Bureau are sending this 34-year old to Presley's Memphis home. Pena was the miner who requested that Elvis' music be sent down through the borehole so he could lead sing-alongs and jog below ground every day while listening to the King.
Edison Pena -- if you're reading this - don't just visit Graceland! Take another few days in Memphis, home of the Blues, and from where I have just returned. Here are my suggestions:
-When you arrive in Memphis, begin your musical pilgrimage with the true "Birthplace of Rock n' Roll," Sun Studio . Have your photo taken in the same studio and exact spot, and holding the Shure 55 microphone Elvis used on July 8, 1954, when he sang "That's All Right." No one had ever sung it that way -- the rest is history. Take the excellent Sun Studio tour with guide Jake Fly, who will tell you that when Elvis was 13 he wanted a gun but his mother bought him a guitar instead. On the wall is a photo of the million dollar quartet: Elvis, Jerry Lee Lewis, Carl Perkins and Johnny Cash, who jammed together one magical night. Feel like a rock star and record your own songs here for $100/hr (2 hour minimum). 800-447-6249
-Hungry? Proceed to Arcade the oldest café in Memphis, and one of Elvis' favorites. He'd sit in the back booth near a mirror so he could see if he was spotted; then, he'd sneak out through the back door. Make sure you try Elvis' favorite dish: a fried peanut butter and bananas sandwich.
-Head over to the Smithsonian Rock 'n Soul Museumto learn how "The Memphis Sound" was shaped. Look at the gold and sequined costumes, musical instruments and bling from Elvis and such greats as Otis Redding, B.B. King, Al Green, and Isaac Hayes. Watch old film clips and learn amazing trivia so you can dazzle your friends back home.
-It's almost 5pm, time to head over to the Peabody Hotelto watch the duck parade. No kidding. Every day at 11am, some ducks are escorted by the Duckmaster from their home on the roof--the "Duck Palace"--down to the lobby to spend the day splashing in the lobby fountain. Each night at 5pm, the Duckmaster rolls out a red carpet and escorts the ducks up a private elevator back to their rooftop home.
-For dinner, head on over to Rendezvous, whose slogan is, "Not since Adam has a rib been this famous." Start with their famous cheese and sausage or barbecue pork nachos followed by Charcoal Broiled Pork Ribs -- lip smacking good.
-There's nowhere better to feel the soul of Memphis than Beale Street, a kaleidoscope of neon lights, rock 'n roll, blues, and jazz blaring from every doorway, public park, and on the street. It's jumping by 8pm, so go music hopping -- door to door -- and take your pick of soul, rock, funk, and more.

-Tonight, hang your head on a pillow at the romantic Mississippi River-facing River Inn
-It's time to visit Graceland the second most-visited residence in the U.S. (the Obama home ranks first). Gape at the "King's" costumes, the Hall of Gold (110 different gold, platinum or multi-platinum albums and singles); the Jungle Room, the Music Room, early films of Elvis, and the Meditation Garden where Elvis, his parents and twin brother Jesse (who died at birth), are buried. Leave your own memorial to Elvis there where it will remain until either the flowers die or it fades. Board Elvis' two custom jets with gold-plated seat belts and 24-karat gold-flecked sinks. Learn about his 31 films at the Hollywood exhibit; and don't miss Elvis' Car Museum with over 33 vehicles of his including the Pink Cadillac.
-Now that you've seen the king of rock 'n roll, pay homage to an even more important king: Dr. Martin Luther King, Jr. Your most important visit in Memphis might well be to the National Civil Rights Museum housed in the Lorraine Motel where Dr. King was shot. This museum, one of the top ten tourist attractions in the country, depicts the civil rights movement with exhibits and disturbing footage of everything from the lunch-counter sit ins, Rosa Parks and the Montgomery bus boycott to the Memphis sanitation strike and much more. Room after room will make your heart sink and bring tears to your eyes, including the reconstructed motel room where King sat, just before he went out onto the balcony and was gunned down.
When leaving the Museum, pause in the foyer at the 14-foot high 21-foot wide sculpture created by Texas artist Michael Pavloskyentitled, "Movement to Overcome." In it, hundreds of figures carved into blackened bronze rock walk up a mountain, moving on across time and boundaries. In the artist's vision, these are the untold stories of people who lived and are still living the Civil Rights movement, and what it represents. In a way, Mr. Pena, the sculpture reminds me of you and the other 32 miners who, also entombed in blackened rock, survived against all odds and made it to the top. The figures in Pavlosky's sculpture are not there yet, but I have every hope they will make it.