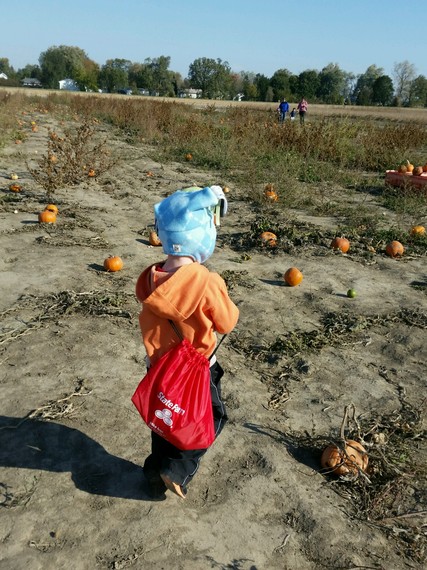 When you have kids, you may discover, like I did, that there is a vast and overwhelming array of fun and enriching activities in which your child (and you) can take part. Story times, baby music classes, mommy and me yoga, festivals, zoo memberships, children's museums, "Touch a Truck Day" (which is a real thing, apparently,) fairs, children's theater... the list is endless.
And if, like me, you tend to be more optimist than realist, you may paint a picture in your head of how these activities are going to go. Using mental images inspired by Pinterest, you'll envision your smiling children (in your imagination, they are never covered with an unidentifiable sticky substance or crying because they need to pee) cheerfully participating in whatever activity that you, their doting parent, have chosen as a means to enrich their precious little lives.
Well, let me go ahead and be the one to disappoint you: it will never, ever go the way you pictured it. As evidence, allow me to share the story of last week's trip to a pumpkin farm that my kids and I took with a local moms' group that I joined recently.
Here's how I envisioned the day going: my one-year-old daughter would fall asleep on the 30-minute car ride (which was set to coincide with her usual nap time) and wake up upon arrival at the pumpkin farm feeling well-rested and cheerful.
It was an unseasonably warm October day, so the sweatshirts I'd dressed both kids in would keep them sufficiently cozy until the midday sun warmed them up enough to strip down to their long-sleeved t-shirts. My daughter would snuggle happily to my chest in the baby carrier while my three-year-old son marveled at the fall displays and farm animals.
We'd laugh and talk with the other moms and kids while enjoying our popcorn on the hayride, then search through hundreds of perfectly spherical, bright orange pumpkins until we found the best ones. We'd re-board the hay ride, clutching our orange trophies to our chests, and when we returned to the barn, we'd pet the farm animals in the petting zoo and then return home just in time for both kids to take an afternoon nap.
Here's how the day actually went: my daughter screamed throughout the entire trip to the farm, which took 15 minutes longer than expected because my minivan's GPS was somehow operating under the (mistaken) assumption that the interstate was closed, a fact I realized only after I twice drove through some rather unsafe-looking areas on an unnecessarily long route to and from the farm.
Though the temperature was mild, the day was surprisingly windy, so I had to bundle my kids up in mismatched remainders of outfits that I scavenged from the back of the van. Having missed her nap, my daughter was cranky unless I kept moving, which was hard to do while we huddled under a tent waiting for the hayride to begin.
Before we boarded, the friendly farmer gave a brief talk to the kids about growing and picking pumpkins, during which a child seated in front of us fell off of his hay bale and landed on his head. Once on the hayride, I stuffed tiny bits of popcorn in my daughter's mouth to keep her from crying while the other moms and I commiserated about bedtime woes.
When we reached the pumpkin patch, we discovered that it had been somewhat picked over, resulting in more rotting pumpkins than solid ones. My three-year-old managed to find two nice pumpkins quickly, but all around us were cries of "This one's squashed, too!" and "I can't find any good pumpkins!"
Ultimately everyone found a pumpkin, so we climbed back up to finish our hayride, where my son spilled his popcorn, ate it off of the floor, and then gagged and almost threw up from the smell of the cows that we passed. So no petting zoo for us. After we enjoyed donuts and apple cider, my son declared that he had to pee. With my daughter strapped to my chest and my son dangling from my arms, I crammed all three of us into a porta-potty the size of a microwave, at which point he announced that he also had to poop.
When we'd finished with that hurdle, I made the unfortunate decision to take the kids into the farm's produce store, where my son began to cry because I wouldn't spend $10 to buy him a gigantic plastic hand attached to a stick. It was time to go home. My daughter cried for the entire 45-minute drive, but when we got home, something finally went the way I had pictured it: both kids were so exhausted that they napped at the same time.
Naturally, I've already decided to take the kids to the pumpkin farm again next year. After all, they'll both be a year older, so it's sure to go smoothly, and I can already picture just how much fun we're going to have!