Today, millions of Americans from all walks of life will join their neighbors in marking the national Martin Luther King, Jr. Day of Service to help achieve Dr. King's dream of building a more beloved community. And as we settle into a new year, there is no better time to reflect on the progress we've made as a country and the challenges we still face.
2015 marked the 50th anniversary of the War on Poverty, and with it, the 50th anniversary of an organization I am humbled and honored to lead as its new director: AmeriCorps VISTA.
Since its creation by President Lyndon B. Johnson in 1965, AmeriCorps VISTA has carried out its mission to address the root causes of poverty and inequality in America--a mission shared by visionary leaders like President John F. Kennedy and Dr. King. In fact, Dr. King's family asked VISTA members to stand vigil over his casket following his assassination.
In 2015, we celebrated our program's 50th anniversary, and we shared countless stories of service. As AmeriCorps VISTA's new director, I hope to share more of these stories in the coming months to show how AmeriCorps VISTA members are working directly with communities and strengthening the efforts to lift individuals and families out of poverty. In the meantime, I invite you to see AmeriCorps VISTA's work in action, in real time, and meet the people who proudly proclaim #IamVISTA.
It was more than 20 years ago when I started my career as an AmeriCorps VISTA supervisor at the Congressional Hunger Center, and I am proud to return to AmeriCorps VISTA today as its leader. But as I step into my new role, I'm not only reflecting on our past, but I'm thinking about our future.
The number of Americans who still live in poverty today is far too high. We know the reasons for this are complex and range from the personal to the systemic. They are frustrating. But we can overcome them, one community at a time, by building coalitions, pooling resources, and sharing talents. This is the legacy of AmeriCorps VISTA: for every community that still struggles, I can show you one that is better off than when it started because of a VISTA member's service.
It was Dr. King who asked, "Life's most persistent and urgent question is, 'what are you doing for others?'"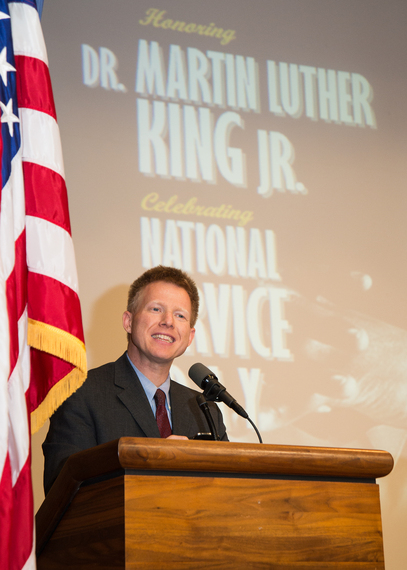 Popular in the Community