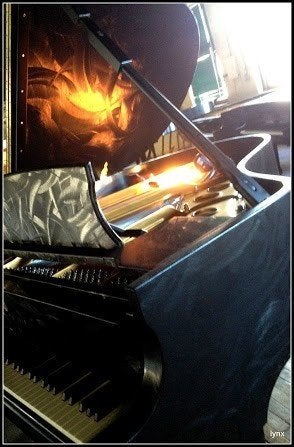 Today it's rare to find a product made in New York City. The textile industry left the Garment District for cheaper labor overseas last century. The Domino Sugar Factory closed its doors in Brooklyn in 2004, after 150 years of operation. Yet Steinway pianos persist.
Steinway & Sons have designed, restored and manufactured their famous pianos in New York since 1853, or in the pre-Civil War era. First in midtown Manhattan and then later in Astoria, Queens, Steinway has built pianos to the most exacting of details.
Celebrating its 160-year anniversary on March 5, Steinway & Sons, the classic piano with a grand sound, has added an incredible visual pop to its design: It partnered with an artist by the name of Lynx to paint abstract art on the keyboard lid, piano lid, music desk and even the case of some of its grand pianos. But Steinway's art case pianos have been around since 1857, when they first began producing the special pianos with artists of the day.
The tradition of art-on-pianos isn't new -- Steinway has had creative artists, from Karl Lagerfeld and Joseph Burr Tiffany to artwork of Dale Chihuly, featured on their special pianos under the Steinway Art Case Pianos or Steinway Limited Edition Pianos classifications. But now it's been given a fresh update with Steinway's recently established Custom Pianos Department, including Steinway's first ever Visual Artist in Residence, Lynx.
On the 70th birthday anniversary of the late John Lennon in 2010, Steinway produced a series of "Imagine" limited edition pianos. The series paid homage to the Beatle legend, who owned a white Steinway grand (that is still at Yoko Ono's residence at the Dakota, where the couple lived together). As of the writing of this article, one of the John Lennon limited editions resides at Steinway Hall, Steinway's flagship retail location in midtown Manhattan.
Quality Over Quantity
I took a private tour of the Steinway factory in Queens with Bill Youse, Director of Technical Services and Special Projects and a third generation employee of the company. Seeing an old world style factory with a view of the Manhattan skyline was exhilarating.
Pianos are handcrafted with many intricate pieces, such as the pedal box, which is now machined to a tolerance in the thousandths of an inch. Mr. Youse trains the workers and oversees the production line, which is scattered across several floors in both old and new buildings in its 500,000 SF facility. From rock maple, rosewood and wood veneers from around the world, to setting the cast iron plates and stringing the piano with 13 - 21 gauge wire, producing a relatively small number of pianos a year shows the level of care, detail and engineering expertise they put into each piano.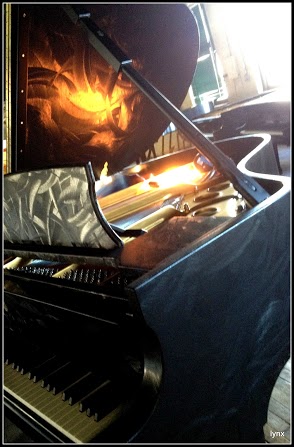 Steinway Grand Piano, 'Black Swan' painted by Lynx with an onyx finish. (Credit: Lynx)
"It takes two years to train an operation foreman to get them to the level where they are able to signoff as their own quality control inspector," Bill Youse explained, showing the fresh wood chips chiseled off the bridge. Tiny holes in each k bridge are drilled at a precise angle so neither the pins nor bridge interfere with the vibration of the strings when the keys are struck.
"Our biggest competitor is used Steinway pianos that are restored," Youse said. Often in a Frankenstein kind of way with parts from other piano makers, and then resold to the market. But once that happens, it's really no longer a Steinway. "Since our pianos last 75 years or more, which means they are passed down within the family three generations to the grandchildren, we are competing against ourselves with respect to quality."
At the factory, Mr. Youse showed many Steinway pianos that are being restored for clients from around the world. "They take time. Sometimes I travel to clients in Asia to offer consultation on some special restoration projects."
Pianos in the production line take approximately 300 manhours of labor, which has been reduced by automation of some assemblies; even in this day and age, a Steinway piano takes over eleven months to complete. "The special order projects, which often are mostly handcrafted can take two to three times as many manhours," Youse said.
In sitting down with Todd Sanders, VP of Sales and Marketing, he said, "We have over 1,600 pianists on our Steinway Artist roster, including Billy Joel" -- the local "Piano Man."
Steinway pianos are featured prominently onstage in the top performance venues, the top piano festivals and within leading education institutions. That includes historic venues such as Carnegie Hall, the Aspen Music Festival and School and the more than 260 Steinway grand pianos at the Juilliard School of Music. There are more than 150 schools, colleges and universities around the world that have been named "All-Steinway Schools."
Artwork on Steinway Pianos
In the annex of the factory in the oldest building, which dates back to 1869, Bill Youse and Lynx guided me to the design studio. Seeing mockups, paintings and a giant easel among a half dozen painted piano lids, they explained their unique partnership.
"When Lynx came here last April," Youse began to say, "we were unsure of exactly what he could do. His portfolio was impressive enough. But..."
"Yes, I had done one piece of abstract art depicting the insides of a piano, sort of a skeleton - without the strings -- that got my foot in the door at Steinway," Lynx added.
"We gave him two weeks to produce art to see if it was a fit for us," Youse interjected. "I gave him the tools and materials. The rest was up to Lynx."
Wearing his own designed crooked tie, which defies gravity and a Wall Street banker's stiff look, Lynx painted to the music of Rachmaninoff and Nine Inch Nails. He painted on the piano lids with exotic brushstrokes, including doing his unique take on the Manhattan skyline, which was backlit and had a halo-like reflection on dark water.
Whether the artwork is on a black surface, under a keyboard cover or on a piano lid, the images both pop off the piano-as-canvas and change hues depending on the lighting.
On the final leg of the tour, I saw the library of piano construction order books, which have been valued at $20,000 apiece. In those books are details, custom designs and orders for all 594,000 pianos -- with nearly 500,000 of those pianos still in existence today -- dating back 160 years ago. A treasure and piece of New York history to be sure.
Beyond learning that there are 57 individual pieces that make up the "action" behind a single key on a keyboard that has 88 keys -- three more than pianos from about 120 years ago -- or that middle A strings are tuned to 440 Hz cycle in the U.S. versus 442 Hz in Asia and Europe, Mr. Youse stated that the old, venerable Steinway has gone green with "parabolic mirrors set up on the roof of the old foundry building."
Those solar-focused mirrors were installed on January 24, 2009, as part of a green project that improved air-conditioning and dehumidification systems inside the factory, while at the same time lowering the energy draw from the grid. By also lowering the humidity in a woodworking factory, it drove home the point that Steinway's executive team is committed to look for modern, sustainable solutions to increase value in its production of pianos and also improve efficiency and the working environment for its workers and operations.
In banging a soundboard -- one of Steinway's best-kept secrets, often referred to as the "soul" of the instrument -- in an open piano, feeling both the power and energy, and then lightly tapping a single pin that will one day anchor a piano string and feeling that soft vibration anywhere on the soundboard, Bill Youse drove home the point that Steinway is the Rolls Royce of piano manufacturers.
That makes the abstract artist Lynx the new hood ornament of that grand piano.
Popular in the Community