Encountering the works of Julia Sinelnikova (AKA The Oracle) in person for the first time is an experience that truly proves that seeing is believing. Only so much of the artist's delicately detailed organic forms present in Sinelnikova's sculpture and installation work can be revealed through pure image. Splendid anatomical visions permeate the entirety of Sinelnikova's practice, further magnified when encountering installations of these sculptures, positioned in precise arrays throughout three dimensional space. Video representations of the artist's work also only partially communicating the impact of innumerable, remarkably fluid boundaries present within physical space in such installations as Organ Farm and Sentinel Seraphim.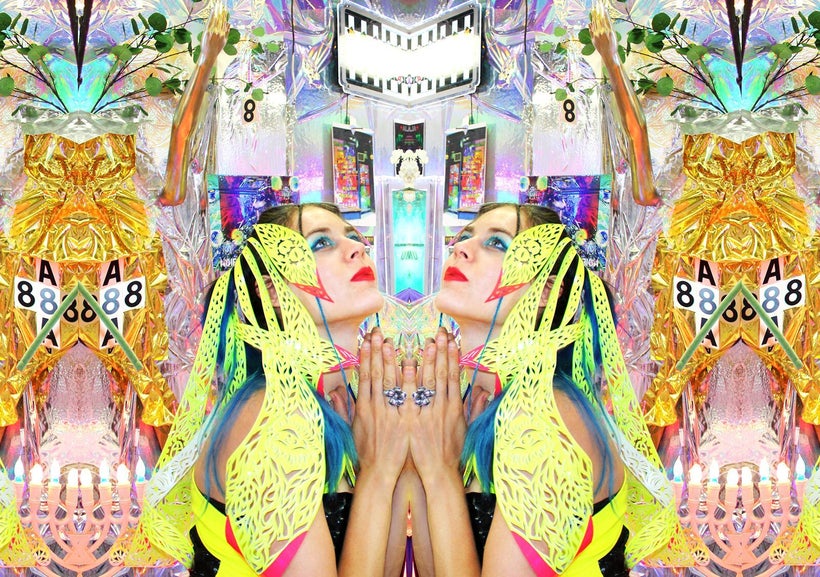 For Miami Art Week, 2017 Sinelnikova delivers a never before seen light installation incorporating her signature "Fairy Organs" to entice the viewer into otherworldly experiences as part of the cutting-edge Satellite Art Show, returning for its third year to Miami Beach. Layering various experiential stimuli including holograms and video projections, sculpture and sound, Sinelnikova's ground-breaking multi-sensory practice creates unique experiences for all visitors who dare to plunge beyond the ordinary.
The triumph of Sinelnikova's work lies not in what is obscured, but instead in what hidden aspects of reality are subtly revealed. Visions of light dancing across cavernous spaces, morphing across the surfaces of unique forms in space can be a transformative experience. The final effects are dazzling yet translate a sense of inner order, attesting to Sinelnikova's masterful and mindful approach to creation. Awe-filling yet grounding, these multi-sensory installations take visitors out of the world of ordinary and into new worlds of wonder. Seemingly otherworldly, these experiences are grounded in the artist's fine-tuned understanding of her practice. Upon closer inspection, various elements of the space demonstrate mastery: precise, hand-cut-patterns spiral through meticulously created sculptures, which are carefully arranged in physical space. These works transcend pure material to construct awareness around the silent potential of form to activate new encounters under the dance of technicolor pulses of light. Like catapulting through multiple dimensions at the speed of light, wandering through Sinelnikova's thoughtfully constructed environments manages to be a process that becomes both dizzying and cathartic.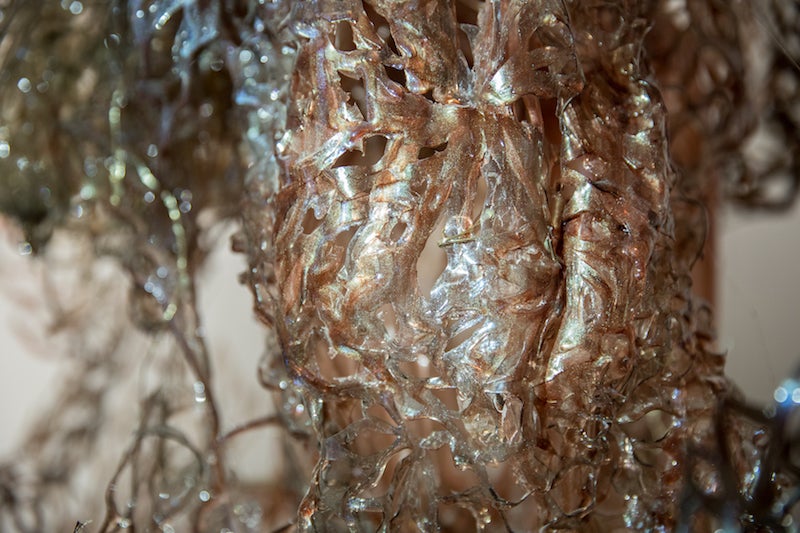 Sinelnikova likens the installation to a vortex, allowing the mind to embark on an epic journey to the farthest reaches of hyperreality. Vortex is an apt metaphor, as the artist is well-versed in transporting audiences to dizzying new heights. An experienced artist and experience creator, she has constructed light installations and artworks for a wide range of creatives including Michael Madden of Maroon 5, the The GZA (Wu Tang Clan), Webster Hall and Norte Maar. Her work has also graced institutions such as the Contemporary Art Museum of Houston, Oulu Museum of Art, Williamsburg Art & Historical Society and Pace University. The artist lives her own practice by situating herself at the interstitial boundaries between fine art and lived experience. Sinelnikova's work can be viewed as augmented reality, yet it is in fact peeling back the layers distracted us from the beauty present in the everyday. Through careful reimagining of various light and spatial elements, the artist stages sites for visitors to better appreciate the dazzling awe present within every moment, opening the mind up to new avenues of exploration.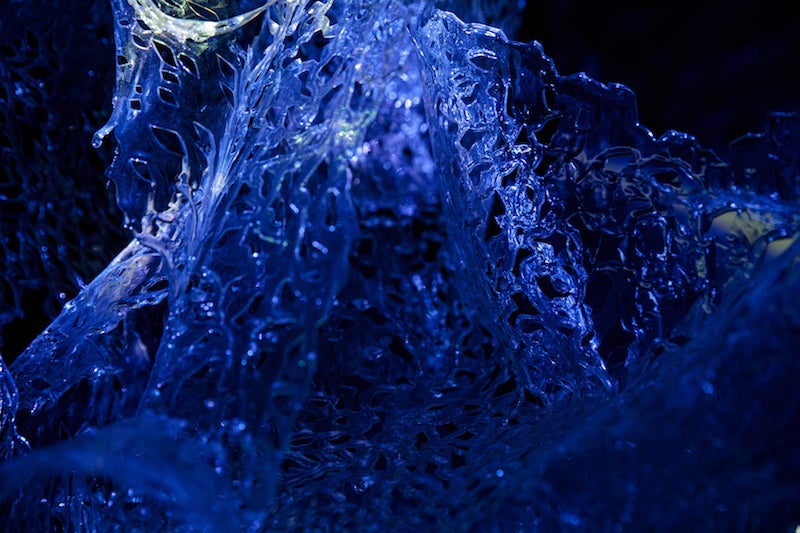 Boredom is not an option in Sinelnikova's installations, yet the visitor is far from overwhelmed. Instead, introspection and engagement are equally at home in these environments. Lights flash through shadows created by hanging sculptures. In these moments, new pathways of light create room for movement throughout the space. Visitors can watch as their shadows are incorporated into the lush organic forms of Sinelnikova's sculptures in neon hues. Different angles allow new perspectives across time and space. The room spins, and recovers, and everything begins anew: a space for reflection as surely as it becomes a space for reincarnation.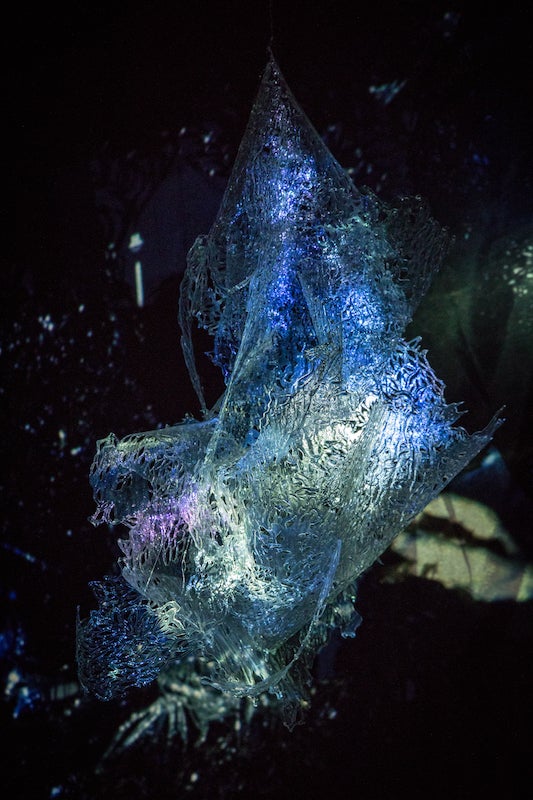 Julia Sinelnikova, presented by CHASM is part of Satellite Art Show, during Miami Art Week 2017 at The Ocean Terrace Hotel, 7410 Ocean Terrace Drive in Miami Beach. Show hours are December 7-9, 2 pm to 10 pm and December 10 from 2 pm to 6 pm. Tickets are available at the Satellite Art Show website.
Calling all HuffPost superfans!
Sign up for membership to become a founding member and help shape HuffPost's next chapter
This post was published on the now-closed HuffPost Contributor platform. Contributors control their own work and posted freely to our site. If you need to flag this entry as abusive,
send us an email
.