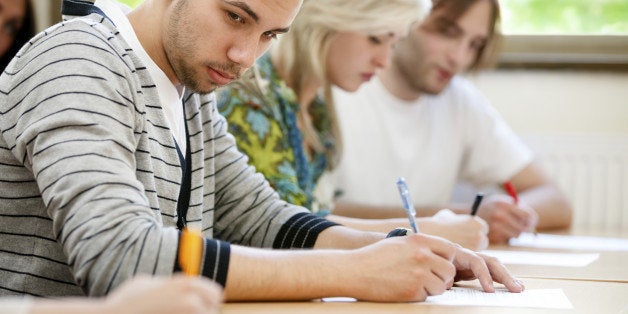 My 15-year-old daughter is taking a standardized test in English next week and as I think about helping her, I'm reminded of an exam I took not so long ago. It was for Psychopathology, a required class for my graduate program in social work. We were essentially required to memorize the Diagnostic and Statistical Manual of Mental Disorders (DSM), read scenarios and apply diagnoses.
All of us students were struggling.
On the last day of class, we showed up on Saturday morning for our final. Before our professor passed out the exams she said, "I want you to close your eyes."
Being a dutiful student, I complied.
She went on. "Imagine yourself in a library. See the rows of books and all the information. This is what is within your brain. It has all the knowledge and answers. Allow yourself to access this, remembering it is here for you as you read each question and answer it."
As I listened to her words, I saw myself in the library. I observed how my mind was made up of all this information, of the countless hours I'd spent studying notecards, discerning the differences between types of schizophrenia and personality disorders, between major depression and dysthymia, and on and on.
I took a deep breath acknowledging that all the answers would revel themselves to me. Then I opened my eyes and took the test.
Upon finishing, I felt relieved. I'd confidently answered many of the questions although there'd definitely been a few that had stumped me. Either way, I knew I'd passed, phew.
When I returned to school the next semester, I had the same professor for another class. After the first lecture, she approached me and told me I'd only missed two problems on that Psychopathology exam. I was shocked.
The power of visualization.
I truly believe that if my professor hadn't reminded me that I knew everything and walked us through that activity, I wouldn't have done so well.
Can you think of a time when you've visualized success and it's worked? Maybe before a race or a big event? Prior to a lecture or trip?
Using Visualization Does Two Things:
1. It Keeps Worry at Bay - We're focusing on what we want and not spending a lot of time and energy on what we don't want (that's worrying).
2. It Invites the Universe to Help Us Create the Future We Intend - We're always creating our world even though we don't often realize it. By becoming aware of our thoughts, emotions and imagery, we can begin to manifest more of what we want into our lives.
Recently I used visualization as a way to staunch my panic and manifest a last minute solution. I was heading to Morocco and accidentally misread the boarding paper. It was in military time, 17:50, but somehow I was reading it as 7:50 pm. Not so good. We got on the bus at 4:30 pm when I realized my error giving us a little over an hour to go 30 miles on the bus, get through security, and clear immigration to make our international flight.
Needless to say, my traveling companion was furious but I kept telling her: "Visualize us being on the plane. See us sitting there."
Finally she replied, "Fine. Imagine yellow seats because that's what Ryan Air looks like."
Sure enough, we got on that plane! The power of visualization.
I seem to always remember to use this tool when I'm in a crisis or to deal with anxiety but the key is to remember to use it all the time. When we plan our lives. When we see our future. When we think about our health. When we find ourselves worried about our children.
See yourself in perfect health. See our world at peace. See your business thriving. Your children safe.
See it, feel it, bring in as much emotion and meaning as you can and watch the magic unfold.
Let me know how you use visualization in your life. What works for you?
Shakti Sutriasa is the Founder of DecideDifferently.com, a personal development company committed to empowering people to live more connected and fulfilled lives through coaching, counseling and workshops. Her unique approach combines modern psychology and spirituality to support people seeking positive change and self-transformation. Shakti is a Licensed Clinical Social Worker, and has an MA in Education. Learn more at DecideDifferently.com