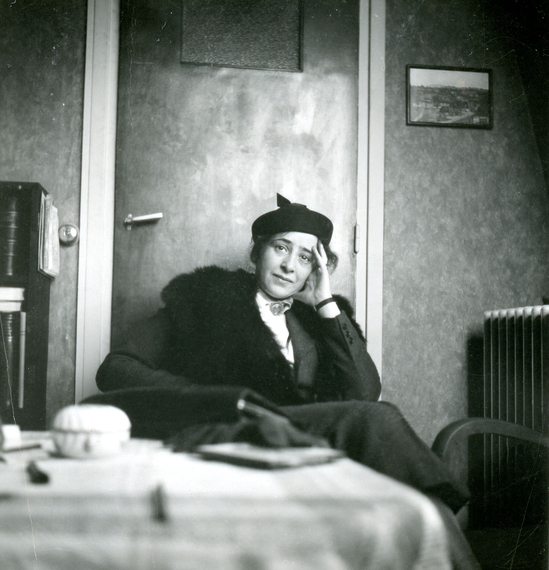 FILM REVIEW:
VITA ACTIVA: THE SPIRIT OF HANNAH ARENDT by, Ada Ushpiz
A Revelatory Look at One of the 20th Century's Most Controversial Thinkers.
Opens: April 6 at Film Forum
VIVA ACTIVA --The Human Condition
A few years ago I saw the Margarethe von Trotta film starring Barbra Sukowa as Hanna Arendt; in spite of its decent reviews, it didn't do much for me, I found the imitation Ms Arendt of the cinema pretty wooden, compared to the legendary philosopher and author; an empty vessel with all the liquid drained out before a thirsty soul can drink, let alone taste the contents. Ardent was a very passionate and complicated person who defined life from a deeply philosophical and what seemed to some,an uncaring place empty of empathy, but in fact (from seeing this film) I found her quite the opposite. I believe she was carried away by a civilized intellectual perspective which sought to diminish the Nazi's by expressing how utterly ordinary they were as people as she presents her perspective to make sense of the unthinkable and to some extent I think she is correct. Her interpretation of the Nazi's was that they were so banal, that is to say so average, that they were worse than evil, they were undetectable.
Ushpiz does an outstanding job of taking us from childhood, through growing up, her education and romance, love affairs and marriage: including with the Nazi sympathizing and devious German philosopher Heidegger, her escape from Germany to Paris and then to the USA. Her books, interviews and interviews with those with whom she worked, as well as those who understood her and those who loathed her. This is a wonderfully well done documentary, though at times a little hard to follow between weighty footage and words. In order to watch this film and successfully meet it half way, it requires thinking and no sooner than you pick-up Arendts take on Adolf Eichmann, the Nazi's, the Jews, the Israelis, the Palestinians, etc., when something else is occurring that pulls the viewer into the fray. There isn't a lot of time for breaths in between, but that's okay because the film is fluid and rich enough to pick up her books or read old New Yorker Magazine articles covering Eichmann's trail in 1963...
This is heady stuff. It requires commitment to understand the material and her world view, as shaped by her own moral character developing in a time of malevolent political and psychic irrationality.
Related
Popular in the Community