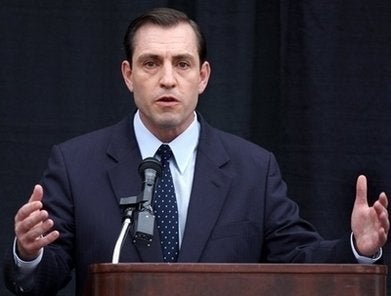 Vito Fossella, the only Republican member of Congress from New York City has admitted to fathering a child with his girlfriend Laura Fay. Rumors started swirling about Fossella's affair when he called Fay after a DWI arrest last week:

"I have had a relationship with Laura Fay, with whom I have a three-year-old daughter," Fossella, 43, said in a statement.

Fay, 45, is a retired Air Force intelligence officer who may have met Fossella when she served as a congressional liaison from the Pentagon.

"My personal failings and imperfections have caused enormous pain to the people I love and I am truly sorry."
Rep. Vito Fossella returned to Capitol Hill this week without a wedding band on his left hand as rumors swirled about his relationship with a Virginia woman.

The Staten Island Republican's ring finger was noticeably bereft of jewelry when he arrived in his Washington office Tuesday for the first time since his DWI arrest last week.
Dick Cheney fundraised for Fossella in New York on April, 21.

The fund-raiser for Mr. Fossella will be at the Upper East Side home of David H. Koch, the billionaire executive vice president of Koch Industries, a company with major oil and gas holdings.

Democrats from Staten Island to Washington said that Mr. Cheney's support signaled that the Bush administration had to come to Mr. Fossella's aid.
Popular in the Community