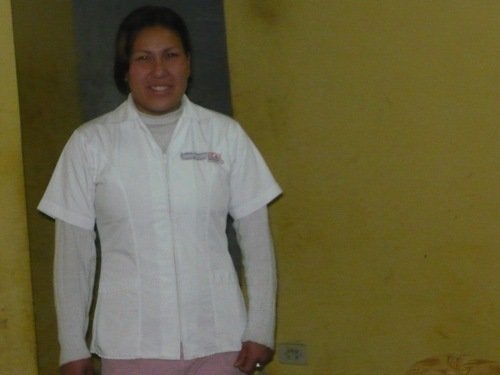 What if you knew in the 5th grade you'd never be able to afford college or do anything beyond high school? Would you sign up for all those extracurricular activities? Would you study for the SAT? Would you even go to class at all? Or would you just drop out and try to find the best job you could find, hoping that maybe you'd figure something out eventually?
In most developing countries, student loans simply don't exist. No matter how brilliant or motivated you are, how good your grades were, or even if you've been accepted into the top school in the country, if your family doesn't have the money, you just can't go to college.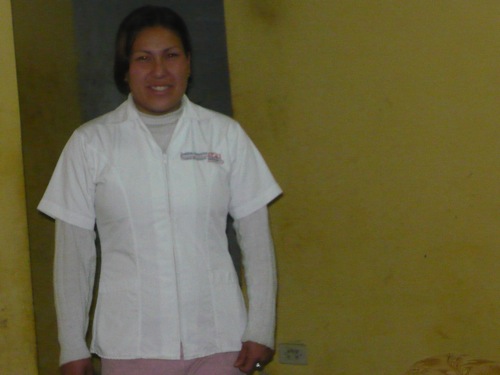 Meet Nardith. After graduating from high school, Nardith tried going to technical school but had to drop out after just a few months -- she was a young mom, taking care of a newborn son, trying to both work full-time and go to school full-time. It was just too much.
Fast forward four years. Nardith's mom, Angelica, is a long-time client of EDAPROSPO, a local microfinance non-profit in Peru, and has built a successful combi (a bus-like taxi) business of her own. She makes enough money to take care of her family and save a little for the future. When Vittana and EDAPROSPO launched a brand-new college loan program for would-be Peruvian students back in July, Angelica jumped at the never-before-seen opportunity for her daughter. Nardith's loan was arranged and her profile appeared on Vittana. Then, because of 17 people around the world -- a mom in Norway, an MBA student in Boston, a banker in NYC, a professional poker player in Los Angeles, an engineer in Seattle, and many others -- who together lent her $700, Nardith was able to re-enroll in a nursing program within just two months. Now, Nardith is going to graduate in July.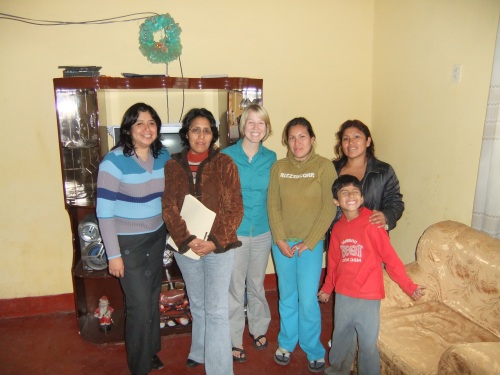 Development aid and traditional microfinance have accomplished a lot, but it's really education that enables someone to lead a life of their own and do something more. With education, you can completely break the cycle of poverty: people don't have to worry about whether a drought will wipe out their crops, if their factory contract will try to squeeze them for a dollar more, or if they'll have enough money to buy medicine for their kids. They save money and take care of their families' health, their kids' kids go to school, college -- it's a completely different life for not just that person, but for every person after them. Imagine what her degree means not just for Nardith, but also her young son.
In just 10 months, Vittana has built some of the first college micro-loan programs in six countries around the world including Nicaragua, Peru, and Vietnam. $10 and $25 at a time, more than 750 people from over 15 countries have funded over $100,000 in loans to nearly 200 students around the world -- 200 students, who otherwise wouldn't have been able to afford college, are now getting their degrees and becoming nurses, accountants, policemen, mechanics, teachers and much more. Vittana students have a 97 percent repayment rate and many lenders are already being repaid. Learn more about how Vittana works here.
We need your help. We want to do more. Six months ago, back in October last year, 1.7 million of you voted Vittana as the "#1 game-changer in philanthropy" on Huffington Post. In doing so, you changed the course of everything we were doing and our world hasn't been the same since. This week, we're kicking off our first-ever March Microfinance Madness: The Vittana Education Challenge and I'd like to ask you for your help again. In countries like Nicaragua and Vietnam, students are being put on waitlists for a $700 loan. On the one hand, this speaks to the power of a Vittana loan and just how much they're needed. On the other hand, it's heartbreaking: imagine putting your entire life on hold -- postponing college for years (like Nardith) or, worse, not being able to go at all -- for just $700. Think of our March Microfinance Madness as a friendly competition between your company, church group or neighborhood blog to see who can raise the most money for would-be students around the world.
Already, in just a few days, a number of colleges across the country (go BYU, Cal, Duke!), bloggers, groups of friends, and entrepreneurs in Seattle and the Bay Area have signed up and raised almost $15,000 for students. Start a lending group for your company, your blog or with just a few friends. Help give young people around the world the chance to do something more.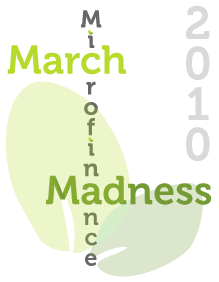 Calling all HuffPost superfans!
Sign up for membership to become a founding member and help shape HuffPost's next chapter